"These tweets have my location?" reads the text below a photograph of orange trees shot by artistic duo Nate Larson and Marni Shindelman. 
Yes, they do. 
That point is proven by the two photography educators who have combined their talents for a project called "Geolocation." 
Their exhibit, which features photographs taken at a variety of locations where tweets were posted, is on display at the College of Charleston's Halsey Institute of Contemporary Art through early March. 
The art does not include identifying information, geographic data or any outside context. It just includes a photo with the original tweet below. And while sometimes the subject matter and caption make sense together, other times they might not seem necessarily connected at all. 
"Cars are nothing but money pigs #hateit #waitingsucks #impoor" reads the tweet beneath a picture of an auto shop. 
"Pretty sure I just heard a gun shot lol" says the caption beneath a photo of a waterfront dock appearing through the fog.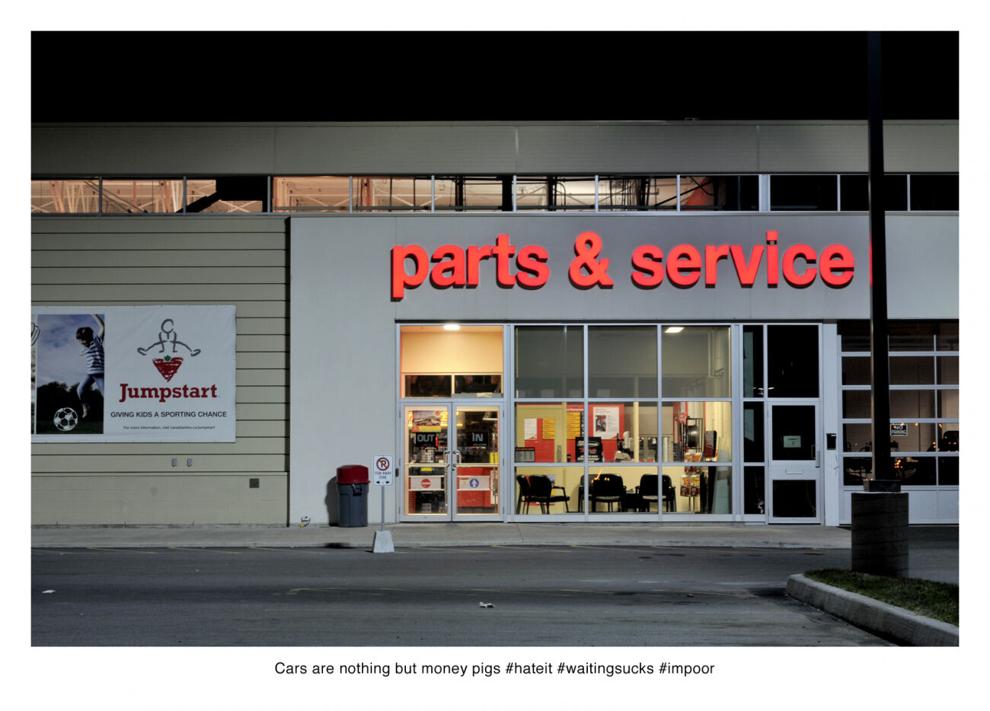 "As a viewer, you're only presented with the image and the text, which kind of serves as a caption," offered Halsey curator Bryan Granger. 
Granger had planned to bring Larson and Shindelman to Charleston to do a site-specific project in the Lowcountry, but COVID-19 derailed those plans. Instead, the artists submitted previous works, including their most recent iteration of "Geolocation" with a focus on social justice tweets. It's called "#Mobilize" and takes up half of the Halsey gallery. 
Several of the locations featured are quiet neighborhood streets and rural grassy fields, a juxtaposition to scenes of protests on city streets that have been commonly shared.
Among images are one of a sidewalk winding up to a Wegman's supermarket with the caption, "I genuinely wish I was in Times Square protesting my heart out today #BlackLivesMatter." 
"Black girls are enough. Black girls are enough. Black girls are enough.Black girls are MORE than enough #BlackGirlMagic" reads another textline beneath a photograph featuring flower pots and a yellow fire hydrant on a residential street corner.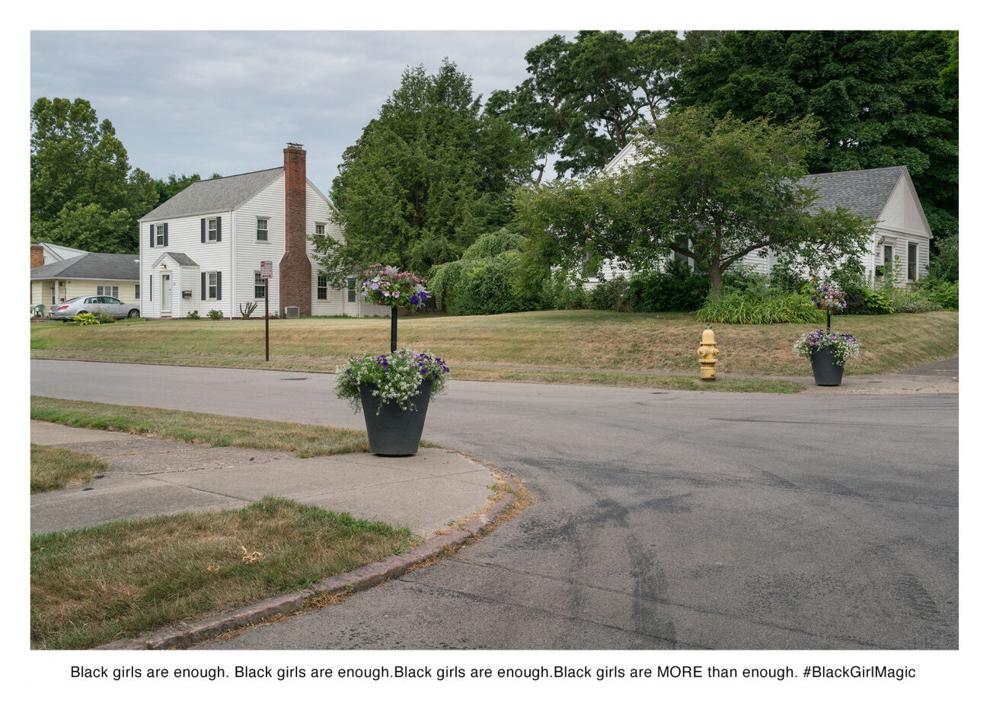 "It's interesting to think how Twitter has been used in the protests of this year but also in recent history, even going back to the Arab Spring, where Twitter was key in helping people in Middle Eastern countries communicate with one another and unite," said Granger. 
Larson and Shindelman began working together in 2007 after meeting at a photo conference. Though they live in Baltimore and Athens, respectively, they've worked together consistently since then, and, fittingly, their work focuses on the concept of distance and how people connect over distance. 
"Twitter is very much about both a desire and inability to connect," shared Larson. "I don't know that anybody really is fulfilled on that deep fundamental human level by Twitter, right? But there's this promise of social media that we can bridge geographic distances, be emotionally close to people or find like-minded people." 
The photographs they take are usually shot by just one person on public property without any communication with the tweeter, and then those photos are edited as a collective duo. In addition to solo shoots, Larson and Shindelman have met up for commissioned trips to Russia, the United Kingdom and Rochester. They've also been to Qatar together. 
And they've sifted through tens of thousands of tweets to find their selections for the project. Now, they seek help from the University of Kentucky and Library of Congress' Twitter archives.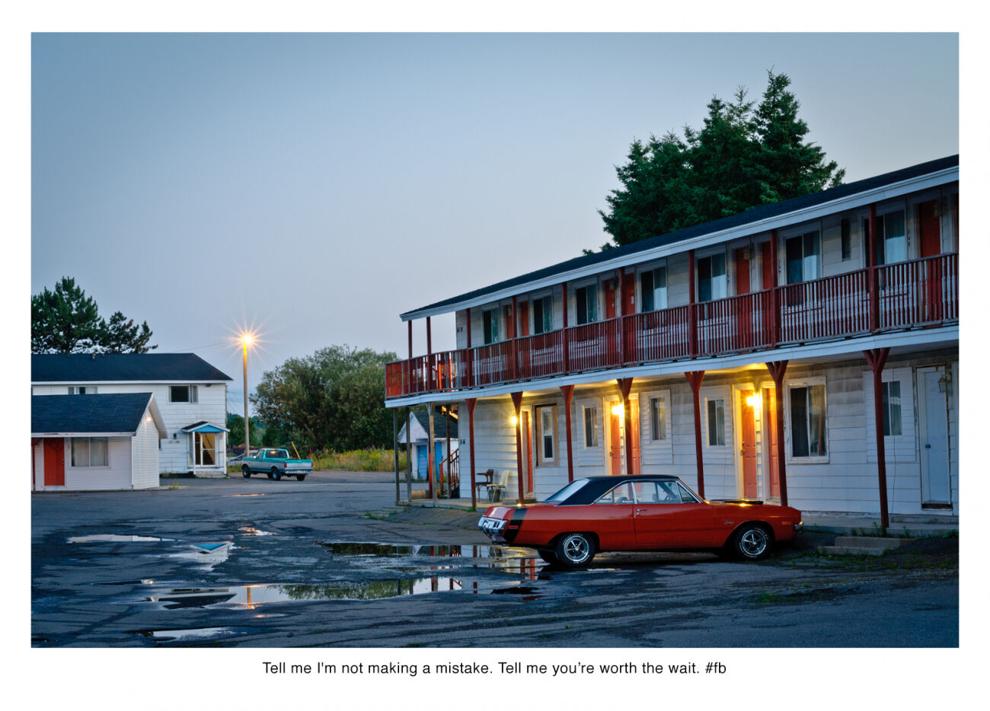 "If something moves us or makes us laugh or makes us feel some kind of human connection, that's usually prioritized," said Larson. 
As they began to compile a body of work, they further explored not only the idea of distance but the connection between text and images, digital and analog as well as private versus public. They also found new goals within the project, like documenting and memorializing how social movements are forming. 
"We figured there's a way that we can show how powerful these tiny little tweets can be when conglomerated," said Shindelman. 
And some of the most simple statements, shared with the world, are quite profound and emotional. 
"Everyone has a story that can make you cry, but we never go back and read it so that's what this is about," shared Shindelman. 
Though the duo won't be in Charleston for the unveiling of the exhibit, The Halsey will host an artist talk over Zoom to commemorate the new show, and video of Larson and Shindelman talking about their editing process will be playing on a TV screen as up to 15 patrons, limited due to COVID-19, wander through the gallery.