Scrub-a-dub-dub, it's Bill Murray in a bathtub. 
The Charleston resident and movie star video-chatted with Jimmy Kimmel on Wednesday night from his home — more specifically, from his bathtub. 
"If there's anyone that can shake us out of this pandemic doldrum, it's my guest tonight," Kimmel begins the video. "He's joining us tonight from Murray Manor. Please welcome Bill Murray." 
Murray then shows up on screen wearing a beanie and T-shirt and shorts in his bathtub. A lopsided towel rack, mirror and fish wall art are hanging behind him. 
"For the purposes of today, it's kind of a celebration, because I haven't seen you in a while," Murray tells Kimmel. "I thought a bubble bath would be appropriate."
"You know when you quarantine, you don't have to sit in the tub," Kimmel offers. "You're allowed to go around the house." 
Murray retorts that it depends on the state. 
When Kimmel asks about what Charleston is like right now, Murray replies that it's reopened up a little bit, but he's still been wearing a mask when he goes out.
He puts one on to demonstrate, adding, "And most young people do not wear masks at all. They don't. The only people I see are people that haven't put on their makeup yet, those kind of people. But I like it."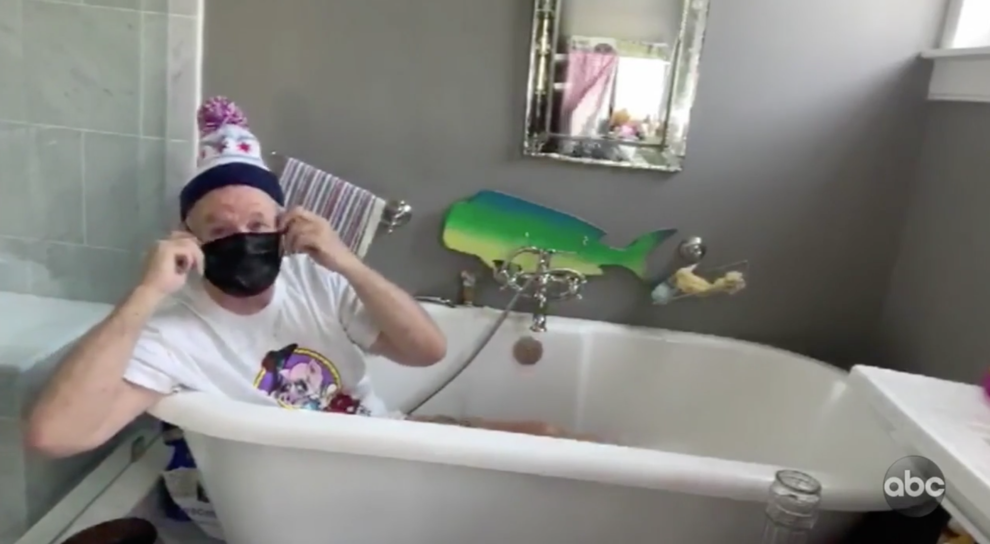 He continues, "I think anyone that is not wearing a mask, you could argue, you're being socially irresponsible, you're risking your life and the lives of others. Eh, maybe, who cares? But you're missing a real opportunity to say, 'I'm on the side of law and order.' "
"And not just law and order, but common decency, for God's sake," Kimmel pipes in.
The water in the tub makes a splash when Murray then pours almost an entire bottle of bubble bath into it, asserting, "That could be the missing vaccine, we don't know."
Kimmel asks Murray about the Charleston RiverDogs, which Murray co-owns, showing viewers the "To Go at The Joe" menu.
"I really miss baseball," Murray shares. He's been watching some Korean baseball and reruns on ESPN, he says. 
After telling some stories about golfing with Michael Jordan on the set of "Space Jam," Murray assists Kimmel by answering some quarantine questions from viewers. His anti-boredom advice includes looking for insect infestations, eating gelato and letting your family members cut your hair. 
Murray ends the interview with a splash by pulling a full champagne bottle out of his tub.
"Look what I found!" he says. "I think I'm taking this bubble bath thing a little too far, don't you?"