Thirty years ago, Charleston emerged as a canvas for a new form of street art, thanks to an early local adopter.
Shepard Fairey, a skateboarder and rogue artist who attended the Porter-Gaud School, was perhaps the first to popularize the use of stickers to mark his territory and express his alternative views. He first gained notice with his political "Obey" stickers depicting an illustration of the famous wrestler Andre the Giant as a psychological art experiment. 
The Charleston native was one of the first artists in the nation to use this format on a large scale for non-advertising purposes in a process known as "sticker bombing." And it has had a lasting effect.
"There's definitely a sticker scene here," says Victor Hart, whose own stickers involve colorful illustrations, which he sells as prints and canvases. "Considering this is the city 'Obey' came from, I think it's only natural."
Street art — namely, spray-painted graffiti on building walls, train cars and traffic signs — has been a popular, often rebellious, DIY tradition in urban centers since the 1960s.
And the sticker scene in particular, founded by Fairey and mostly ignored by law enforcement, has been nourished by other local taggers, wheat-pasters and sticker bombers. That includes Matthew Starling, known as Proton, who is famous for his Dr. Mario stickers and other adhesive illustrations around town.
Starling was a graffiti artist before he turned to the straight-edge form of sticker art in the 2000s. 
"Sticker art has been popular in Charleston since before I got in the game, and that's been over a decade," Starling says. "What I think I like the most about stickers is that you can do it in broad daylight and no one seems to bat an eye." 
Sensation and collaboration
Meta Sapient, a prominent Charleston sticker artist, focuses on the displacement and oppression of marginalized people through his sticker art. He blends tongue-in-cheek social commentary with hip-hop, sci-fi, pop art and cartoons. 
While some sticker artists are making political and social statements, others are leaving their stickers as a "crew tag," which can be a collaborative or organizational stamp. Some examples of worldwide crews with reach in Charleston include TCF (The Chosen Few) and BKC (Brass Knuckle Crew). 
Adam Void is part of the local NGC crew, but he was posting his own graffiti and stickers as far back as 1998 and collaborating with other street artists in 2005 with his original crew Pi. He would layer the Peninsula with hand-drawn stickers in his free time. 
One key way these collaborations happen is by sharing the space on a sticker and creating a chain of art. For example, someone will draw an original illustration. Then, the next artist will add his work onto the sticker. Many times, artists use Priority Mail Stickers, which you can find for free at the Post Office. 
Another collaborative aspect of the sticker art world is trading. 
"Trading is a big deal," says J. Wolf, the Charleston-based "Tag Says Wh?t" sticker artist. "It's a way for other people to get your sticker up in a place that you wouldn't normally go. And then, you can do that for someone else."
Wolf has traded stickers with artists as far away as Japan, Russia and Germany. It's a way to create worldwide coverage among the niche arts community. 
For play 
For Wolf, sticker art is an antidote for working professionally as a graphic designer. 
"I'm compulsively creative," he says. "Personally, I've always made smaller-format art, and with this, there's no oversight from 'the Man.' I don't have to cater to a gallery or curator."
Wolf sells his stickers to pay for the cost of printing more stickers.  
Hart, who doesn't sell stickers, also uses the media as a creative outlet. 
"I know some artists who sell their stickers just as a way to break even so they can order more," Hart says. "It's all about getting the image and the work out there as fast and as often as possible."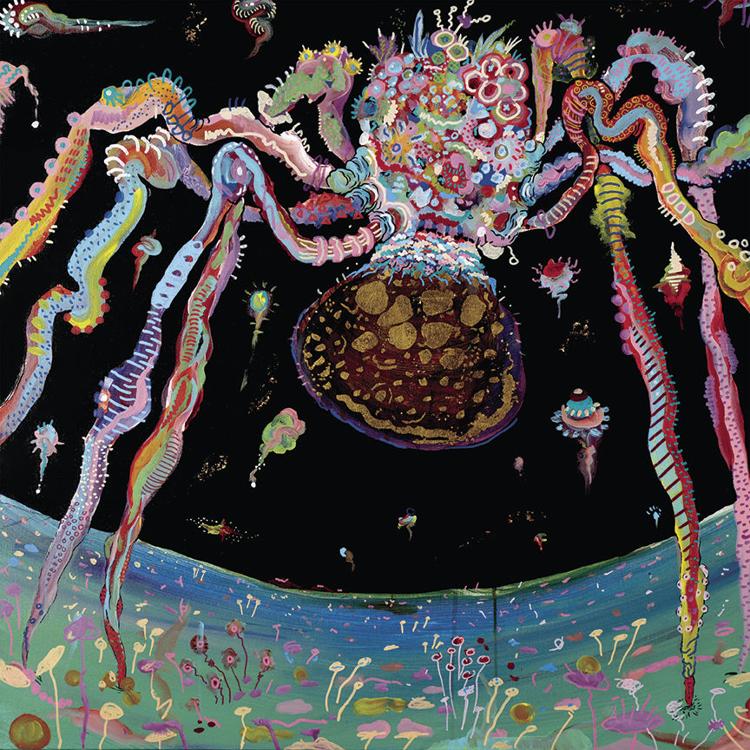 For business
"I've always loved the look of a sticker-covered wall," says Cathy Aycock, the creator of local brand Garbage Humans. "As you can tell from the name of my business, I've always been drawn to grimy things. If a bar doesn't allow stickers on the wall and drawings on the tables, you probably won't catch me there."
Garbage Humans started as a pin and patch art company, but has since expanded to apparel, neon signs and other eccentric items. Part of that expansion may be due to one of Aycock's favorite marketing tactics: sticker bombing.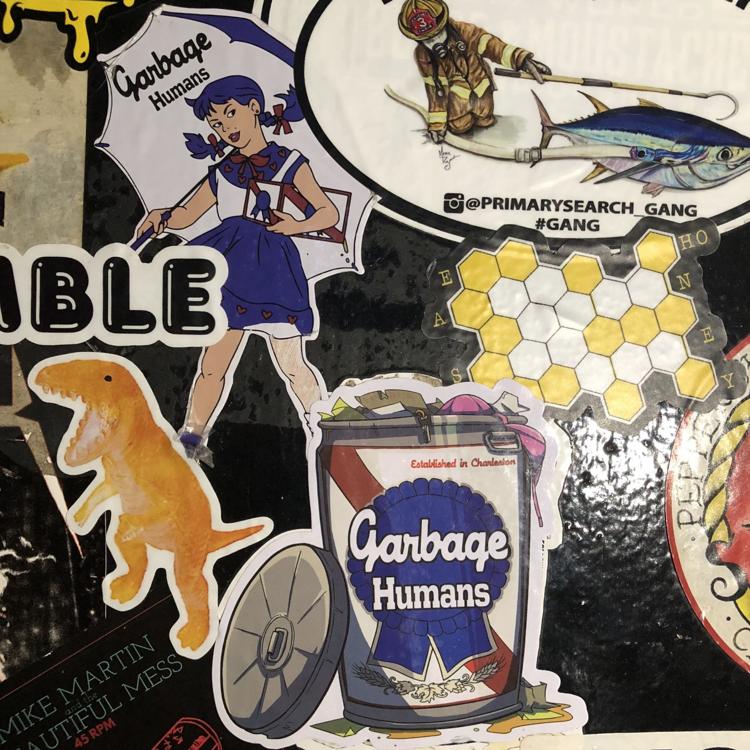 "Stickers are the cheapest and easiest way get your message out there," Aycock says. "And it's no surprise that the trend blew up once artists realized they could mass produce stickers and sell their art to thousands of people at a reasonable price."
So stickers can help with branding and can generate income. And they can make a pleasant mess of things.
More legal than graffiti? 
"Society and law enforcement are taught that the image of someone drawing or spray painting a wall is a visual indicator of vandalism, but an artist can pull out stickers and place them up whenever and the majority of people don't think anything of it," says Hart. 
Out of the sticker artists who talked to The Post and Courier, none had gotten in trouble for their sticker art. 
Legal repercussions aren't of major concern, but finding places where their stickers can ride sure is. 
"I think its much harder to find spots in Charleston that haven't been closed, gutted, scrubbed clean and turned into a tapas restaurant," says Aycock. "That's why you only see these collaborative sticker murals in dive bars and hip restaurants, because they're the only places left."
It might also be because a South Carolina law imposes hefty consequences for illegal graffiti and vandalism, and that law includes sticker art in its verbiage. A first-time offender can pay up to $1,000 in fines and can spend up to three months in jail. A second-time offender will be fined at least $2,500 and can spend up to a year in jail. 
"It's hard to detect because it's so fast with a sticker, but there have been cases where people have been arrested for defacing property like that," says Dan Riccio, director of the department of livability and tourism. "Actually witnessing it and making an arrest is a little bit harder because it happens so quickly."
In some urban hubs like Chicago, it's even illegal for people under 18 years old to buy spray paint. 
Wolf has another theory. 
"Here, you have more of a visual art culture, but not a lot of traditional graffiti," he says. "Stickers might be more prevalent because of the unwillingness of people to deface 100-year-old historical buildings." 
Regardless of the legal consequences, artists still cover street signs, light poles, building walls and other surfaces in the Lowcountry with stickers.
Some people apply them to their cars; some bars feature them as a form of decoration. And while many of the stickers get ripped away, others remain for months, even years, seen by locals and tourists alike. 
Next time you walk down King Street, take a look. You might be surprised at how much sticker art you'll discover.