Ecstatic Dance is a movement about movement. The worldwide sensation with a branch in Charleston is all about unity among the fusion of conscious dance and DJ culture. 
Born on the Hawaiian islands, Ecstatic Dance was inspired by ancient tribal communities that danced together and later by lifestyle and spiritual dance movements such as 5-Rhythms and Nia.
Compared with its contemporaries, Ecstatic Dance is less structured and centered around a simple idea: to invite a DJ to play an inspired music set and a crowd of people to express themselves freely. There is no pressure to be a particular type of dancer or even a "good" dancer. 
The universally accepted guidelines of Ecstatic Dance are few: no talking on the dance floor, no street shoes on the dance floor, respect the space and respect each other. 
The concept has gone global. 
Charleston chapter organizer and local yoga instructor Alexandra Seaman lived and first experienced it in its place of origin in 2015. 
"There is a jungle retreat center in a small town called Pahoa, and every Sunday, between 100 and 200 people gather there for Ecstatic Dance," says Seaman. "It gets the whole town together. 
"What I loved about it immediately was that it drew people of all ages, styles and backgrounds to one place to gather and to celebrate themselves, each other and life."
When she returned to Charleston from Hawaii in 2016, she decided to found a chapter in the Holy City. The local branch started out in yoga studios before moving to a permanent biweekly location at St. Julian Devine Community Center on Cooper Street. 
"It takes a village to get a movement like this one off the ground," says Seaman, who began hosting the event from 7-9 p.m. every other Friday with a little help from her friends.
Along with inviting participants into the movement, Seaman has had to seek out DJs for each event. 
Colin Crane, a local photographer and co-founder of the Pulsera Project, an initiative to empower, educate and connect Nicaraguan artists with students through the sale of colorful handwoven bracelets, DJed an April evening of Ecstatic Dance. He had participated in it a few weeks before and fell in love with the concept.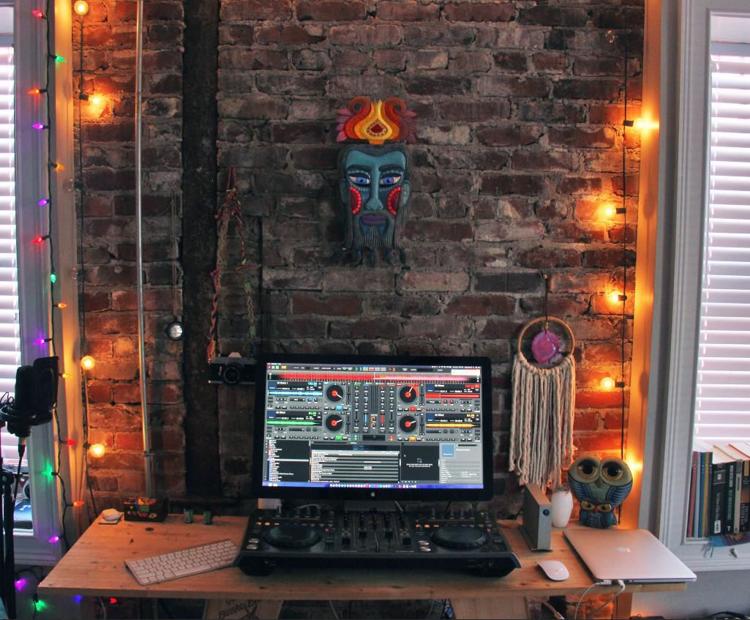 "It was such a beautiful experience and definitely is a more under-the-radar thing happening at the intersection of the mindfulness and music communities in Charleston," says Crane. 
"It's a way to bring people together to dance and celebrate and let go of the judgment or shyness that often surrounds the idea of dancing around other people."
The night starts off with introductions and stretching, along with a chance to place an item of choice on the "community altar." Attendees are encouraged to bring whatever items make them happy or inspired and to wear clothing that reflects the same sentiment. 
"We create a community altar before the start of each dance, and each dancer is invited to bring something sacred to place on the altar for the night," says Seaman. "Our altars are adorned with everything from personal artwork to angel cards, from homemade candles to body paint.
"We encourage everyone to contribute so that it accurately reflects the group. We are certainly not affiliated with any religious or spiritual tradition, but we recognize the sacredness of all life and pay homage to it here."
Then, the DJ takes over the music around 7:20 p.m. At this point, there is no more talking. The lights are turned out and 90 minutes of nonstop dance begins.
"People move in all sorts of ways," says Seaman. "The music generally starts slow, giving the dancers time to get comfortable in their bodies. Then, it builds to a climax, at which point dancers have a chance to really move, shake and let everything go."  
After a final song to mellow the mood, the dancers gather for closing circle, during which everyone repeats their names and offers feedback about the experience. 
"It's important to distinguish this event from other dance parties or raves," says Seaman. "People often think of Ecstatic Dance as a party or something escapist, but in fact, it's an opportunity to deeply connect with oneself and one's community.
"Some call it meditation, some call it prayer, but no matter the name, this is a platform for generating a tremendous amount of group energy and a strong community bond."
The last Ecstatic Dance before a summer break will take place on Friday.