It wouldn't be psychedelic rock without mushrooms, namely, an 8-foot-tall, hand-painted mushroom. 
That's one of the visual effects of The Artisanals' 'Shroom Tour. The Charleston-based folk-rock band, which includes the former guitar player of Susto, is trippy and hippie in all the right ways, and that have garnered the attention of Billboard with a recent music video release and Q&A and a wide-ranging national tour that's been going on for a year and a half. 
Bubbling lava lamps, phosphorescent lanterns and Himalayan salt lamps complement the giant stage 'shroom. Patterned tapestries line the tour van. And round, John Lennon-like sunglasses decorate the faces of songwriters Johnny Delaware and Clay Houle. 
The band's debut full-length album features spiritual lyrics and Eastern influences, reminiscent of George Harrison. 
The giant mushroom isn't just a metaphor though. The drug it represents is a real inspiration to Johnny Delaware, who was a part of the Acid Boys culture in Charleston surrounding breakout band Susto, which portrays the psychedelic drug and music-making atmosphere that propelled the band forward. 
It's also the title of a song from Susto's debut album. 
Lyrics include: "I've been running with the Acid Boys, 'ooin' in the bites' /Doing what we can to survive now /Ain't nobody got money but, hey, nobody really cares /'Cause we just keep it hanging on."
To Delaware, mushrooms provide a route to a certain mindset, which can help stimulate songwriting inspiration. But they're not the end-all-be-all to his creative process.
"Drugs and psychedelics make you want to be a better person," says Delaware. "They make you want to love the people around you and can inspire you in other ways to create. I'm not one of those guys who needs to get high to create, though. You can reach a dangerous realm if you need to rely on a substance to create something. But if I want to go on a spiritual journey, I'm gonna do eight grams of mushrooms and stare in a mirror to see if I turn into a reptilian."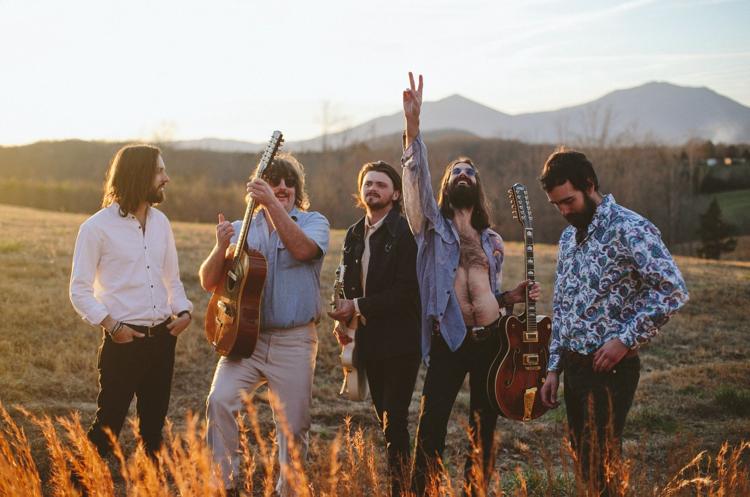 The state of mind Delaware has reached while tripping helped inspire the direction for The Artisanals' new album.
"(Shrooms) help you think: I need to wake up; I've been sleeping a little bit; I need to change my life around," he says. "Which goes with the songs on the new album, which are about evolution and not being stagnant."
The expansive 10-song disc was recorded at the Magic Barn in Iowa City during the winter. It was below freezing outside, and the band was holed up, recording for the very first time in the new studio that had relocated from New York City, where it was known as the Magic Shop. 
The equipment was the same: a massive 1970 NEVE 80 Series custom wrap-around recording console with 56 inputs used for David Bowie's final album "Blackstar," Coldplay's "Viva La Vida," Lou Reed's "Magic and Loss," The Ramones' "Mondo Bizarro," Kurt Vile's "Smoke Ring for My Halo" and Arcade Fire's "The Suburbs." 
"It was dreamy," says Delaware. "You're sitting there recording, touching knobs that Bowie, Lou Reed, Kurt Vile all recorded on. You can hear all these other legendary records that you've listened to in your own music, and that's so special."
The Artisanals incorporated unusual instruments like a sitar, 12-string acoustic guitar, a gong, a Japanese koto, French horns, cello and more into the record.
"That's what I love about rock: You don't just have to be playing an electric guitar," Delaware says. 
His favorite track from the disc is "First Time," which he says doesn't hide behind allegories and metaphors. It's a retelling of a vulnerable and sentimental moment in his life. 
Though Delaware will always be grateful of his time in Susto from 2014 to 2016, he's excited to finally be releasing his own material into the universe, with the help of songwriting partner and guitarist Clay Houle, bassist Eric Mixon and two new members of the band, drummer Nick Recio and keyboardist Ian Klin. 
"(Susto) was kind of like a rite of passage," Delaware says. "That's the way old sages taught: If you want to do something, you have to help someone else do it first."
He adds that there are no harsh vibes between him and Susto's Justin Osborne. They're still good friends. 
"I'm an Acid Boy for life. It's in my roots now. It carries through."