Joyce Harvey believes in the value of art.
She sees the value at the Piccolo Spoleto Outdoor Art exhibition when children's eyes light up and they physically react to paintings. She sees it at the Lowcountry Artists Gallery where she exhibits as one of nine owners of the gallery, the oldest artist-owned gallery in Charleston, now in its 36th year. And she experienced it when she sold her first piece of original art to a young woman.
"The first time that I put a painting in someone's hands, she started to cry. So, then I started to cry!" Harvey laughs. "She connected with it for her own reasons; there was something that touched her that I couldn't see. That was a beautiful moment."
Connecting with "perfect strangers" through art is a rewarding aspect of her craft, but Harvey also values the connection it brings her life, as well.
"Once you paint a flower, a cloud, a sunset, an ocean wave or a beautiful harbor, you'll never be able to look at them the same way again," she says. "You suddenly notice everything."
Sunsets, waves, ships, water; these are some of Harvey's favorite scenes to paint. A life-long sailor who started racing and sailing with her father at the age of 9, Harvey spends summers sailing from Charleston to New England with her husband, whom she met at the Charleston Yacht Club. And when an art instructor told her to paint what she loved, I didn't take long to zero in.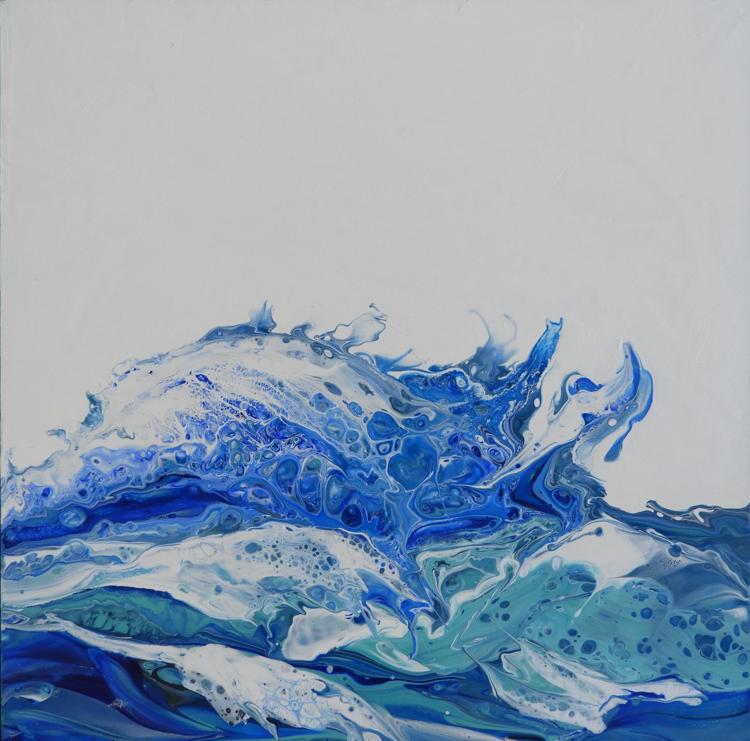 Now, a lifelong artist and "one of the craftiest kids you've ever seen," she captures boats, waves and water with three different styles of painting. She keeps her subjects steady but will often alternate between painting styles to keep from falling into a rut.
"I began painting boats with a palette knife, loving the vibrant colors and rich texture that you can only get with a palette knife," she says. "My pastel brush oils have more of a calm, peaceful, relaxing, serene feeling of the sea."
Most recently, Harvey works in abstract-flow painting in acrylics; a style of painting that captures paints as it drips, runs and moves across a canvas being manipulated by the artist and by gravity. The end results, when they work, are fluid and dynamic, like movement being captured in still-life.
"There's a very high degree of failure with that type of painting, but when it actually works, you go from massive frustration to joy," Harvey says.
Harvey's work pops with color and vibrancy, a natural attention-getter in our fields of vision. Even in a large gallery, her work stands out among other works. Recently, too, Harvey has fulfilled an artistic dream: She is represented by Sandpiper Galley on Sullivan's Island. It's a goal she sought for years but she worked and waited patiently, knowing the right time would arrive.
"I've been (to Sullivan's Island) hundreds of times and I don't think I've gone without going to that gallery or at least looking in the window," she says. "I've always said, 'One day, this is where I want to be ... but I'll wait for it.' "
The waiting, it seems, has paid off, and so has her hard work. Harvey is always working on new paintings and always pouring passion and spirit into every drop of paint that lands on canvas. It's what keeps her fulfilled.
"Everyday, I want to go to sleep having produced something," she says. "Or at least sharing a creative experience."
Sharing that connection is what she believes in; it's all part of the value of art.
Joyce Harvey is the featured artist for the month of September at Lowcountry Artists Gallery. Her work can be seen at Sandpiper Gallery on Sullivan's Island and at The Vendue, Charleston's art hotel.