Matt Shingledecker might not have won a Tony for his role as Bubble Gum Bart in his Porter-Gaud third-grade class production of "Christmas at the OK Corral." 
However, his role in that elementary school play would turn out to be the modest beginning of a Broadway performance career.
The next step in his grade-school acting career came when he was cast in Charleston Stage's "Bat Boy: The Musical" as Pan, the forest god. He was paid a stipend of $125. 
"I thought I was rich," he says with a laugh. "It was one of the experiences that made me think this is what I want to do for a living. 'Bat Boy' turned into Broadway." 
Eventually came a BFA in musical theater at Elon University in North Carolina. During his senior year, he got the chance to fulfill a dream and audition for a role on Broadway.
He didn't get to audition for the main casting director, but that wasn't going to deny him his shot at the spotlight. Courage or lunacy (he wasn't quite sure which) drove Shingledecker to knock on the director's door at the hotel he was staying at and ask for a chance to audition. He got that chance. And he got the role, that very same day. 
He was cast in Broadway's "Spring Awakening" as Georg Zirschnitz ... and then in "Wicked" as Fiyero ... and then in "West Side Story" as the lead male role of Tony ... and then in "Rent" as Roger Davis.
It was an unexpected whirlwind that spanned six years. Broadway had taken Shingledecker, now 32, into its wings, from the neon lights of New York City to the road as he toured from city to city in traveling productions.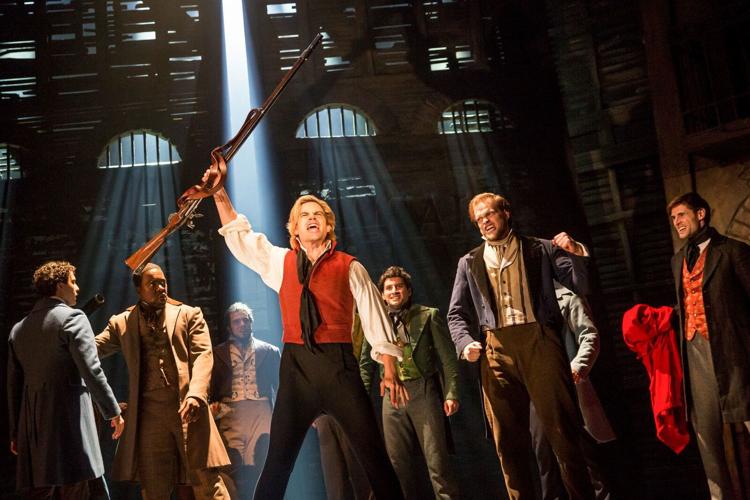 Now, Shingledecker plays the role of Enjolras, the spirited and spunky leader of student political organization Les Amis de l'ABC, in the traveling Broadway production of Victor Hugo classic "Les Miserables." It has a week-long run in North Charleston, Oct. 16-21. 
"I particularity enjoy this role, because in all these other shows, I had played lovers — even though there were different themes and vocal styles," Shingledecker says. "Enjolras is a lover, too, but a different kind of lover: a passionate idealist and futurist. To him, our little lives don't count at all; he earnestly believes that the arc of history is much more important than his actual life."
As Enjolras, Shingledecker has had a few challenges, including carrying around authentically weighted period weaponry, maintaining the character's bombastic energy for each performance and singing operatically in what he says is his most vocally demanding role yet.  
It's hard to stay healthy while performing every night, and sometimes twice a night while on tour, but over a decade into his career, Shingledecker has become used to it. 
"You have to take care of yourself," says Shingledecker, who only gets two weeks off a year. "I practice every day to build the stamina for the show. It takes a lot of discipline, especially this role."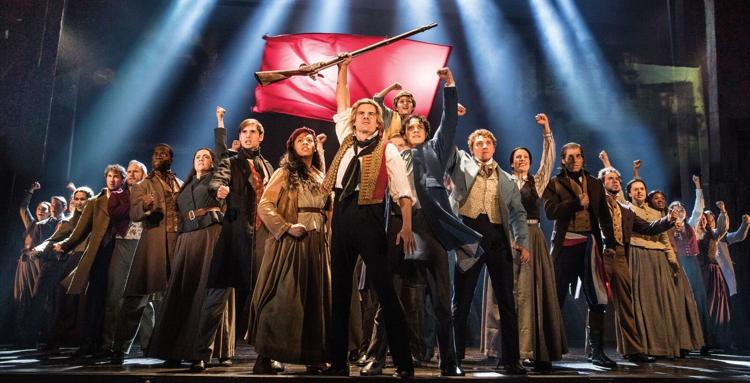 Part of that discipline for Shingledecker is his daily meditation routine with a phone app called Headspace. There's also a balance between hard physical exertion and recovery in the form of physical therapy, stretching and yoga. He drinks a lot of water, doesn't skimp on sleep and trains daily with a vocal instructor. 
"People would probably think we're crazy doing all these little vocal exercises backstage before every show," Shingledecker says. "Just like dancers are considered athletes, this is a different kind of athleticism."
Shingledecker says he still marvels at getting to be a part of "Les Miserables." This particular production includes Victor Hugo paintings as backdrops to some of the scenes. 
"They're beautiful and you get a sense of how prolific he was in his long life," Shingledecker says.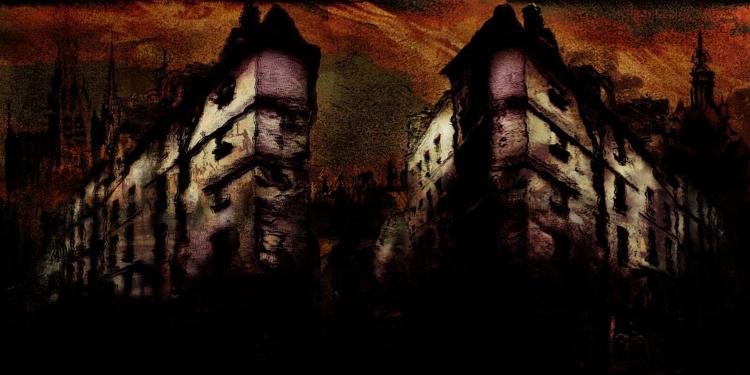 He also says the direction is much less presentational than in the original '80s production.
"It's a little more conversational in terms of the way people interact with each other in the show," he says. "The directors pulled a lot from the book itself, and you really get the feeling that you're not just in an operatic musical but in a play. Also, it's one of the most talented vocal casts I've ever worked with."
This will be Shingledecker's first time back in Charleston in 15 years. But he's also been working on something special that he's going to present here less than a month after the Broadway tour comes to the Holy City. 
He's hosting a musical performance at the College of Charleston's Sottile Theatre in November with some old friends, including chief audio engineer Elliott Elsey of Truphonic Studios in West Ashley. 
"He's been my best friend since we were 3 years old," Shingledecker says. 
The variety-style performance at the Sottile will feature an eclectic mix of original arrangements, from songs Shingeldecker performed in a Porter-Gaud School barbershop quartet to choral music, as well as some of his Broadway hits.
His former high school theater teacher Mary Gould, now of South of Broadway Theatre Company, helped organize the concert, and some of his New York City Broadway friends will be contributing as well.
"It's been a bit stressful producing this, with all the Skype sessions and rehearsals, and doing Broadway full-time," Shingledecker says. "But when I'm working on something else, it tends to positively affect the other thing I'm doing. 'Les Mis' helps the concert and the concert helps 'Les Mis.'"