Even if this is one of the busiest times of the year, I still make time to enjoy the allure of the decorations and the scenery. And one exhibit you should make time for is happening at the Scarecrow Event Gallery on Ann Street.
The British Print Invasion exhibit is a focused contemporary art collection that features a collection of 20th-century British linocuts.
Linocut is a form of printmaking that uses a sheet of linoleum as a relief surface wherein images are cut into. Then, much like traditional printmaking, the linoleum is inked with color and pressed onto a paper surface. The result is often a finely lined print that can include several colors and is distinctly identifiable.
This previously private exhibit is on display in Charleston now through January and features three of the more well-known artists utilizing linocut: Sybil Andrews, Cyril Power and Lill Tschudi. All three artists were taught the technique at the Grosvenor School of Modern Art by instructor Claude Flight and the artists channeled their own dynamic style and subject matter into the prints.
Covering inherently modern subjects such as urbanism, technology and jazz, the prints showcase sharp movement and dynamism. As a whole, it looks as though these artists are forging their own definition of "modern art."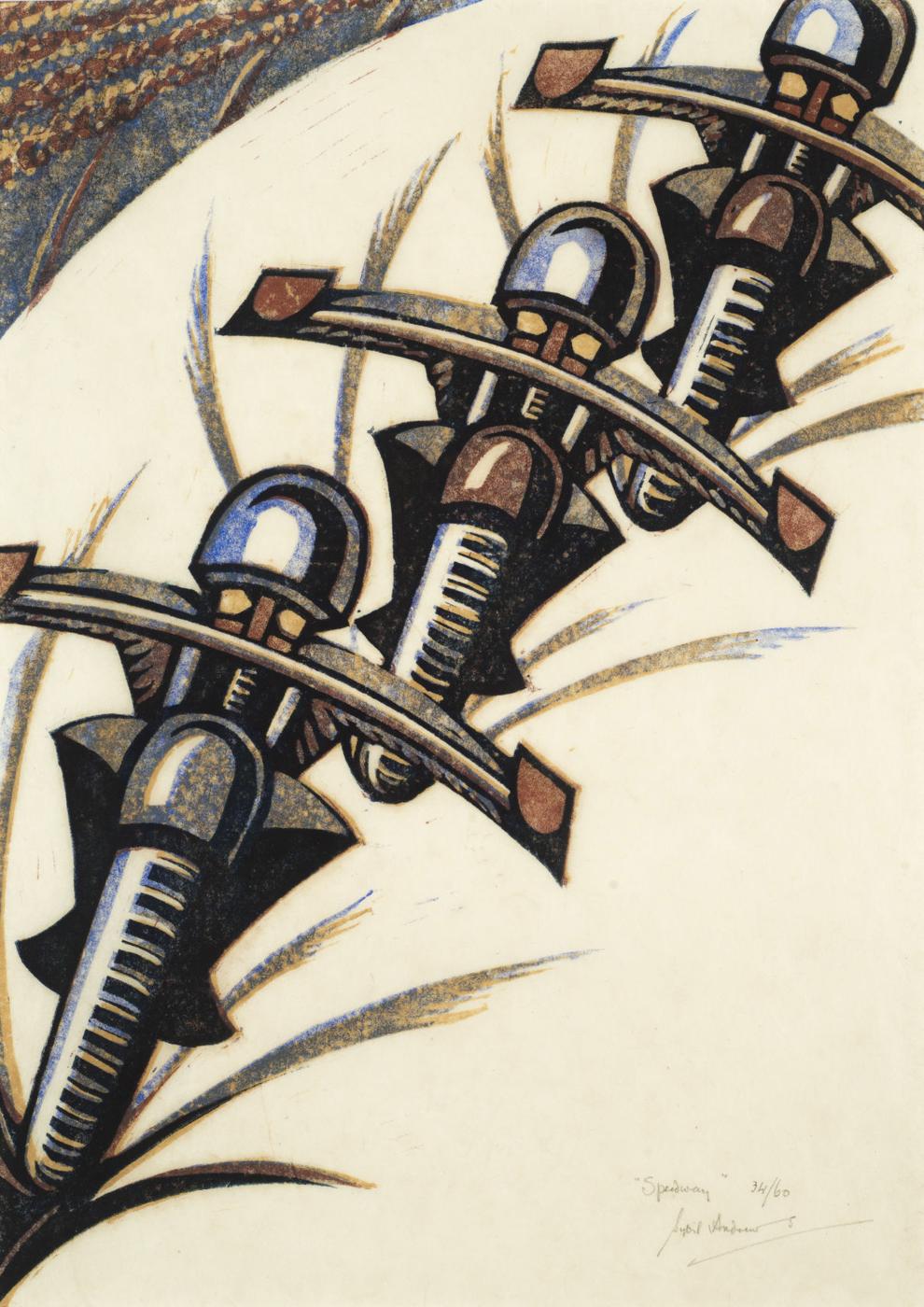 Sybil Andrews' linocut, "Speedway," is perhaps one of the more well-known pieces in the exhibit. The implied movement in the linocut and the sharp edges combined with the minimal use of color create prints that are equal parts Picasso and Picabia, and forerunners to the sharpness of Escher and the mass market printmaking of Warhol.
The whole exhibit is marked by the same bonds of creativity. Missing this exhibit would be like missing a vital piece of modern art history.
Tami Boyce
When I last spoke to local artist/illustrator Tami Boyce in December 2015, she had some big projects on the horizon. Since that time, many have come to fruition and Boyce has been busy with a host of projects, including releasing her children's book, "Owen the Octopus Tries to Fly," illustrating for other children's books and speaking at Adobe's Creative Jam event in Charleston.
Recently, Boyce launched a Kickstarter campaign for her latest book, "Put A Monocle on It."
"The Kickstarter experience was kind of a scary one for me initially," Boyce says. "I get really nervous when I put a project out into the world that I'm really excited and passionate about. There's this innate fear that goes along with that."
Her fears were allayed by the continued support, however. And she's working now to get the project 200 percent funded.
"I was blown away with people's support, different folks sharing the link, and everyone just being generally awesome," she says.
For 2018, she's still got a full plate working on her second children's book, "Just Eat It Already," a book introducing kids to new foods.
"My hope is to get kids excited about trying different and healthy options outside of their typical realm of tater tots and hot dogs," she says.
The Kickstarter project is ongoing and Boyce will be at West Elm from 1-4 p.m. Dec. 2 for a pop-up art event.