The pulsing, flashing, morphing, buzzing mind-blower of a sensory experience that is Beeple's sprawling new studio and exhibition space made one thing as clear as crisp resolution.
Charleston, we are not in Kansas anymore.
Within the limits of a city known mostly for its enduring 18th century architecture, subtropical foliage and rainbow of pastels, I had stumbled into an otherworldly wormhole. 
And it is hidden in a nondescript factory in a Cainhoy industrial park.
It is a parallel dystopia, the stomping ground of masters of the universe like Jeff Bezos, and Kim Jong-un, or at least their likenesses, who are rendered prostrate and toppled — at times dead-eyed, exposed, decapitated or disemboweled.
It is world of digitally birthed babies that pile pink and helpless atop one another, contained in rectangular digital totems, or kinetic sculptures, flowing in a virtual amniotic fluid in arresting, evolving, transfixing heaps.
And it can feel at times like a future-forward take on "A Clockwork Orange," with rapid-fire footage driven by spine-shaking, mind-numbing percussion that together could alter even the staunchest mental state.
If the unsettling power of Beeple's digital art held sufficient sway on Instagram to gather millions of followers and to power multimillion-dollar art sales, they now loom larger still, dominating walls and screens and floor space, squashing us mere mortals smaller still.
On March 11, the artist, whose name is Mike Winkelmann, ushered in a new chapter of his high-profile emergence in the art world with the opening of Beeple Studios. In an evening synthesizing the art, artists and collectors of digital art, he opened the metal doors of his new 50,000-square-foot space in an industrial park.
The date was by no means randomly selected. Two years ago to the day was Beeple's crypto coup that shook the art world, when his digital work "Everydays — The First 5000 Days" sold as an NFT at Christie's auction house for $69.3 million.
And the square footage is telling, too. For local reference, it swallows the Gibbes Museum of Art by 8,000 square feet.
While it will primarily operate as a studio space, and will not keep 9 to 5 hours that are open for viewing, plans are underway for charity events, and the artist's vision is to eventually host gatherings of the Charleston arts community.
The man in the machine
Like the film that made a mega-hit out of a strange, new world departing from a corn-fed Kansas, an unassuming Midwesterner is pulling these blockchain strings — or masterminding the mouse — in this newly erected Beepleverse that may well serve as the epicenter of the crypto world.
Like the great Oz, the 41-year-old, Wisconsin-raised Winkelmann is a study in similar dichotomies, if in reverse — with a disarming smile on the outside and the often grim-rendered lurking within.
Similarly, Beeple Studios belies its seemingly random location and unassuming building. It is a well-oiled, process-focused machine, by all appearances staffed with 30- or 40-something men who are pleasant to a one.
On the Thursday morning before the grand opening, I head out to the studio. Along Technology Road, Canada geese waddle amiably. A gaggle of white Walmart trucks await dispatch.
At the gate, a security guard doles out a visitor's pass and a nondisclosure agreement. Inside, I am greeted with easygoing efficiency by Brian, then handed off to Jeremiah, and led to a room where the interview is to take place, where I am vetted by a videographer.
Through an open door, I peer into a cavernous stretch beyond the room, where humming, blinking, churning technology flashes on massive screens. I can't help but entertain the notion that cameras are on me, too, that the aw shucks techno-wizard behind the all-knowing head of the Beeple brand is somewhere tucked away perusing monitors and tracking every move in his bold new kingdom.
"There is a lot of moving pieces here," Winkelmann beams, every inch the approachable, slender guy he's often billed to be.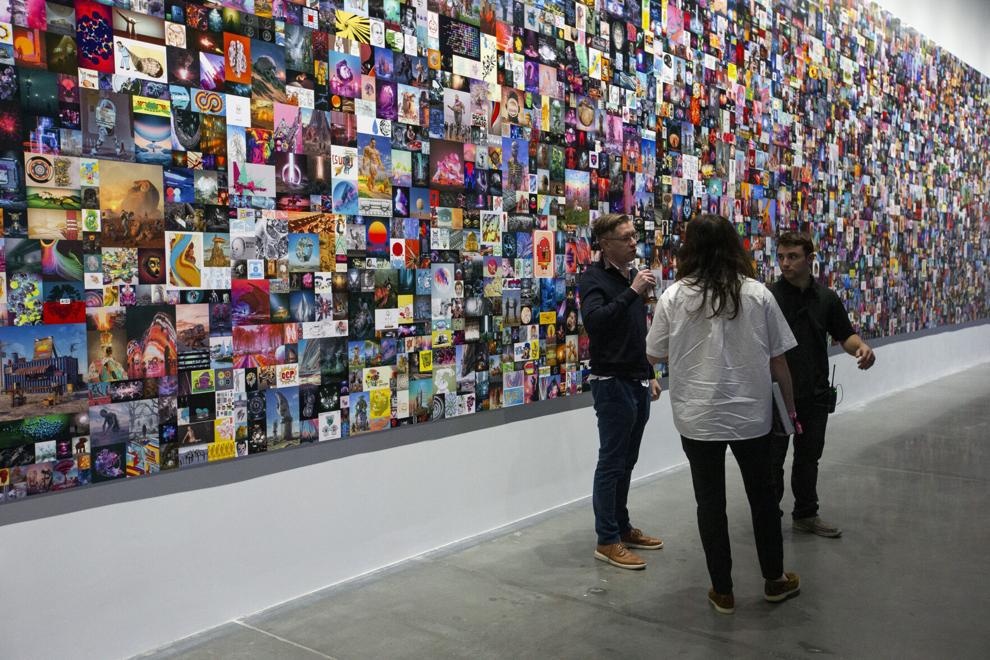 I get a sense there is more at play in his darting eyes, a fastidiousness of process and purpose. Along with a quizzical twinkle, there is a data-processing quality to them, a rapid-fire cognition that seems to be forever sizing up.
It's decided we'll sit in the experiential room, plopping catty-corner on two contemporary black leather couches, one of numerous groupings that are arranged around sleek glass coffee tables that turn out to be screens. Nearby rectangular pillars are sided with more screens.
All of the screens can change quite often, Winkelmann's plan to avoid the set programming he has seen elsewhere that remains static for months.
"We have a near endless amount of things that we can put on them because we have a bunch of systems hooked up," he said.
Replacing the who you know with what you see
Envisioning this as a space utilized by the visual arts community, for the opening he had many artists make videos expressly for the immersive room, with content coming from all over the world.
"I don't honestly know where the people are from," he said, with a heartland stretch of his vowels. Many featured artists are completely anonymous, culled from an online callout, selected from his favorite digital peers.
"That's another way that it's very different from the curation process," he said of traditional museum modus operandi, rife with CVs and career trajectories.
"That's fine, there's nothing wrong with that … but I think there's room for something that's a different approach, that almost treats this more as like a platform, almost like a room-sized Instagram in a way."
He based his picks entirely on the art, avoiding the "who you know" art world food chain. Some have no connections whatsoever, like one artist from Tokyo with maybe 800 followers and another found in Brazil.
"He is literally just a dude in … Rio de Janeiro, like working alone on his computer, very talented," Winkelmann said. "Being able to provide him an opportunity to show his work in a space like this to me is something I feel very fortunate about."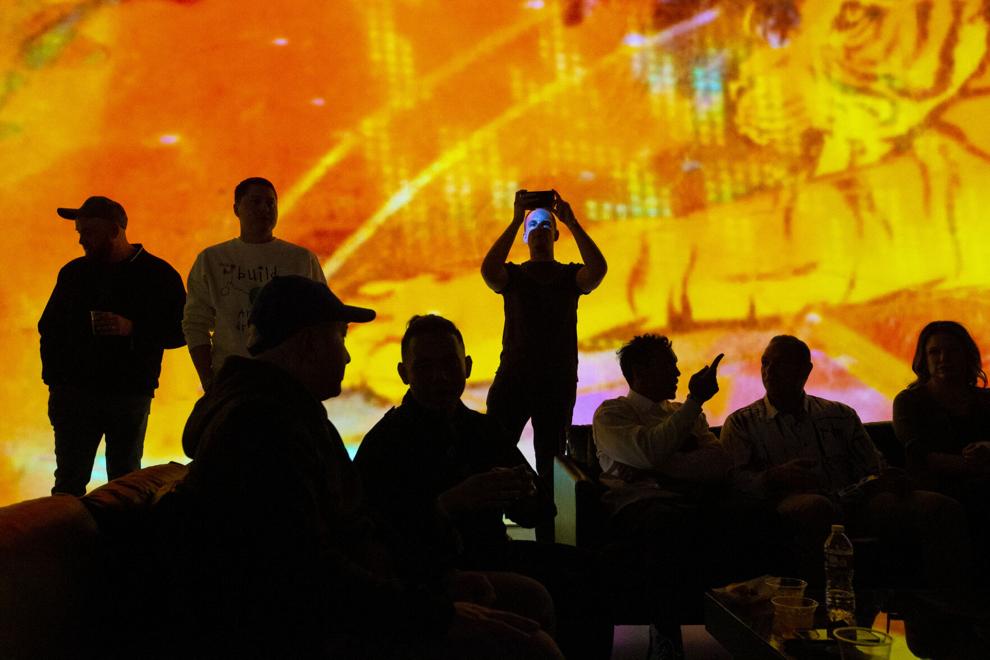 It should be noted that this is not Winkelmann's first big-space rodeo. He spent 10 years creating concert videos, some for the Super Bowl even, noodling out how they would look at such scale. Coming up through computer science, he segued to design, creating ambient video loops, or VJ loops. Releasing them for free, they became popular, which led to him making custom content.
That open-sourced ethos to build something and give it to the community comes partly from a technology world background. But it's also emblematic of Winkelmann's impulse to make new art.
"It doesn't benefit me at all to just keep them on my computer," he said. "After that, the project file to me is totally useless. I'm never going to do anything with it, so why wouldn't I? … I'm going to keep moving, I'm never going back."
Fitting into the art world
The shift from designer to artist has been percolating for years. When Winkelmann started mulling his millions-strong online following, it occurred to him that, by those measures, he was one of the most popular artists going. 
Yet he still didn't identify with the traditional art world. It was the ultimate embrace by Christie's and the multimillion-dollar sale driven by NFTs that was the unlock, he said.
It's true, not all of those in the traditional art world are as fine with Beeple as he is with them. The arts media world was plenty fired up with the Christie's sale two years ago. Then, in 2022, when Beeple mounted his "Uncertain Future" exhibition at the Jack Hanley Gallery in New York City, Artnet News reported other artists represented by the gallery quit in protest.
Throughout the retrospective in the front gallery, candid, cheery text plates from Beeple read like text messages, repeatedly puncturing any hot air out of the standard gallery practice of contextualizing work in words.
In aggregate, the work represents the artist's daily response to a reeling world, one shaped by a few figureheads looming ominously above the masses and riddled with corporate brands whose pervasive, engineered cheer is cast in a harsh new light. 
Kim Jong-un in Pikachu-Buzz Lightyear, full-breasted suit waves from a parade in front of American flags. Michael Jackson is a succession of gender-fluid automatons marching, blank-faced, down a runway.
And the work doesn't shy away from the meta-commodification of a multimillion-dollar artist either. In one room, an augmented collage compiling "Everydays" is a nod to the record-breaking Christie's sale, though this time not arranged chronologically and featuring more recent works.
A glassed-in showcase demonstrates how Beeple's crypto art is also packaged for buyers, who receive in addition to the NFT art a version in a sleek digital frame, which is packaged in spiffy white boxes that are an intentional nod to those carrying Apple products.
"If you don't care about that blockchain, that's fine," said Scott Winkelmann, Beeple's brother, referencing the digital authentication of each work. "Enjoy the digital art on your desk."
At the opening, the party timed the reveal of the experiential room. The work of several digital artists appeared one after the other, identified by online handles streaming across all the screens, much to the artists' evident euphoria. Among those were Revilo Stuff, XCOPY, GMUNK and Brilly.
They were all over the digital map, from Gavin Shapiro's winsome penguins traversing to the fantastical, silvery sleek nudes of Blake Kathryn and Smeccea, from XCOPY's color-saturated drawings of faces and masks and skulls to Coldie's mixed-media smiling, slogan-addled collages. The immersive foray invaded every inch of the room — and, yes, my psyche, too.
The opening scene
On a brisk Saturday night, hundreds of guests rumbled in buses to the industrial strip, coming from hotels based downtown or on Daniel Island. Reports had it that an uptick of private planes had landed at Charleston International Airport. The Beeple team said one guy was traveling 40 hours from South Africa.
The new frontier of art sales was evident from the tightening of a party wristband. Launching with an expletive and a quandary, it posited "Do you put this on eBay where it could easily sell for upwards of $100K USD … but in the process you would expose yourself as a board-certified full on pervert living amongst the NORMAL good, loving people of our community who are NOT one of those dirty-dog crypto prevarts like u!!!"
That cheeky gauntlet being cast, there was exacting method to the Beeple madness. The bands, each offering different phrases of the same sort, were doled out by an agreeable arm of ready-and-waiting staff, who ushered in guests with convivial control.
Inside, a black-clad cadre weaved through the crowd to offer drinks and bites, quickly collecting empty glasses. Stoic security guards also dressed in black manned entrances.
When a friend set down her phone and scrambled to find it, a security guard without a pause directed me to the front desk, where a staffer immediately produced it. The ladies room was stocked with mints and scents and whatnot, not to mention staffed with an attendant.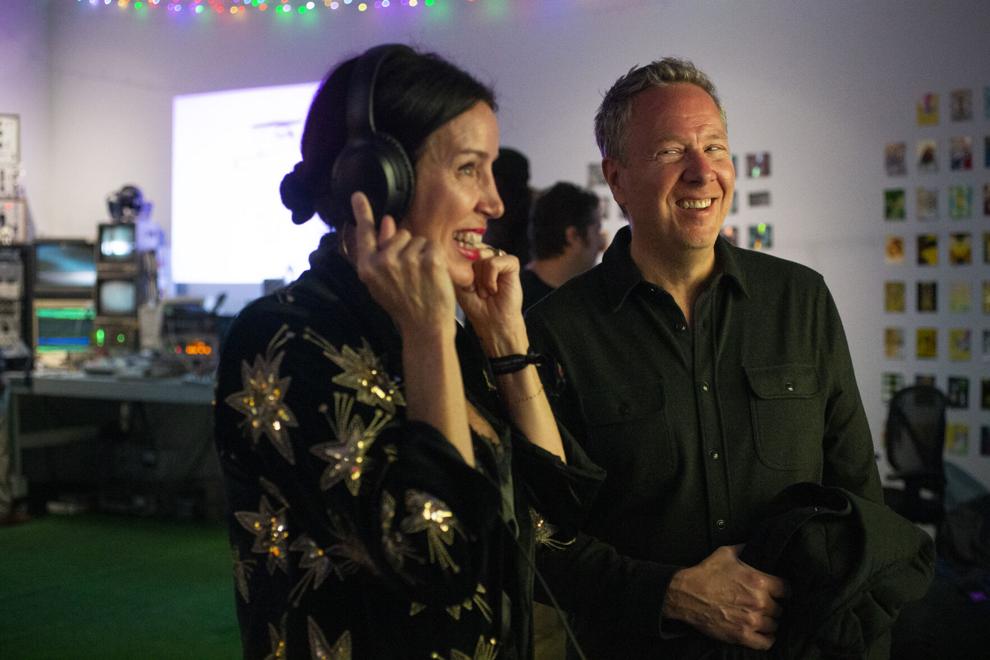 Even with a crowd that was mainly male and markedly pale, along with the frequently provocative subject matter, this unfettered new world was far from "Lord of the Flies." Instead, the event hummed respectably like a well-oiled machine.
The majority of the guests, around 350 of whom 250 were art collectors, had traveled from other states and countries for the coveted spots they had scored to bear witness to this historic moment in the crypto legacy. Beeple Studios is the first of its scale devoted to digital art formerly relegated mainly to smaller screens.
Golden ticket to the party
The golden opening ticket required a significant investment in that arena. Most in the room were art collectors who had purchased an NFT from the artist, the artists whose work was exhibited and others who were crypto-art connected.
Spotted was Elon Musk's brother Kimbal, a slim, tall figure who stalked the room in signature cowboy hat and a jean jacket embellished with painting of a tiger. Also on the list were serious, staggeringly deep-pocketed digital art collectors, influencers like Tim Ferriss and Kevin Rose, early Bitcoin billionaires; New York art publicist Sara Fitzmauric of Fitz & Co.; and a few of the family of Aquavella Galleries.
I also spotted Charleston's usual art world suspects, among them Gibbes Museum of Art Executive Director Angela Mack; gallerists Anne Siegfried of George Gallery and Lese Corrigan of Corrigan Gallery; artist Raishad Glover; and art collecting pro Michele Seekings and her husband, Charleston City Councilman Mike Seekings.  
More community engagement is afoot. Winkelmann of late has been forging partnerships locally at the Gibbes and elsewhere. One report has it that he has also been offering gratis instruction at Claflin University.
Many came bearing equipment, whether shouldering elaborate video apparati or expertly brandishing iPhones. They followed after Beeple in clicking, elated herd, as if he were the Pied Piper of pixels. He readily acquiesced, notably at home in a world populated by devices.
And there were the faux celebs who peppered the party, too, by way of actors donning masks representing Elon Musk, Jeff Bezos, Pablo Picasso, Andy Warhol, Mark Zuckerberg and Kim Jung-un, all fashioned with an unsettlingly Zombie a la Beeple's work. 
Among the few women was Leanne O'Brien, the wife of the artist Smearballs, aka Nick DenBoer, Toronto-based director, animator and editor who collaborated with Beeple on the aforementioned falling babies, doing the animation for it. The two had traveled from Toronto and were making a holiday of the event, staying at the Vendue Inn and seeing Charleston's sights.
O'Brien, an engaging communications professional with a technology background, introduced me. The towering, bespectacled DenBoer sheepishly shrugged at his nom d'art, explaining it was coined a while back and stuck.
Another thing that has stuck has been his friendship with Winkelmann, when they spoke at the same conference in Las Vegas. Since then, they have become friends, both online and by teaming up for presentations at design conferences.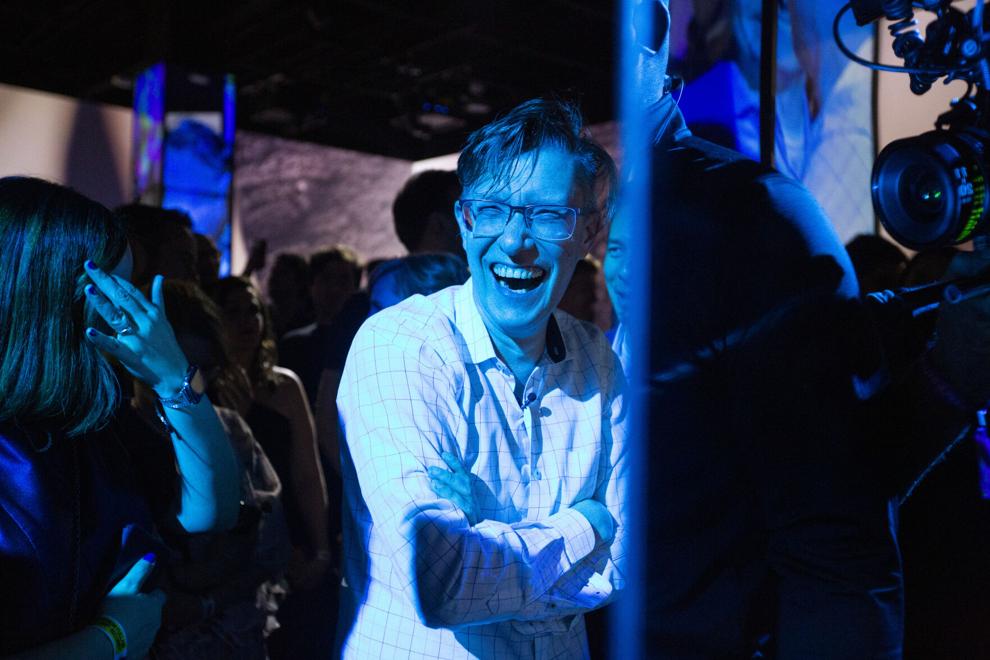 "Yeah, he came to Toronto, visited my place, and we partied for years," DenBoer said.
DenBoer has watched as his friend got bigger and bigger gigs, and attributes Winkelmann to helping digital art catch up after lagging behind for 20 years.
"The guy deserves it. He started this whole daily thing that became a trend in my community. So many artists do a daily now because of him."
The artist has also observed his friend uplifting others in the digital art sector. "He's also just a kind of super awesome guy in his own community, like bringing all of us artists into this show together. … He always helps his friends. He's that guy."
In the experiential room, another woman raced elatedly to an image to get a snap with a penguin work by Gavin Shapiro, who beamed nearby. It turned out she was a collector, who had purchased an NFT.
Shapiro is a New York City-based digital artist who characterizes his goal as "to produce work that makes you smile." He came to Charleston with his fiancée, whose background is in the New York art world.
After teasing an 11:30 p.m. event and counting it down on the screens, Beeple himself manned a control center in the middle of the room to intently drive a mouse hither and yon.
On the spot, he was making an audience-driven Everyday, #5793. At his monitor, he wrangled visual elements like marching military soldiers, exotic trees and an American flag — sizing, manipulating, distorting, placing, rotating. All of this was simulcast, including footage of an outsize Beeple bathed in a blue glow, creating and mulling and scratching his head, with a DJ booming club music — that is, until the reveal, when it cued "Breathe" by Pink Floyd.
The only hint of conflict came from the overzealous scrum to get one of the pages that were floating down from black boxes mounted on the ceiling — a brick-and-mortar nod to the virtual "air drop" practice of releasing NFTs to influencers and other supporters. At the event, the "air-dropped" papers with gallery-style red dots could be traded in for an NFT of Beeple's work.
The prospect of such a get unleashed a bit of a beast in some, who jockeyed for position and grabbed for them with unchecked gusto. But Winkelmann was having none of that, and shut that action down fast, vowing over a microphone to boot anyone engaging in such rowdiness. At another point, he abashedly streamed comments about doing a third of a beer bong.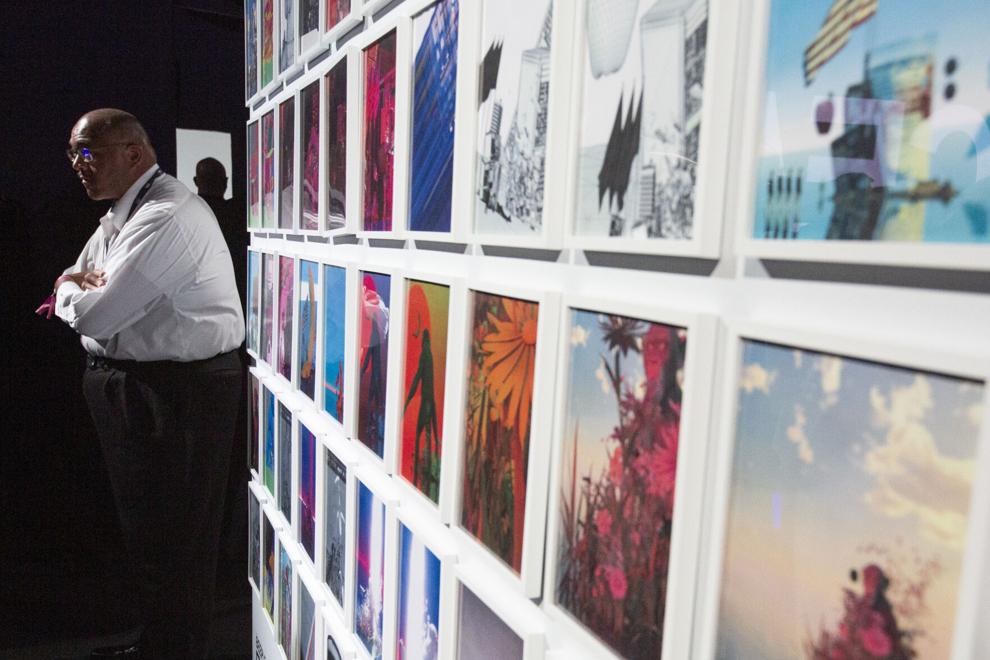 Everyday released, the team then rolled out a wall of the red-dotted blockchain works, as well as an image offering an earlier glimpse the new #5793, with a QR code to access it. From his new position in the back of the room, Beeple then commanded over a microphone, "Let's (expletive) party!"
With that, numerous figures in Beeple masks infiltrated the audience, outnumbering the blankly staring icons — the Musk, Bezos, Jong-un — that came before. This time, the man in the mask had eyes that smiled.
The freshly minted, millions-strong master of the universe was in his meticulously considered new hub of his vast internet kingdom, and Beeple was ready to party.