The digital and physical art worlds are converging, and it's happening right here in Charleston.  
Off Clements Ferry Road in a 50,000-square-foot industrial warehouse, one of the world's top digital artists is breaking down the barriers between two very different artistic realms — one grounded in the cornerstones of history and tradition, another floating in the possibilities of technological progress. 
It's all thanks to Beeple, aka Mike Winkelmann, the Charleston-based digital artist who became globally renowned when he sold his art in 2021 in an NFT (non-fungible token) format for $69.3 million at Christie's, the revered 255-year-old British auction house.
The piece sold for that astronomical amount was a pixel-like digital display of Winkelmann's first 5,000 "Everydays," the name given to artwork he has made daily since May 1, 2007. 
Since that sale, things have gotten more interesting for Winkelmann. And in many ways, more complicated. The same might be said of art in general. 
"It's allowed me to do things I thought were not possible before on a scale I thought was not possible before," Winkelmann told The Post and Courier at his new exhibition space. 
On top of continuing his digital "Everydays," Winkelmann has begun the process of reimagining what has traditionally been viewed on a cellphone or computer screen onto a gallery wall. 
His digital art will be displayed in life-size prints, paintings and more.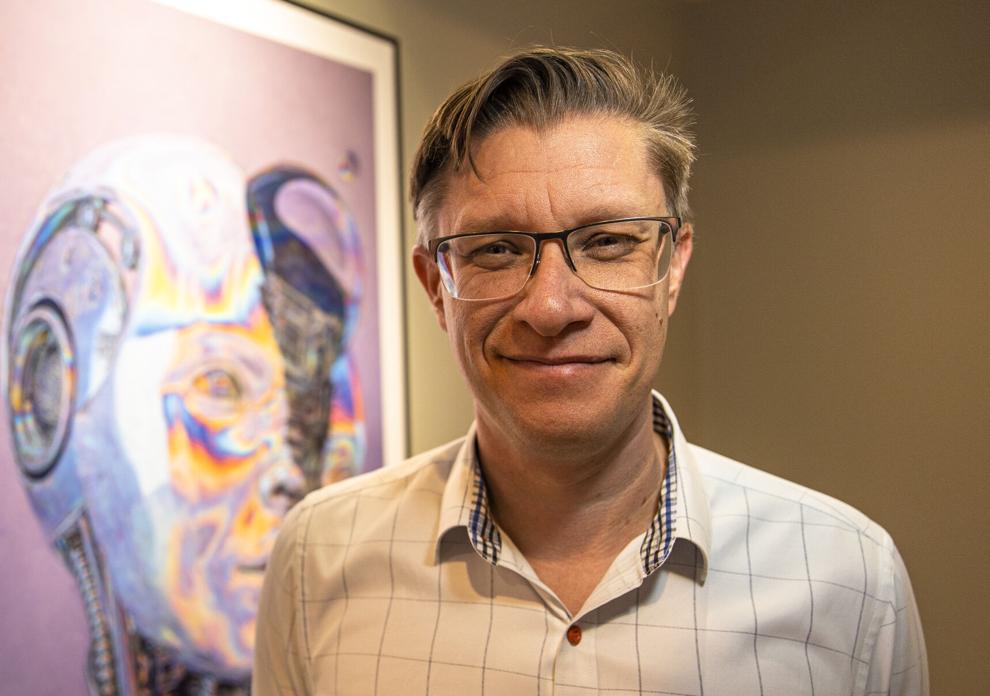 "I never thought how this would look on a wall," said Winkelmann. "There are so many different things to consider when it's a physical piece ... deciding what's the best physical representation of this and how can I get the message across better but stay true to the overall concept." 
One focus is on the emotion that can come across from a giant canvas versus the glow of a screen.
Miniscule details crafted in incredibly high resolution can be zoomed in and illuminated in ways they simply couldn't before. Winkelmann's many hidden messages spattered throughout his "Everydays," from a forgotten cheeseburger in an apocalyptic universe to a written note that would've been practically invisible online, are now bolder than ever before.
In addition, Winkelmann's physical digital sculptures (he likes dichotomy), the first NFT of which fetched $28.9 million, allow for what was once frozen in time to become a continual conversation with updateable moving images. One piece can change multiple times throughout his entire lifetime, he said. 
'Just another medium'
Practically speaking, the exhibition space seeks to provide better education on digital art, how it's made and how it's changing things. 
"We're very much trying to, sort of like, bridge the gap between the traditional world and digital world," said Winkelmann. "There's a lot of people who are just like '(expletive) the traditional world, we're burning it to the ground and building a new system,' and I think, to me, that's a bit maybe shortsighted that this will not become part of that traditional art world." 
Sure, he creates his art on a computer, but that's really just another approach. Winkelmann is simply joining the ranks of well-known painters, photographers and sculptors who have come before him, said Angela Mack, the executive director of the Gibbes Museum of Art. 
His dedication to creating art every single day is no different from any artist spending a lifetime on a painting, she offered. She describes the work ethic as "incredible." 
"This is an art form that some people view as a progression, and some people see it as a new way of expression," said Mack. "From my perspective, it's just another medium."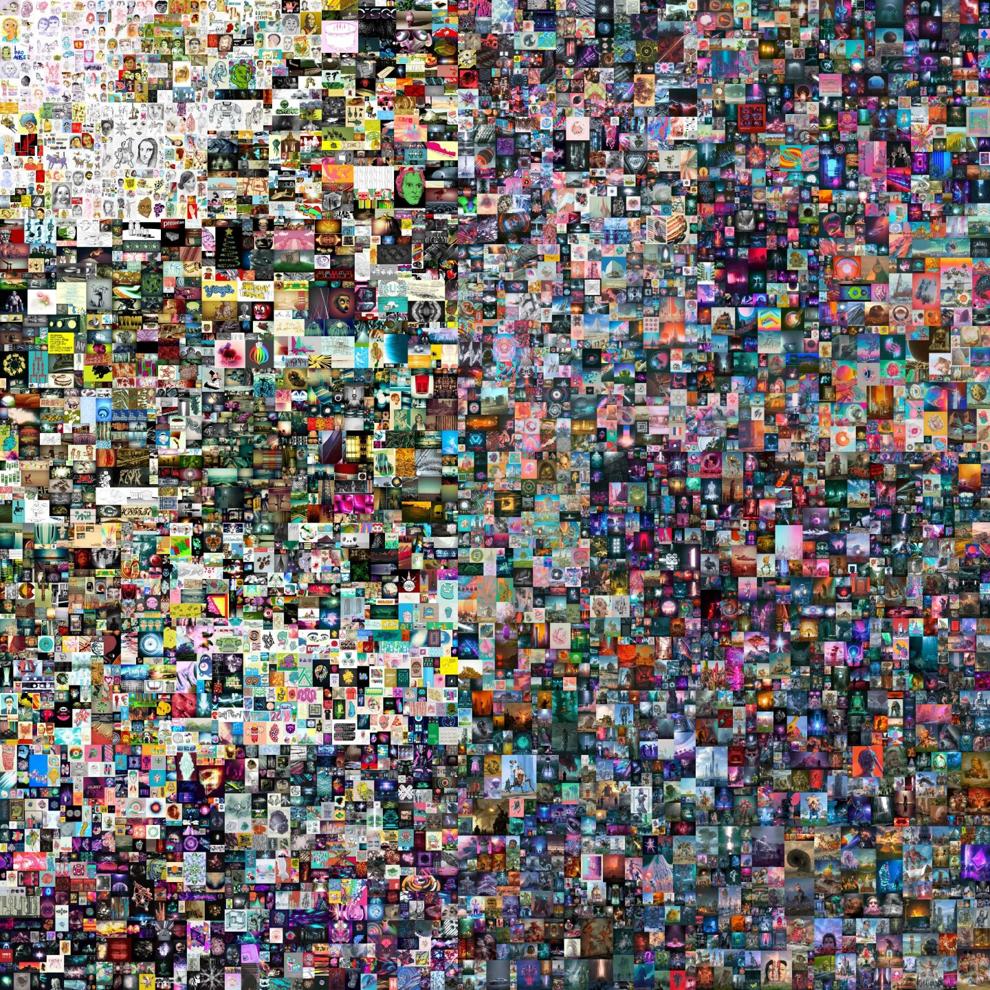 Mack is one of just a handful of people from all over the world who have received a walkthrough of Winkelmann's new space before it opens. There are hopes for a Gibbes collaboration next year, with the goal of better fastening the Charleston art scene to the global phenomenon that is Beeple. 
"It's so interesting to me that, in a city where there is a great deal of attention given to 17th and 18th century architecture and these aspects of the city that are living with us all the time, that we also have this incredibly new approach to art," said Mack. "The technology component is just amazing. It really will expand how people view art, and it's happening just down the street, so to speak." 
Forging community
While Winkelmann indeed hopes this serves as a physical space to share his own work, he's looking forward to giving a platform to other digital artists' works. That's a big piece of it for the fairly solitary dad who says he spends all his time either working or with family. 
This will be a chance to better form some semblance of a digital art-minded community in person. 
Charleston's small but growing group of digital artists and NFT collectors is certainly excited about that aspect and the opportunity to better get to know Winkelmann, this celebrity figure they've only seen pop up a few times in online group chats.
The "Bored Ape Yacht Club," an NFT collection, spurred an online community that opened Chris Orza's eyes to a "whole new world out there," as he calls it — a world of artists and traders who have become some of his closest friends. 
"It's about the community," said Charleston-based Orza. "I have made some great friends from around the world that I probably would have never met if it had not been for NFTs." 
While the internet is certainly a choice platform of connection, Orza also honed in locally by creating the Charleston Crypto Cats group and establishing in-person meetups with like-minded NFT, cryptocurrency and blockchain enthusiasts. They meet at least once a month, and the group has grown from about five people to 50 since being founded over the summer. 
Winkelmann is also in the group. Though he hasn't attended any meetups, he has communicated briefly with Orza and other members and is certainly an inspiration. His local exhibition space is much-anticipated. 
"I think NFTs have given thousands of artists a new way to express themselves, to have their artwork showcased around the world and to be able to monetize their work in a way that could never have been done had it not been for blockchain technology," said Orza. "So I am excited about NFTs in that regard, but even more excited when you start thinking about how the physical and digital worlds can collide, especially here in Charleston, where we have become internationally known for our history, charm, food, music and arts."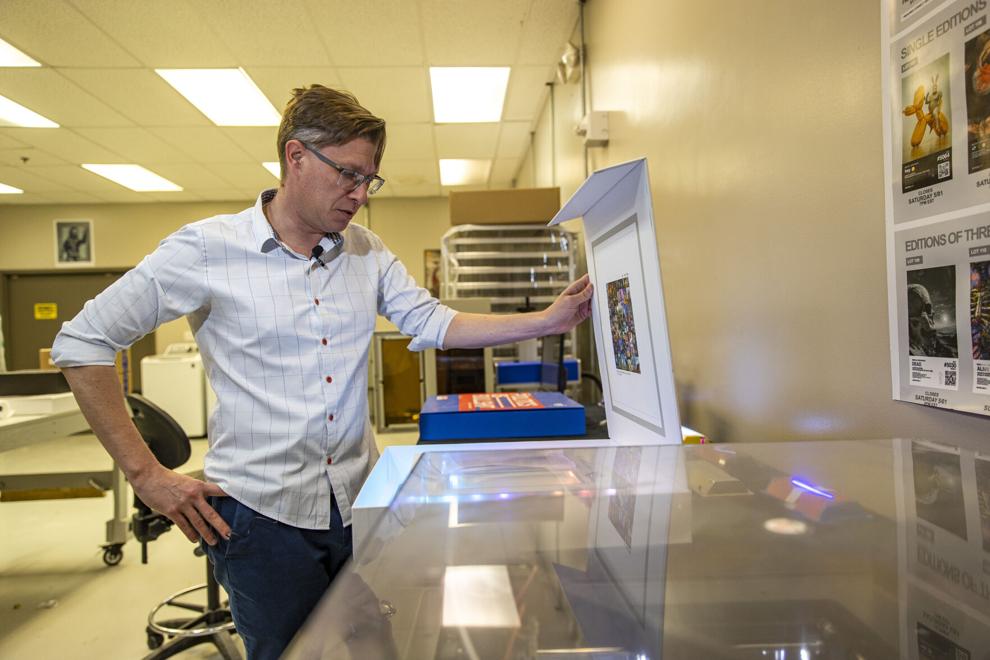 Orza said it's an exciting time for Charleston as Winkelmann helps blast it into the global digital art realm. And he's not the only one looking to take off.
"We have so many talented and passionate people building here," Orza said. "Charleston is just getting started." 
The space
On the drive out to Beeple's new exhibition space off Clements Ferry Road, shipping containers on semi-trucks line the roadway. On several acres of land in an industrial complex, floating somewhere between Daniel Island and Wando, the gated warehouse looks like it could be a factory. 
In a way, it is. 
For the last year, Winkelmann has been building out the museum-like space, where he can not only display his vast catalog of art but also walk viewers through his creation process and give a platform to his peers. 
On top of that, it's also his own personal studio and workshop, where a flashy row of 3-D printers can pump out whatever fantastical idea of the day comes to mind. 
Overall, it's a playground for experimentation, and one that Winkelmann gets a twinkle in his eye about. 
Upon arriving at the front door, guests are met in a room with a padlocked entryway. 
Once inside, they're offered a microwavable cup of noodles in the kitchen and a glimpse of a life-size rendering of an astronaut with an eyeball for a head in the conference room. 
The front of the building also features Winkelmann's office, a room with walls covered in his sketches and outfitted with six TVs that are tuned in to a hodgepodge of news stations; he incorporates commentary on politics and current happenings into much of his works.
Studio spaces include a room with a drawing table and ideas scribbled on whiteboard walls, plus the 3-D printer oasis. 
Then, there is a traditional white-wall gallery space, which will serve as Winkelmann's own exhibition of sorts. 
There's also the innovative and much-awaited "experiential room" with 20-foot-high ceilings and a bevy of bells and whistles.
Winkelmann is looking forward to revealing that and more when the space opens in March. His forward-thinking vision, formed here in Charleston with the whole world in mind, will then finally be revealed.