When everyday materials land in the right hands, they have the power to transform.
Cotton and thread can weave stories that shine new light. A plant can color our understanding of culture. Soil and water can take shape to change our take of the land on which we work and live.
Such is the elemental thrust of "Griots of Cotton, Indigo and Clay," an exhibition of textile arts and other works at City Gallery through Feb. 28.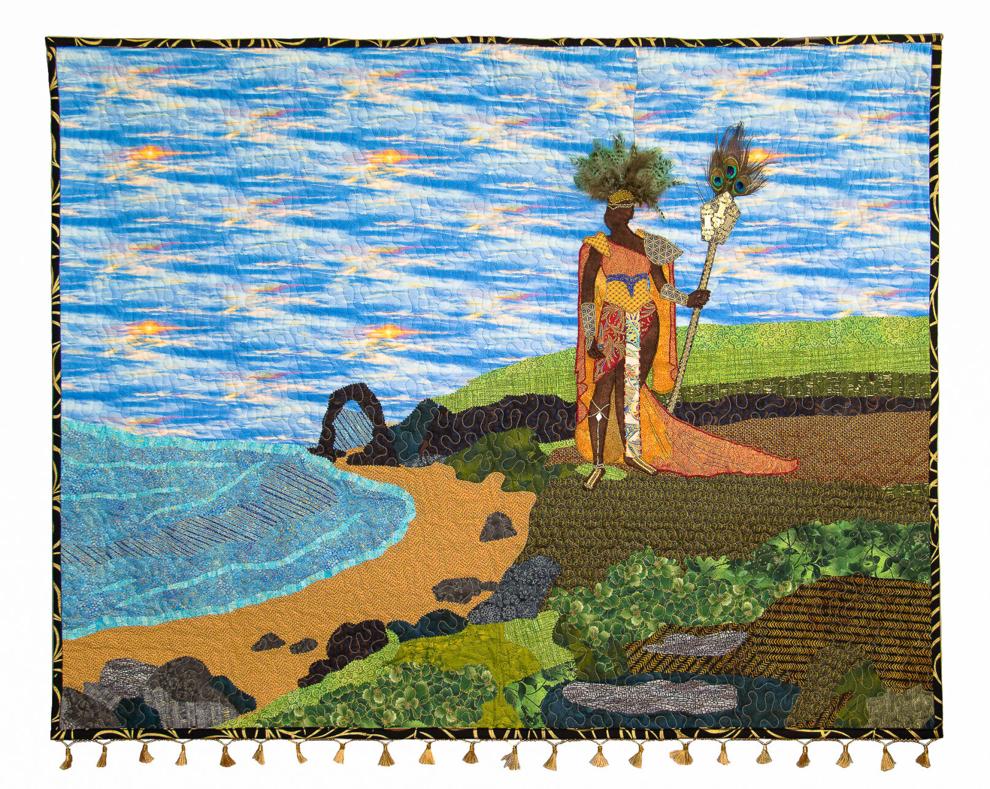 Back to the land 
Gathering textile artists connected to Black agrarian tradition, it aims to use Earth's most fundamental, seemingly modest offerings to show the way to a greater common understanding. The show is deeply rooted in those elements to visually tell stories in the tradition of the griot, a West African storyteller, praise singer, poet or musician.
And it debuts pieces from the permanent collection of the Acres of Ancestry Initiative/Black Agrarian Fund, featuring more than 100 artworks commissioned from Black fiber artists in the South Carolina Lowcountry, the Black Belt South and the African diaspora at large.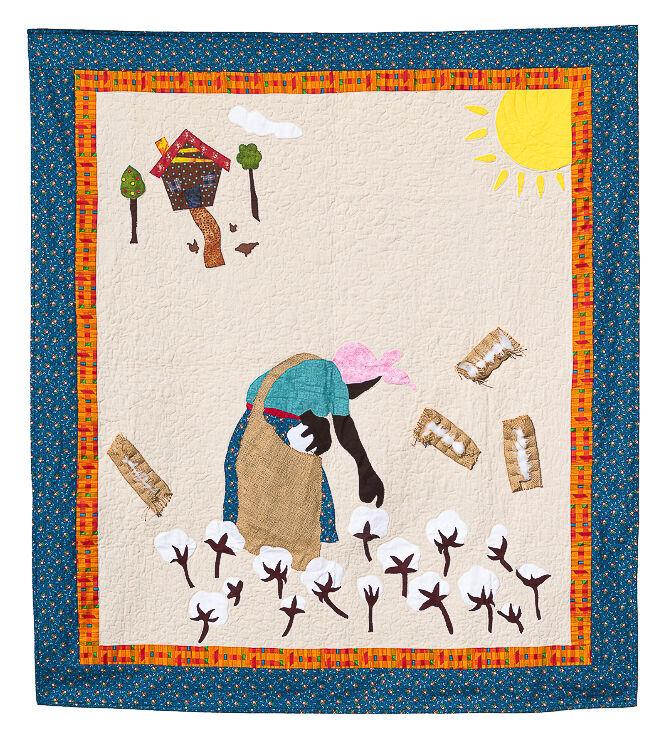 Walterboro artist Lillie Singleton's art quilt, "Pick a Bale of Cotton," offers a vantage of Black farming traditions. Charleston batik artist Arianne King Comer illustrates laborers engaged in the indigo process. Atlanta artist Jan Hollis shares work that portrays elders, reflective in a chair or front porch. Gloria Rone's "Harriet Tubman Doll," portraying the legendary Underground Railroad heroine with a rifle strapped to her chest, one hand grasping a lamp and the other a black-and-white portrait of herself. 
Within the vivid patches, glazed clays and saturated dyes is a story of hard work and unflagging faith, relentless labor on lush land they could not own, striking courage in grave conditions like the Underground Railroad.
"How do we honor that? How do we look at those ancestors that did something so brave and strong?" said curator Torreah Cookie Washington, a Charleston fiber artist and master art quilter who first connected with the organization about two years ago, when its leaders commissioned a work from her.
The fund that has established the collection is directly connected to stories of the land. It is an evolution of the Black Belt Justice Center, an advocacy initiative seeking justice for agrarian-based African Americans.
Tracy Lloyd McCurty, executive director of the Black Belt Justice Center and co-organizer of the Black Farmers' Appeal: Cancel Pigford Debt Campaign, said that thousands of Black farmers were affected by the implementation of the Pigford v. Glickman class action racial discrimination lawsuit that left them with debt, farm foreclosures and financial ruin. 
"The artists that contributed to our permanent collection spoke thunderously with their hands declaring the centrality of Black agrarianism, ecological land stewardship and material culture to our healing and liberation," she said.
From Washington's first commission, the idea for the exhibition was born, inspired by a current movement focused on the restoration of eco-cultural traditional practices. According to the curator, those practices demonstrate a reverence for working the land that she feels has since diminished.
Washington attributes this to the fact that people are no longer as attached to the land as they once were.
"We need to examine land as stewards of the earth. I think we all need to dig a little deeper, because we're ruining our earth."
Gentle materials, hard truths
The collected artworks of more than four dozen artisans will examine the ideals of social power, identity and the importance of land, heritage and culture. The exhibition aims to avail of the rich tradition of fiber art as material culture to relate, as the exhibition's communications state, "the untold stories of struggle and resilience rooted in Black eco-cultural traditions and textile arts."
These include the artists of The Return of the Bees Collective, who will also hold a quilting workshop on Jan. 25 at McLeod Plantation. There, attendees will create art quilts centered on the theme of social justice.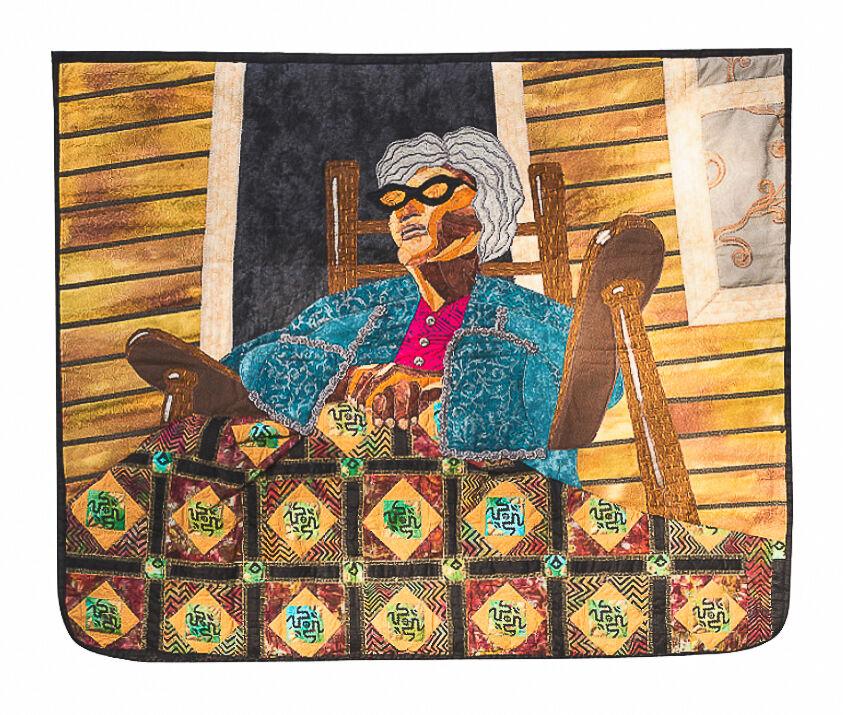 For Washington, her medium of cotton is soft in ways both literal and otherwise. Today, the emergent art of quilting enables African Americans to continue to use the medium to tell their stories, keeping the centuries-old tradition alive, while also enfolding a new artistic application.
Washington, who describes herself as a storyteller in art, is drawn to creating narratives with her works, which offer an inroad to discussions that many in this country find difficult to join.
"When we share our story, it is often going to make people uncomfortable," she said, underscoring the importance of Americans examining their shared history.
She recalls at one time working in a Charleston fabric store and an encounter with a White customer who shared her birth name of Covington. Washington observed that they may well be related, a comment prompting the client to complain about her impudence.
Today, she believes artists are able to show the way for others to engage in such stories, allowing the viewer to acknowledge it and absorb it, while offering some a way to examine stories they are not yet ready to accept.
"It helps us bear witness to the truth, in a gentler way."
A means to 'mindfulness'
Spanning an array of textile arts, the exhibition aims to portray the power of the Black imagination to extend beyond colonial frameworks, with narratives centered on self-sustained land ownership and spirit-cultural reclamation.
While quilts have not always been viewed as textile art, Washington feels they have long been just that. 
"This is the quilt that we wrapped grandma when she died or this is (the quilt) we wrapped the baby in when it was born? … And see those patches? Those are from the baptismal dresses. … It's all sorts of special stories," she said. "And I think we should just be mindful. Yeah, that's the thing that I hope people take away from the show."
For Washington, that applies not only to land stewardship but also involves "our family stories, our own pride in who we are and our humility."
Still, the land continues to call to Washington. She is working on a life-sized doll representing Mother Earth. As she has created her, the doll's head unintentionally started tilting to one side.
"It kind of looks like, 'Oh, come on, guys. Do better.' "
Whether by way of a motherly, nudging doll or a gentle, compassionate quilt meant to provide comfort, the artist aims to show the way.
"It can be a lead into something." 
So the griots keep weaving their stories, gently enfolding viewers in truth.