We are shaking off the doldrums of summer and forging ahead in what may be the busiest season of the Charleston arts community. I love the season for a number of reasons and am always excited to see what will happen next after the October ArtWalk. In addition to the myriad exhibits on display throughout the month, a few once-in-a-lifetime opportunities pop up and surprise us. And Fabulon has one of those events happening this weekend.
The name Janet Braun-Reinitz might not be as familiar as muralists including Diego Rivera or activists such as Rosa Parks or Gloria Steinem. But her celebrated work as an artist and activist ripples through the 20th century and continues to make waves and inspire new voices to shake off the fear of speaking out.
Braun-Reinitz began one part of her journey in 1961 as a Freedom Rider, one of a group of civil rights activists who rode into the segregated South to protest some of the states' failure to enforce the Supreme Court's ruling that segregated buses were unconstitutional. Braun-Reinitz was arrested and jailed in Little Rock, Arkansas, and, though it certainly doesn't define her, that initial experience sent her on a path of art and activism that stands tall today.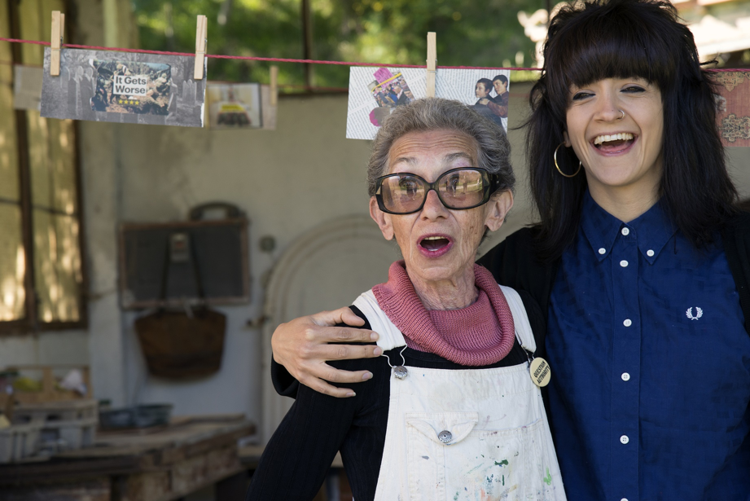 A large part of her work has been collaborating and painting in more than 50 community murals across the globe, most notably in New York City. Additionally, her paintings are exhibited in international galleries but her current project spreads a message of participation and fosters community among women. A collaborative work with the imaginative UK artist Sarah Maple entitled, "Women Who Go There," this traveling exhibit makes its only Southeast stop at Fabulon in West Ashley. The exhibit heads to China after it leaves Charleston.
The two artists/activists put together a collection of handmade postcards created and sourced by participants at the places they visit. The postcards are clipped to a clothesline and hung across gallery spaces. Postcard subjects range in topic and address any and all issues of concern to their creators. While the majority of them are political and speak to injustices and/or current social issues, some are personal and reference popular culture and art history. All are collaged and then displayed widely to dispel the notion that women are to be seen and not heard. Hence, participants become the "Women Who Go There" by sharing their voice through creativity.
For a project like this one, the goals are many. But the core ideas are expression, commonality and experience, as well as a desire to speak up. No artistic or creative experience is required to create a postcard; all you need is passion and a desire to support art and the freedom that it provides its creators.
From 6 to 7 p.m. Friday, Oct. 13,  Braun-Reinitz will be sharing stories and upcoming work in an informal setting, conversational style. Refreshments will be served; all are welcome to attend this free event.
From 2 to 4 p.m. Saturday, Oct. 14, attendees are invited to create postcards as part of the exhibit.
More information at www.fabulonart.com.
Reach Scott Elingburg at scott.elingburg@gmail.com.