You would think a couple of 8-year-olds would be a bit wary about too much face time with The Elf on the Shelf, Santa's eagle-eyed emissary with a direct line to the big guy's naughty and nice lists.
After all, the fate of their Christmas haul hangs in the balance. But when a red-suited elf popped up at Charleston Gaillard Center on Nov. 16, my daughter Beatrice and one of her besties, Sophia, were more than game. 
They had a few burning questions for the advance team for "The Elf on the Shelf: A Christmas Musical," ahead of its Dec. 2 performance on stage there.
The team consisted of a super-sized, perma-smiling elf in the large red suit, which was complete with pointy, pom-pommed hat that couldn't quite clear the door of the Gaillard's conference room, and a Merry Messenger, or publicist Kaileah Hankerson.
It should be noted that Beatrice is no stranger to such efforts, having previously co-reviewed shows (including the 2019 production of "Elf: The Musical," which Charleston Stage is again presenting this holiday season).
So we prepared the night before, and the pair of fledgling journalists were set to probe the whys and wherefores of the touring stage production. It was created by Mills Entertainment, a live entertainment content studio, in partnership with The Lumistella Co., the Atlanta-based enterprise that created the ubiquitous shelf-sitter known for reporting errant behavior ahead of Christmas.
The production next-levels that conceit in a spectacle of music and dance with an original story and score, which is set in the North Pole and revolves around the magical lives of Santa's Scout Elves. This is its first time in Charleston.
It spins the tale of one Scout Elf who must help his new, human family remember the importance of Christmas cheer. An array of sets and costumes, as well as family-friendly moments, have been created to captivate audiences with the splendor of the season.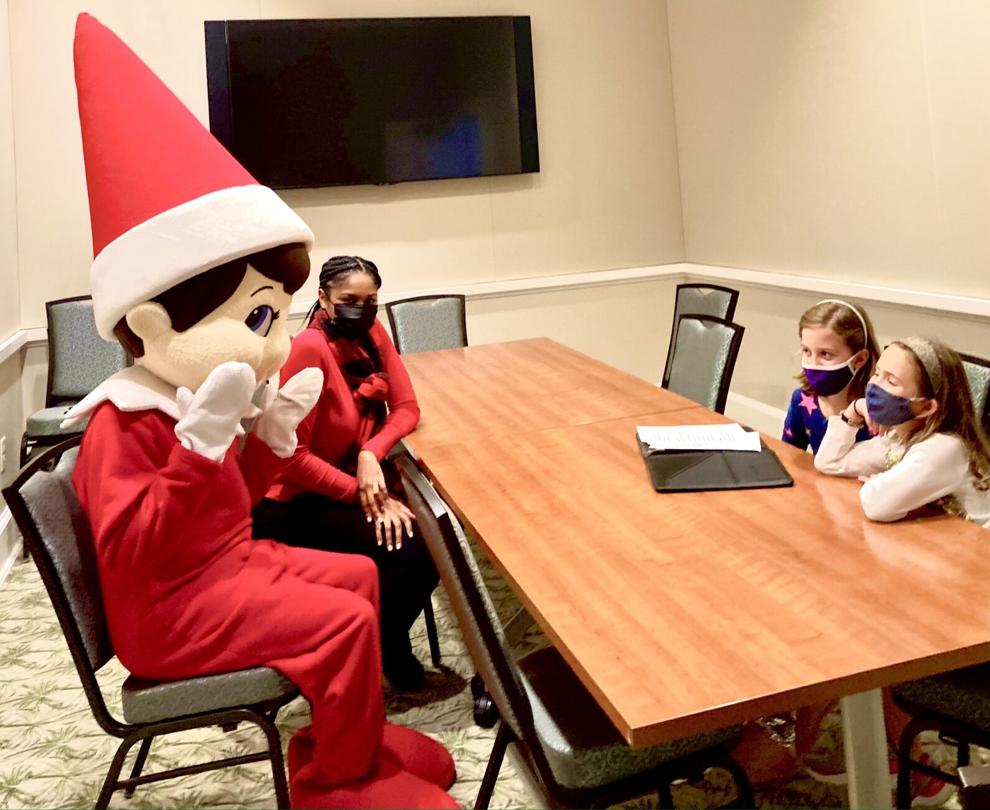 It's true, we did not anticipate that said sprite did not speak English. In fact, he did not speak at all. But with the help of his accompanying Merry Messenger, who fielded our questions and helped interpret her companion's illustrative hand gestures, we nailed down some salient facts. 
Beatrice wondered if it was hard work being in such a production.
"It is a lot of hard work, and we have to make sure we spread Christmas joy, so that's a lot of energy," the Merry Messenger said in translation, adding, "I think being an elf is really fun, though."
That line of questioning also revealed that the actors get several breaks during rehearsals with lots of hot cocoa. 
She also asked how long the actors had to rehearse. The Merry Messenger first clarified that the actors in the production are not official Scout Elves from the North Pole, but have been given permission from Santa to share their life. And by counting nods of the elf's head, we learned they rehearse for about two weeks.
When it came to production values, Beatrice was interested in what kinds of props were used in the show, and determined there are several present props and a good deal of glitter, too.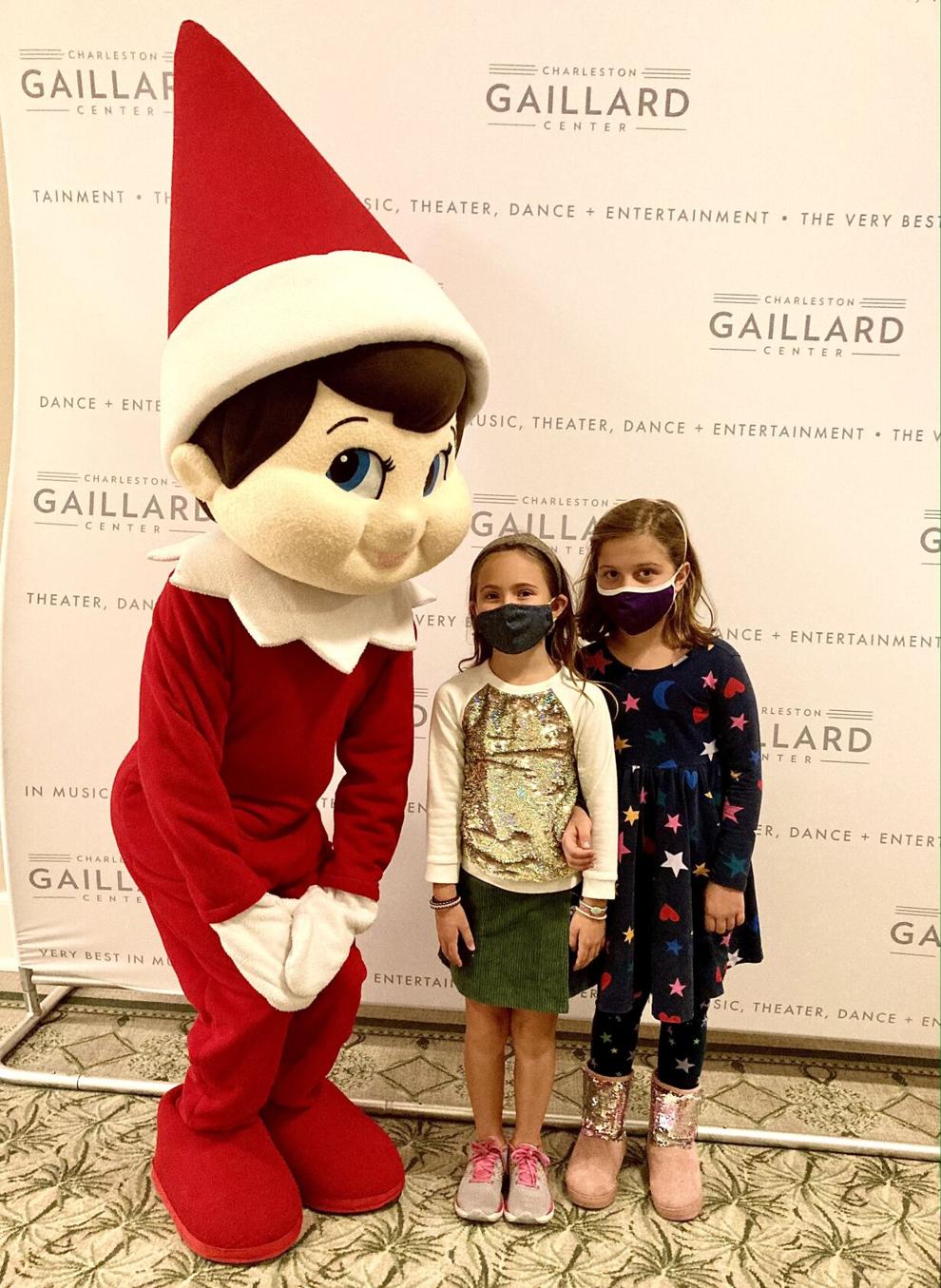 Sophia wanted to know what the company thought kids would like about this show. After conferring with a nodding elf, the Merry Messenger noted the abundance of singing and dancing.
"You really get to see the life of a Scout Elf, so I think that everyone, not just children, will enjoy and see the magic on stage."
As for myself, I wondered if they had any scuttlebutt about the behavior of Charleston kids this year. I was reassured that there are many on the nice list, and she thought she also may be able to put in a good word.
Beatrice asked the Merry Messenger what her favorite part of the show is.
"I really like the tap dancing," she said, a notion that went over well with the young dance enthusiasts.
Pivoting to other aspects of the show, Sophia asked if it was funny. Affirmative. And she wondered how they liked being interviewed by a kid.
"I think this is the most fun I've ever had on an interview," the Merry Messenger replied.
With a vigorous nod of the head, the elf concurred.
"The Elf on the Shelf: A Christmas Musical" comes to the Charleston Gaillard Center at 95 Calhoun St. on Dec. 2 at 6 p.m.
Tickets start at $34.95 (plus applicable fees) with VIP packages available for $86.19 (plus applicable fees) and are on sale now. Tickets are available for purchase at GaillardCenter.org and the Ticket Office, open Monday through Friday, 11 a.m.–6 p.m.