Patricia Altschul's favorite quote reflects the central role pets have played in the cast of her vivacious life. 
"Some of my best leading men have been dogs and horses," quipped Elizabeth Taylor.
A Southerner turned New York socialite turned Southern again, Altschul shares her home - the statuesque Mikell House mansion - with five dogs. During her screen time on the Bravo reality TV series "Southern Charm," Altschul often shares social pearls of wisdom or plans a fabulous party while cradling her doe-eyed pug, Chauncey. A champion of animal rescue causes, she's also put an entrepreneurial spin on her passion of pets with a line of custom caftans stamped with the beloved critters' mugs. 
Following in the footstep of her cast mate Shep Rose, who penned an article for the 2016 Charleston's Choice Special Section, Altschul shares what she loves about living in the Lowcountry with pets.
Where did your passion for pets begin?
I have always had pets from the earliest I can remember. In my early childhood I had a a dog named Happy and a cat named Fluffy (not very original) and then in my teens I had a horse called the Grey Ghost. My feeling is that a house is not a home unless it has a pet or two. I've rescued at least 20 animals over the years -- dogs, cats, horses and even a rabbit.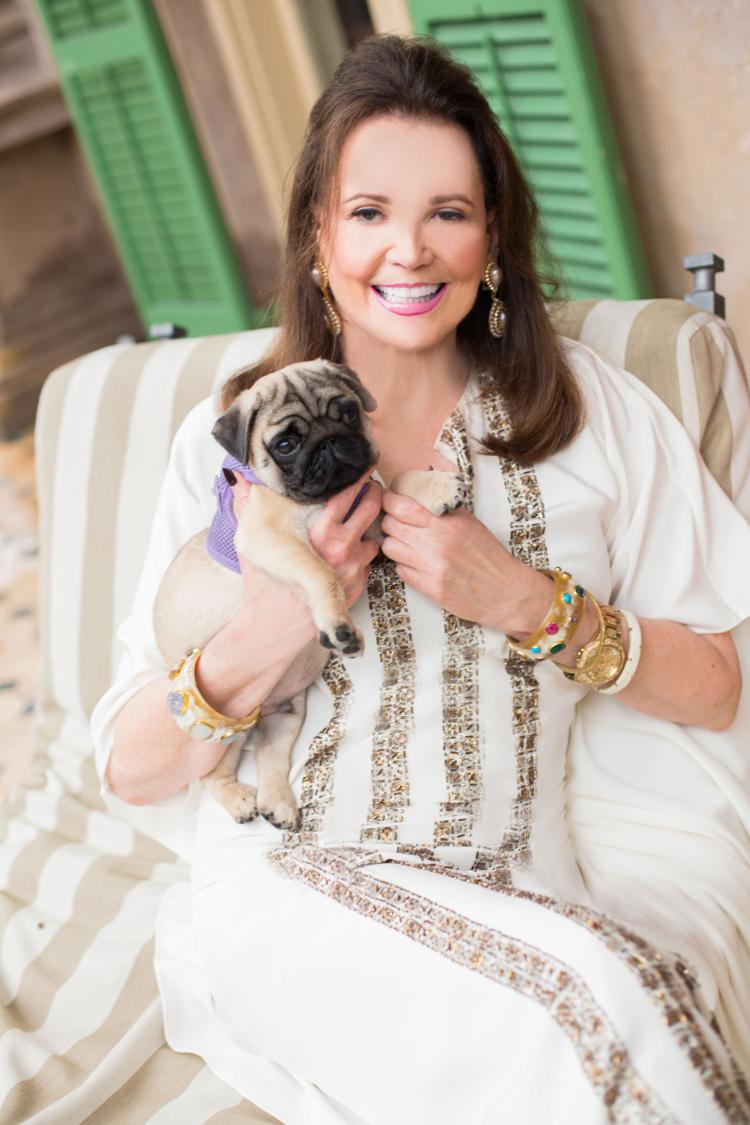 How many pets are in your family? 
Right now I have five dogs in residence. They are as follows: Smoochie, a 15-year-old boxer that is really (her son) Whitney's dog; Siegfried and Roy, two Pomeranians; Mony, a Lagotto Italian truffle dog; and last but not least, Chauncey the pug.
What is the pecking order among your pets? Do they get along for the most part?
Dogs are really pack animals and my group is no exception. They all get along and love each other and play together happily. Monty, the biggest dog, is really the baby of the bunch and Roy, the little white Pomeranian, is the ruler of the roost. I think he has a Napoleon complex because he really thinks he's a Rottweiler.
What makes Holy City a great place for pets?
Charleston is a very pet-friendly city with its many parks and outdoor spaces and for 10 months of the year the weather is conducive to being outside with your pet.
However, during the months of July and August it's a different story. When it's that hot, I take the dogs out to play for about 20 minutes and then bring them back into the house where it's cool and air-conditioned. Chauncey the pug has a problem with the heat so his activities are curtailed during this time.
What do your pets seem to enjoy about living in the Lowcountry?
There are many places that are enjoyable to walk the dogs near my house: The dog park, Colonial Lake and of course the Battery and White Point gardens. It's also fun to go to Tavern and Table and sit outside to watch the boats and the dolphins and have a cocktail. You always see a lot of people walking their dogs down King Street on Second Sunday every month, as well as the Charleston Farmers Market.
You've created a line of customizable caftans, scarves and more featuring pet portraits. What inspired your animal-focused fashion line?
Recently I formed a company with a dear friend, Georgette Mosbacher, which makes custom caftans, scarves, and pajamas. By custom, I mean that a picture of your own pet will be silk screened onto fabric and made into the desired form. Any pets' picture can be used whether it's a dog, cat, horse or an iguana! Both Vogue and Town & Country have written about our caftans and we've been remarkably successful. More importantly, we designate a portion of all sales to animal rescue organizations.
As an animal advocate, what's your advice to Charlestonians who want to help Lowcountry pets in need?
There are many opportunities to contribute to organizations here in the Lowcountry. Of course the best thing that one could do would be to adopt an animal from one of the many shelters, preferably from a no-kill shelter.
All of the pet adoption agencies need funds but one can also donate time to be a volunteer or offer to foster an animal.
And let's not forget to help our own Carolina horse, the Marsh Tacky, which is listed as one of the country's threatened horse breed.
Patricia Altschul stars on Bravo's "Southern Charm" and is the author of "The Art of Southern Charm."