The biggest party of the summer is upon us. With Independence Day just around the corner, Charleston is gearing up to celebrate. 
If you'd like to join in the Fourth of July festivities, we've got some ideas for you. From patriotic parades to fireworks shows to outdoor concerts, there are festive events happening all across the Lowcountry.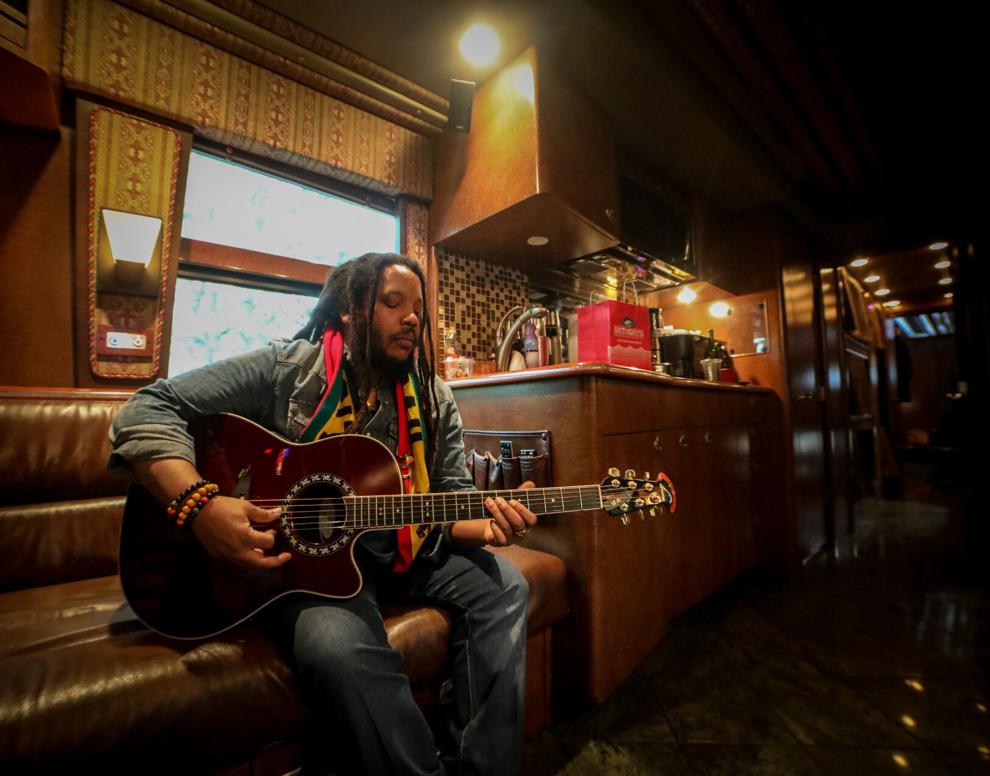 Stephen Marley at Firefly Distillery
7 p.m. July 1, Firefly Distillery, 4201 Spruill Ave. 
If you're looking to get the party started early, this show at Firefly Distillery is a great kickstart to Independence Day weekend. Stephen Marley, son of reggae legend Bob Marley, will be performing. Doors to the show open at 6 p.m., and the music begins at 7 p.m. There will be Firefly cocktails, beer, wine and fare from local food trucks. Concertgoers are encouraged to bring blankets and chairs, but dogs and outside food and drink are prohibited. 
General admission tickets can be purchased in advance at fireflydistillery.com/live-music for $30 and will be $35 at the door. VIP tickets, which include premium parking, a private bathroom and a special viewing area, are $100. 
Party at the Point
5 p.m. July 1, Charleston Harbor Resort and Marina, 20 Patriots Point Road
Also kicking off Fourth of July weekend is a Party at the Point concert. Greg Keys & Company will play at the Charleston Harbor Resort and Marina. 
Tickets, which are $10, can be bought in advance at citypapertickets.com/events/121834283/greg-keys-company.
Weekend of live music at The Windjammer + IOP fireworks
July 1-4, The Windjammer, 1008 Ocean Blvd. 
The Windjammer has a packed concert weekend on the Isle of Palms, kicking off with Flipturn on the outdoor Liquid Aloha Beach Stage at 6 p.m. July 1, followed by Flashmob at 9 p.m. Edwin McCain will play on the same stage at 6 p.m. July 2 and then two nights in a row of Drivin 'N Cryin. On July 3, Drivin 'N Cryin will play at 6 p.m., followed by Eddie Bush at 9 p.m. On July 4, Drivin 'N Cryin will perform at 9 p.m. 
Tickets, which range from $10-$30, can be purchased in advance at the-windjammer.com/events. 
Isle of Palms fireworks will be launched around 9 p.m. July 4, though most of the front beach will be closed to guests at the time. Viewing from the country park parking lot area will be available.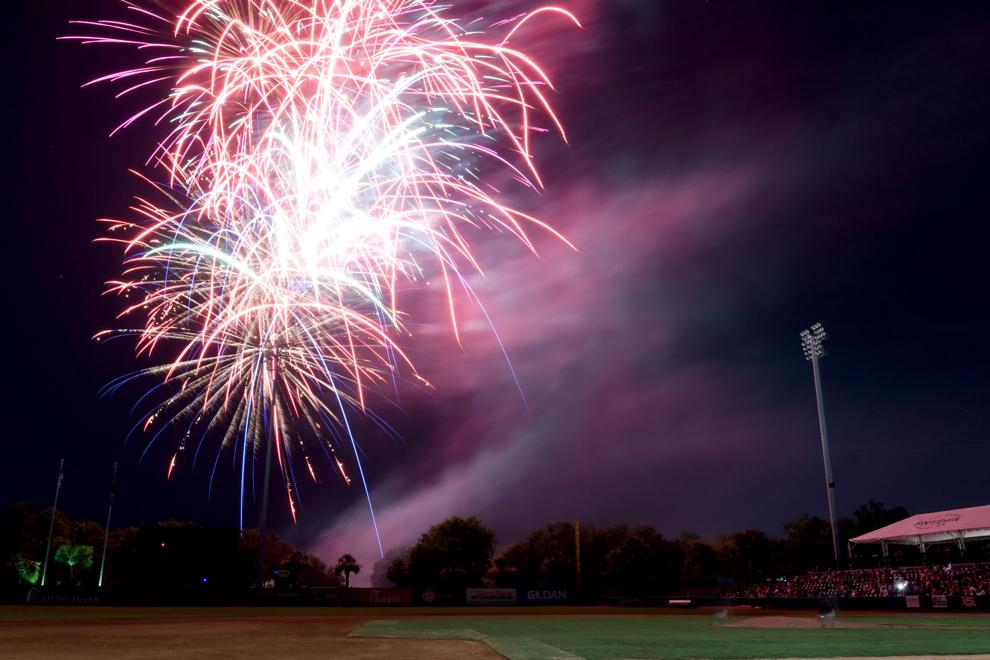 Charleston Symphony + RiverDogs game at baseball stadium
7-8 p.m. July 2; 6:35 p.m. July 4, Joseph P. Riley Stadium, 360 Fishburne St.
The RiverDogs stadium will host the Charleston Symphony on July 2 for a free community celebration put on by the city of Charleston. The symphony will perform patriotic songs, followed by a fireworks show, and gates open at 6 p.m. Complimentary tickets must be reserved in advance at charlestonarts.org.
On the big day itself, crowds will once again be in the stands of the stadium for a home RiverDogs game. The largest fireworks show of the season is planned to explode on July 4 after the ball game, set to a medley of all-American music. The gates open at 5:45 p.m., and tickets can be bought at milb.com/charleston/schedule/2022-07.
Daniel Island Independence Day Celebration 
3:15-9 p.m. July 2, Smythe Park, 2364 Daniel Island Drive
Daniel Island is "painting the town red, white and blue" with a celebration that takes place the Saturday before the Fourth. There will be a patriotic parade, including decorated golf carts and bikes, at 4 p.m., followed by patriotic tunes by DJ Shane Griffin at Smythe Park. The Charleston Concert Band will play from 5-6 p.m., while rock, country and shag hits will be performed by E2 & The Feel from 6-9 p.m. Food trucks will be available, but there won't be any fireworks. 
The parade starts at the Bishop England High School parking lot by the sports field. Guests should arrive between 3:15-3:45 p.m. and attendance is free.
Moncks Corner Fourth of July Celebration
6 p.m. July 2, Moncks Corner Regional Recreation Complex, 418 East Main St.
Moncks Corner is also hosting an early Fourth of July celebration. Attendees can watch fireworks from their cars or bring a blanket and lawn chairs to spread out on the event field. A live band and DJ will play, and there will be food trucks, face painters, balloon artists and a vendor market. Alcohol, grills, pets and fireworks are not allowed at the family-friendly event. Fireworks begin at dusk. 
There will be free parking and admission.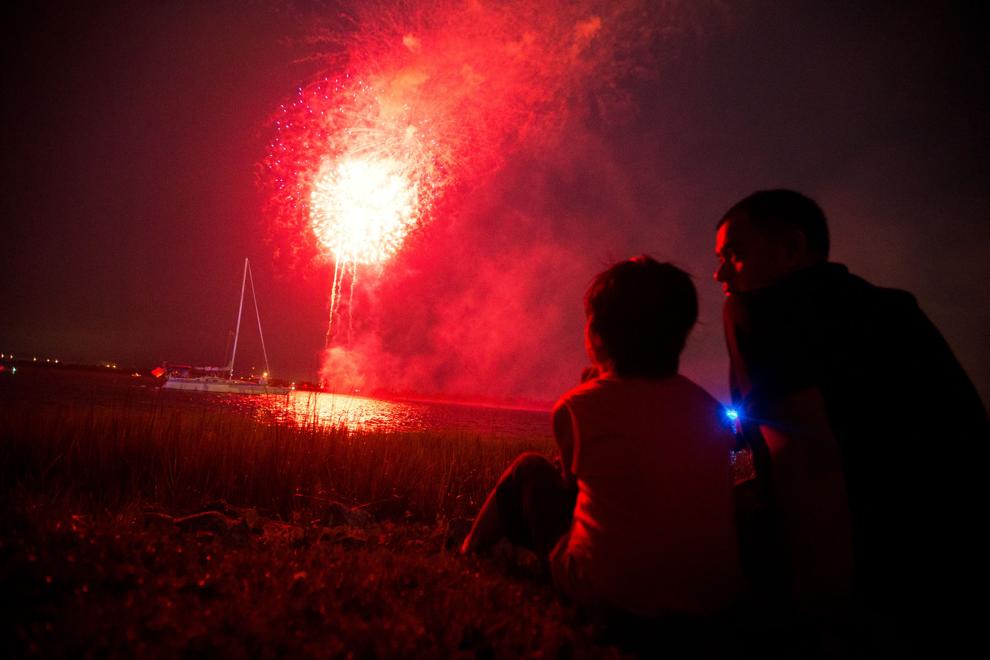 North Charleston Fourth of July Festival
5-10 p.m. July 4, North Charleston Riverfront Park, 1061 Everglades Ave. 
North Charleston's epic Independence Day extravaganza is back this year and boasting the Lowcountry's largest fireworks show. There will be fireworks at dark and music by the North Charleston Pops! and DJ Natty Heavy.
Entry and parking are free, and guests are encouraged to bring lawn chairs, blankets, water and snacks, though 25 food trucks will be on site. No grills, sparklers or outside fireworks are allowed. 
Patriots Point Fireworks Blast
7:30-10 p.m. July 4, Patriots Point Naval & Maritime Museum, 40 Patriots Point Road  
After a three-year hiatus, Patriots Point Naval & Maritime Museum is reopening its hangar doors aboard the aircraft carrier Yorktown to guests for watching fireworks over the Charleston Harbor. Guests are encouraged to bring their own lawn chairs for flight deck seating. Personal food, drinks and alcohol will not be permitted or sold on the deck, but each ticket comes with a complimentary bottle of water, and King of Pops will sell gourmet popsicles. There will be 15 landside food trucks serving up fare before the show begins.  
Parking is limited, not guaranteed and costs $20 in addition to $25 tickets that allow flight deck entry. A ticket link is available at patriotspoint.org/news-and-events/annual-4th-of-july-fireworks-blast-returns-to-patriots-point.
Kiawah Island Fourth of July Bike Parade and Festival
5 p.m.-9:30 p.m. July 4, Kiawah Island
Patriots of all ages who are residents of Kiawah Island or guests of the resort are encouraged to join a local parade on bikes, skates, rollerblades or by foot. The Kiawah Island Recreation Department will lead the parade followed by Uncle Sam, Lady Liberty and Captain America. Bike decorating begins at 5 p.m., and the parade starts promptly at 5:45 p.m. 
The route leads participants down Sea Forest Drive from The East Beach Village and finishes at Night Heron Park, where participants can join the Independence Day Festival that starts at 6 p.m. It will feature live music, carnival games, inflatables, a photo booth, a watermelon eating contest and more. Food, inspired by a traditional cookout menu, will be served until 9 p.m. for a cost. No coolers are allowed. Fireworks will light up the sky at 9:15 p.m. 
Admission is free, though some attractions are available at a cost, and no reservations are required. Only Kiawah Island residents and resort guests are allowed to participate.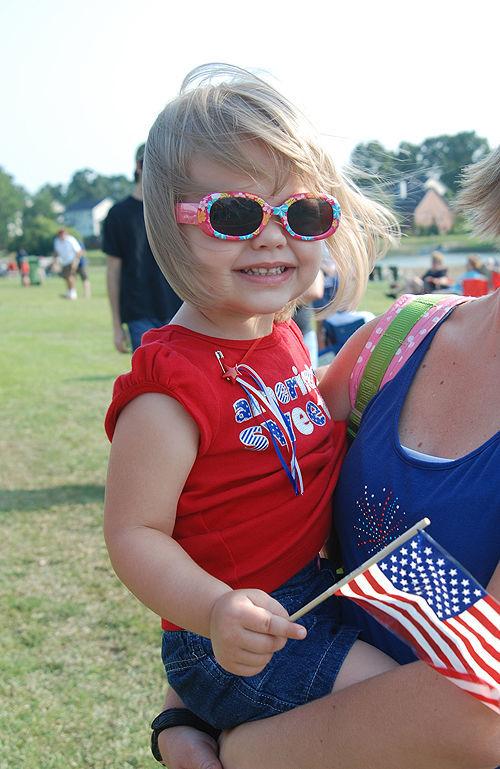 Fabulous Fourth in the Creek
6:30-9:30 p.m. July 4, Goose Creek Municipal Center, 519A North Goose Creek Blvd.
The city of Goose Creek's annual Fourth of July celebration and fireworks display will showcase live music, a variety of food vendors and free kids' activities. Outside fireworks, sparklers and alcohol are prohibited.
Admission and parking are free, but parking is limited. There's a rain date of July 9. 
Folly Beach Fourth of July Fireworks
9 p.m. July 4, Folly Beach County Park, 1100 W. Ashley Ave. 
Folly Beach will celebrate the Fourth of July with a fireworks display hosted by the Folly Association of Business. Locals and visitors of all ages are invited to enjoy the show, which will start at sundown and be visible from anywhere on Folly Beach and for miles around.
The fireworks will be launched from 3rd Block West, and the parking and beach area there will be closed to visitors from 10 a.m. until 11 p.m. 
Sea Stars and Stripes
7-10 p.m. July 4, South Carolina Aquarium, 100 Aquarium Wharf
This family-friendly and all-inclusive party at the aquarium will feature cookout fare, beer and wine. Guests are encouraged to bring chairs or blankets to watch fireworks from the decks overlooking the Charleston Harbor. 
Tickets, which are $75 for adults, $40 for kids 3-12 and free for kids under 3, are available at scaquarium.org/events/sea-stars-stripes-070422.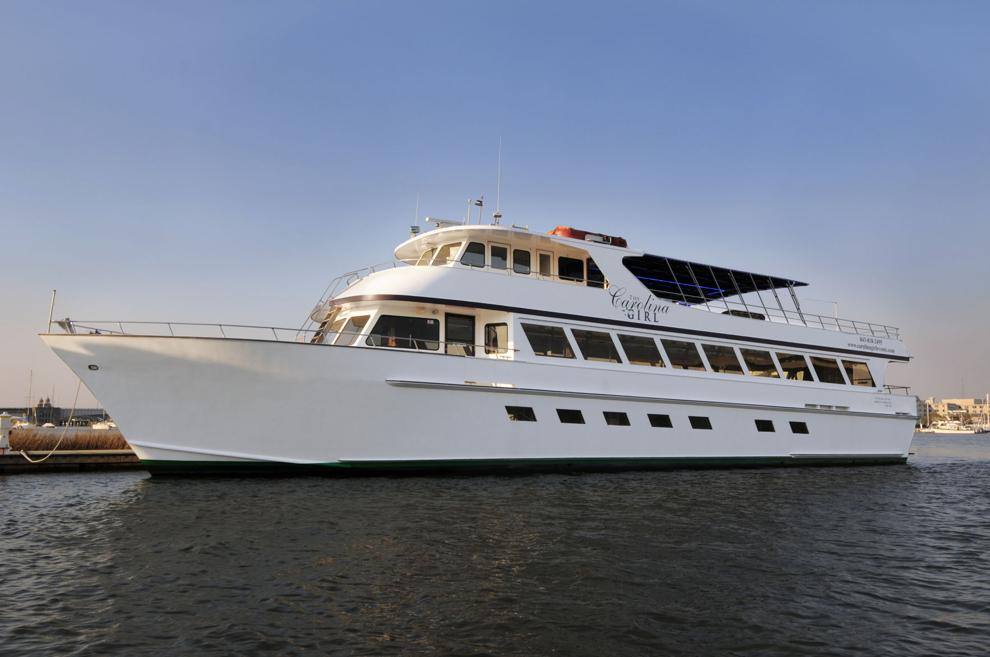 Carolina Girl Fourth of July Cruise
8-11 p.m. July 4, St. John's Yacht Harbor, 2408 Maybank Highway
A sunset cruise and views of the Charleston Harbor fireworks are in store aboard the Carolina Girl yacht. The adults-only event will include unlimited beer and wine and a DJ and music for the three-hour ride. No pointy heels are allowed on the yacht. 
Boarding begins at 7:45 p.m., and tickets cost $135 per person. They can be purchased at eventbrite.com/e/the-carolina-girl-4th-of-july-firework-cruise-tickets-295225145357.
BBQ and Fireworks at The Watch Rooftop
7-11 p.m. July 4, The Watch Rooftop Kitchen & Spirits, 79 Wentworth St.
For dinner with a view, there's a downtown option at The Watch. Attendees will be served a classic BBQ menu with a server and buffet dinner from 7-11 p.m. on the rooftop, where fireworks can be seen lighting up the Charleston sky.
Tickets start at $85 and can be bought at eventbrite.com/e/4th-of-july-tickets-324882009837. Alcoholic beverages will be an additional cost.
Sea to Shining Sea Concert
6-7 p.m. July 7, Gibbes Museum of Art, 135 Meeting St.
If you have to work on Independence Day weekend, then consider catching this event later in the week at the Gibbes Museum of Art. The Sea to Shining Sea: A New Muse Concert will display foot-tapping fiddle tunes and traditional folk songs in coalescence with an exhibition of William Eggleston's photographs of rural America. The concert will investigate how the everyday becomes art and how a contemporary Southerner and romantic Czech composer translate the sights and sounds of America. Performers are Jennifer Higdon of Southern Harmony and Antonín Dvořák of American Quartet. 
To register, visit gibbesmuseum.org/programs-events/sea-to-shining-sea-a-new-muse-concert/682. Tickets are $40 for non-members, $30 for members and $15 for students and faculty with a valid ID.