It doesn't happen often, but, yes, it does (and has) snowed in Charleston.
And there's nothing quite like it.
After all, Charleston is a place where people are more likely to build a snowman out of sand than actual snow.
With snow magically creeping into the forecast again, let's take a look back at some of those real-life snows that have happened in the Lowcountry. (You know, the kind that actually sticks.)
1960: For the first time in a long time
It started as sleet, but Mother Nature had other plans.
As temperatures dropped lower and lower in the upper atmosphere on Friday March 11, 1960, that sleet started to change into something that the Lowcountry had not seen in nearly two decades: snow.
"March weather roared lion-like across the Lowcountry yesterday, bringing with it the area's first measurable snowfall in 16 years," The News and Courier reported on the morning of March 12, 1960. "It brought happy 'snow madness' to thousands of children who had never seen snow and created highway traffic hazards."
Charleston city schools closed, while county and private schools cut their lessons short around lunchtime. What they found outside was every Charleston kid's dream.
"Many children, born in the temperate climate of the South Carolina Lowcountry had never seen snow until yesterday. Snowmen sprang up in almost every front yard and snowballs filled the air to the delighted shouts of chilled but happy children," The News and Courier reported.
A photograph shows that even Citadel Cadets had a large-scale snowball fight on campus that day.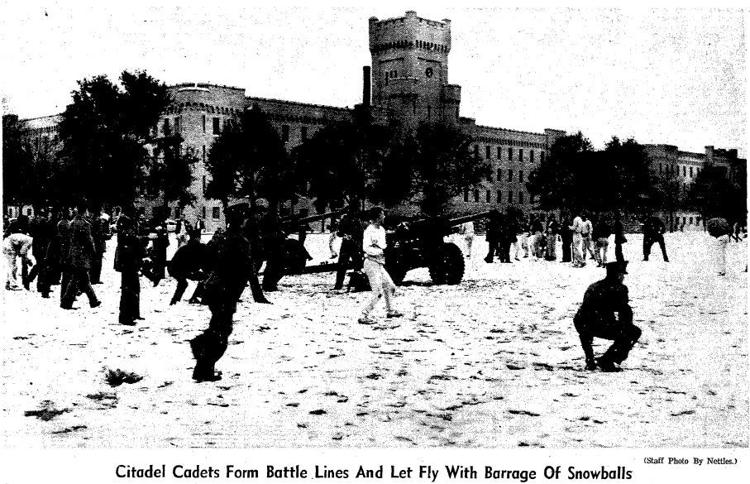 But icy conditions also made traveling dangerous.
After snow began falling that morning, the 190-foot Cooper River Bridge closed.
With the bridge closed, five journalists, including the city editor, had to find another way into work that day. They chose to take a water taxi.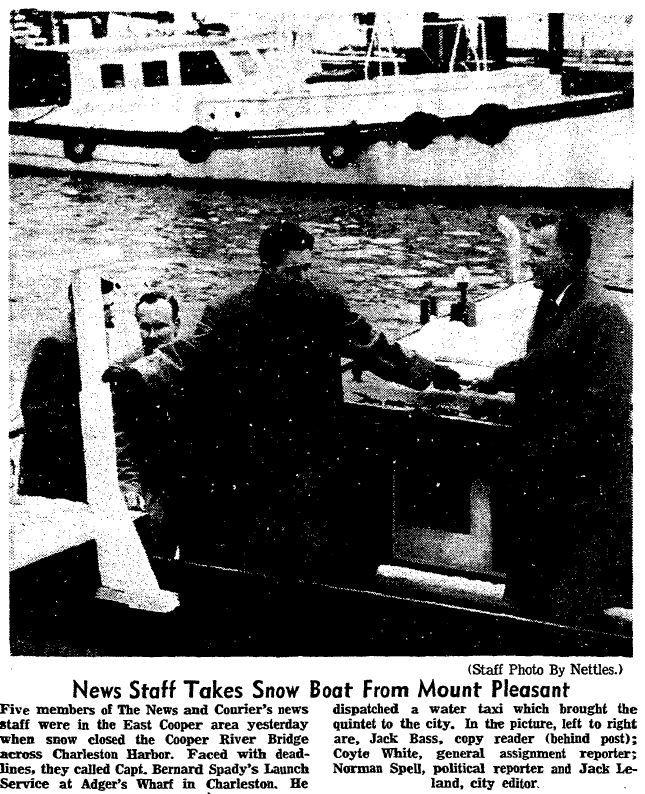 When the snow stopped around 3 p.m., the bridge reopened.
A survey of downtown Charleston and suburban shopping areas found that business was off by at least 50 percent, according to the newspaper.
But one article printed in the March 12, 1960 edition of The News and Courier found that one particularly successful sale was made that day despite chilly conditions: "The old joke about selling refrigerators to Eskimos got an airing at a downtown department store here yesterday when a customer, her hair bejeweled with melting snowflakes, bought a bikini bathing suit."
1973: One for the record books
This was a big one.
When it started snowing Saturday Feb. 10, 1973, Charleston didn't know what to do with the flakes falling from the sky because there was a greater problem on the ground.
"The icy undercarpet began forming Friday evening and grew thicker through the night. Charlestonians slipped and slid on sidewalks and streets, and many bridges and highways became impassable. Many of those who stayed inside did so without power," according to an article from the Feb. 11, 1973 edition of The News and Courier.
One person, a Mrs. C.C. Benford of the Wakendaw Lakes section of Mount Pleasant, told the newspaper that she had been without power and heat for more than 14 hours.
"We have a 10-month-old baby with the flu, and if it stays this bad we may have to go somewhere else tonight," she said.
Thousands, like Benford, were without power across South Carolina during the storm. The Charleston and Beaufort areas were hardest hit by ice, according to the newspaper.
The snowfall totals in Charleston beat every record on the books at the time: 2.1 inches at the airport on Dec. 15, 1943 and 3.9 inches made in the city in February 1899.
When all was said and done, 7.1 inches of snow had fallen in Charleston.
At the time, it was called the Southern snowstorm of the century.
1989: A historic white Christmas in Charleston 
Call it a Christmas miracle.
On Friday Dec. 22, 1989, snow began falling in Charleston. It started snowing in the afternoon and would continue to fall into early Saturday night. 
Originally, only 1 to 3 inches of snow was forecast for Saturday, but when it was over, the Lowcountry woke up to much more.
The snowfall was so great, according to an article from the 1989 Christmas Eve edition of The Post and Courier, that it turned "roads into bumper car tracks, canceling airline flights and putting taxis and buses in park."
It was also historic.
According to data from the National Weather Service, that storm dropped 8 inches of snow at the Charleston Airport — breaking the all-time snowfall record.
Other parts of South Carolina saw even more of the white stuff, with 14 inches of snow reported in Myrtle Beach and 13.5 inches reported in Conway.
And Charleston drivers didn't know what to do with it.
"Outside Citadel Mall, snow blanketed the parking lot, obscuring the yellow dividing lines between parking spaces. Cars were parked in confused circles, and rows between automobiles often led to abrupt dead ends."