During the federal trial for the massacre of nine people at Emanuel AME Church, Dylann Roof threatened to kill his attorney David Bruck, according to recently unsealed court documents.
Bruck, a renowned capital defense attorney, was relegated to the role as standby counsel for the penalty phase of the trial with the rest of the defense team after Roof decided to self-represent. 
On Dec. 30, before the penalty phase began, Bruck went to the jail where Roof was being held. Bruck had information Roof previously requested, but Roof rejected his help.
Roof said he didn't plan to object to anything the prosecution presented in their case to sentence him to death. He told Bruck he hated him, and that "if he gets out of jail, he plans to come to Mr. Bruck's house and kill him," according to an affidavit filed by the defense team on Jan. 1. 
His threat was among 22 facts lawyers included in the filing that details how their relationship with Roof deteriorated leading up to and during the trial. 
The defense attorneys' affidavit also discusses Roof's behavior at the defense table during the trial.
He fixated on irrelevant details, the lawyers stated, and at one point Roof said he "hated" attorney Emily Paavola for questioning a witness about clothing in his car, which was shown in a photograph. 
He also scribbled threats on sticky notes and passed them to his lawyers if they didn't follow his instructions.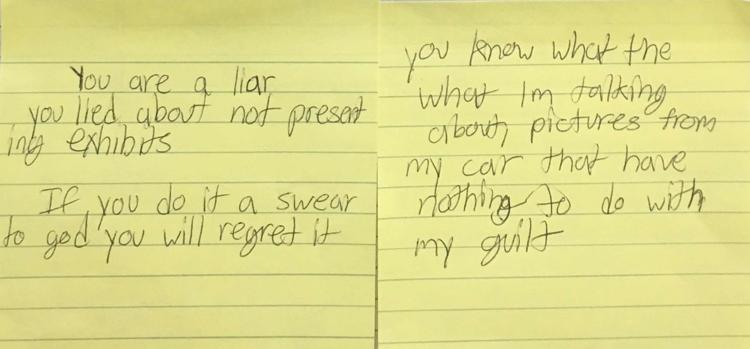 The attorneys said Roof also instructed them not to speak to him directly when the jury was in the courtroom. 
The tension was first exposed to U.S. District Judge Gergel and federal prosecutors the day before the trial was scheduled to begin on Nov. 7, when prosecutors received a handwritten letter from Roof, who claimed his own attorneys' plan to mount a mental health defense was based on "lies."
He said his attorneys had tricked him into participating in psychiatric evaluations without informing him of their plan to use the results as evidence in his defense.
During a closed hearing to address Roof's allegations in the letter, Bruck requested the judge hold a competency hearing to determine Roof's ability to stand trial, requiring further mental health evaluations. 
The court-appointed psychiatrists determined Roof mentally competent to stand trial, but the process widened the rift between Roof and his attorneys, according to nearly 70 documents Gergel unsealed Tuesday. 
The defense attorneys contested the court's evaluation of Roof, and maintained throughout the trial that he was, in fact, diagnosed with several mental disorders including depression, anxiety and autism spectrum disorder. 
That put the attorneys at odds with Roof, who later maintained during a closed court hearing that a defense challenging his mental health "discredits the reason why I did the crime," a court ruling stated.
Gergel unsealed documents related to Roof's competency one day after the 23-year-old white supremacist pleaded guilty to nine counts of murder in state court.