Acknowledging South Carolina schools aren't producing technology talent quickly enough, industry leaders are searching for the right solution to prepare workers for an increasingly tech-centric future. 
Coding schools offer a way of cracking into the industry without a four-year degree in computer science. They vary from self-guided online courses to in-person classes that cost thousands and last months. Regardless of the type, the schools produce eye-catching results. 
A survey done last year by Course Report found 79 percent of graduates from these kinds of programs had landed a job in the tech field. The median salary increase for the graduates surveyed was $21,000. 
But coding "boot camps" themselves are fairly new — they go back about six years — and have a mixed track record. 
In the last two years, two of the highly specialized schools have closed in South Carolina, but alternatives are in the wings. Another program will be launched next month. And the state announced its own free resource. 
The new online coding school from the S.C. Department of Commerce, called SC Codes, is an effort to help train up-and-coming tech workers to meet labor demands. The industry is growing quickly, adding about 4,000 jobs in South Carolina in 2018, compared to 2,500 the year before, according to Cyberstates.
Lelia King, executive director of the nonprofit Build Carolina, which helped develop SC Codes, said more training opportunities are needed as basic coding skills become more important to industries of every stripe. Computer science programs at the state's colleges and universities won't produce enough graduates to fulfill the needs, she said.
"Even if every student who graduated on those paths stayed in South Carolina and got jobs here, it wouldn't be nearly enough to fill the slots that are currently open, much less the ones that are going to be open in the near future," King said.
Schools close, and others open
South Carolina lost one of its highest profile coding training grounds when The Iron Yard closed in 2017. The Greenville-based school had hubs around the country. Students signed up for 12 weeks of intensive coursework. 
Dev Bootcamp, another popular school that was among the first in the country, shuttered its doors that same year. 
Then the Charleston Digital Corridor, a local tech-focused economic development group, decided to cancel its coding classes for adults when a survey showed businesses didn't need entry-level programmers, said Ernest Andrade, executive director. About 1,250 people completed the program over six years.
While South Carolina has shown it can attract tech companies, some of the best jobs are going to professionals who move from out-of-state, Andrade said.
"Our challenge is growing talent within the state and spreading the economic benefits to South Carolinians," he said.
Jaren Mitchell was among the students in the second-to last Iron Yard class. She wanted to move on from her job as a contractor at the S.C. Department of Social Services, where the pay was low and no benefits were offered. 
As the Iron Yard wound down, Mitchell, a North Charleston resident, often sat in the back of the classroom on Princess Street on the peninsula to refresh her skills. The instructors and other students kept in touch, building a useful network for job hunters.
Mitchell said her certificate gave her a measure of credibility with employers. Still, she found it difficult to compete for jobs.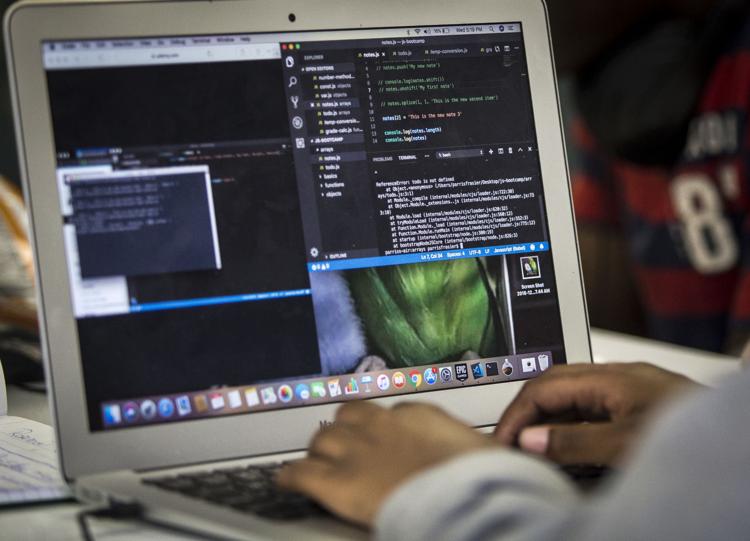 "Even a lot of the junior developer positions, they wanted you to have a couple of years of experience," she said. 
The Iron Yard may be gone but it's still making an impact. Its founders offered their coursework to SC Codes as a gift to the state. The program has grown to about 2,000 users and launched officially April 10. 
King, who worked at the Iron Yard before it closed, said the loss of that program left a gap that needed to be filled. 
Another brick-and-mortar coding school option will launch in mid-May in Charleston. It's part of the Harbor Entrepreneur Center, a local business accelerator. Students will learn JavaScript, a programming language that powers many websites. 
It will be the first time the Harbor is offering hands-on coding training, said John Osborne, director. He said if a free, online course is like dipping one's toes in the water, the 12-week classroom program will be like learning the breaststroke. 
"If you want a career in software development, and be employed as a developer, then this is the fastest way to get your skill set to a baseline of employability," Osborne said.
It isn't cheap. Tuition for the Hrabor course is advertised at $10,000, which is about $1,000 to $2,000 below the average cost for an online or class-based bootcamp, according to Course Report. 
'Zero to programmer'
Not all coding schools are focused on helping adults switch  careers. Others target the younger set.
Some students attending the CodeON workshops have been coming for years. Nina Magnesson, executive director of Charleston Women in Tech, said the free classes started in a local laundromat. 
"The dream is to make some of these kids into workers in the local tech companies," Magnesson said. 
The Digital Corridor is keeping its CODEcamp Kids program even as its halts classes for adults. The program is designed for youths from 11 to 16 years old. A 17-year-old who taught himself how to code teaches the summer courses. 
Etoria Hallums, a Greenville resident, wants to shape her newly acquired coding skills into a career teaching kids how to code. She signed up for Carolina Code School on a scholarship after returning from a stint teaching English in China. 
Hallums had no background in programming and as a newcomer found some of the coursework difficult to tackle. Instructors pack a lot of information into the 12-week curriculum, beginning with the languages that build websites and moving on to more complicated programming tools. 
"The intention is to go from zero to programmer in those three months," Hallums said. 
But having a campus where she needed to show up each day helped her focus. Upon graduation last year, she said, she didn't feel ready for a full-time job. Hallums set out to find apprenticeships, and now wants to return to education. 
Richard Peterson, director of engineering for Charleston-based GoodUnited, which helps nonprofits utilize Facebook's fundraising capabilities, was disappointed to see the Iron Yard close. He said he was blown away by how prepared its graduates were.
Peterson has noticed boot camp alumni might have better hands-on skills compared to their peers with four-year degrees. One problem with hiring coding school graduates is that it's hard to gauge what they know and don't know — "there's no known baseline," Peterson said.
In searching for job candidates, he tends to lean toward applicants with previous job experience and strong problem-solving skills. It can come down to whether the person has a "teachable spirit," Peterson said. 
He sees the tech field as having a low barrier to entry. People should choose an education based on how they learn best, not on what they think the industry will prefer, he said.
"With the right focus, you can get into this industry in under a year," Peterson said.