A new travel tool that its founder describes as a "mix between TripAdvisor and Match.com" is now available in Charleston, and local participation is fueling the content.
The LGND app — it's pronounced "legend," after the feature on a map that explains how to read it — is a collection of recommendations created by people who live in the Charleston area. 
Patrick Gallagher, who left his job at the school bus tracking app SafeStop in January to pursue LGND full-time, said he wanted to create a tool that presented users with concise, personalized travel content rather than an "endless feed of information." 
The app opens with a short survey which is used to match the user with a LGND guide. Questions address age range, type of trip, budget and desired ratio of activities to relaxation time. 
Once the user hits submit, a short profile for their matched LGND guide appears, showing the person's name, profession, travel likes and dislikes and "travel philosophy."  
The next page leads the user to a short introductory podcast with the guide and four "cheat sheets" for restaurants, bars and nightlife, things to do and things to know. The last category could be anything from a caution about bugs and humidity to advice on whether or not it's worth renting a car. 
Many of the recommendations, all of which are only a short paragraph, include references to favorite food items or tips on when to catch happy hours or weekday specials. 
The idea, Gallagher said, is to spread visitors throughout the area based on their interests and, hopefully, in the process, bring some business to local spots that don't have money to spend on tourist-targeted ads.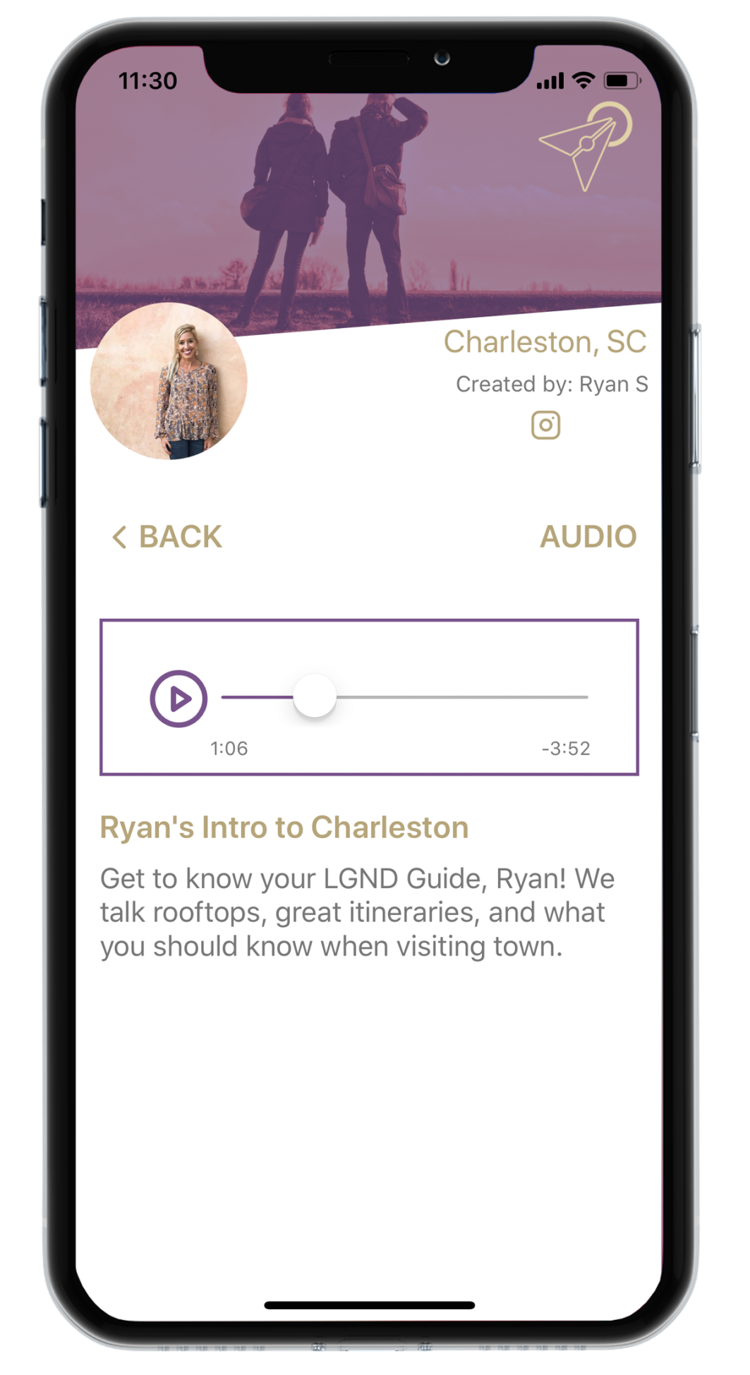 There are close to 30 Charleston-area guides whose picks are already available on the app, he said, with potential to add more soon. 
Guides are compensated for putting together their picks. Right now, it's $100 for a complete profile of recommendations, Gallagher said, and there is potential for the guides to earn a little more if users opt for a paid upgrade that would allow them to directly message a guide during their trip. 
Recommendations will have to be updated once a year to stay on the app, he said, and applications for new guides would open annually in the fall. 
Gallagher said that he doesn't plan to allow local restaurants, bars or attractions to purchase ads on the LGND app. Instead, he's thinking of selling spots to businesses in related categories, like luggage or lodging. (LGND isn't getting into hotel or home rental recommendations, he said.)
The app is available for iPhone users with a version for Android coming soon. Gallagher worked with Launchpeer, a Charleston-based company with offices in West Ashley, to develop it.
Future cities, which are marked as "coming soon" on the app's landing page of locations, include Asheville, Denver, Nashville, San Diego and several others. Gallagher said Charleston will likely be the only available destination until this fall. 
Rental roundup 
Since Charleston started enforcing its short-term rental ordinance in September, the number of illegal advertisements removed from home-sharing sites like Airbnb and VRBO has steadily grown.
Now, the number of existing listings and removed listings — about 1,400 and 1,300, respectively — is nearly equal.
The city had initially found 2,055 listings before enforcement began last year. 
Dan Riccio, director of the Department of Livability and Tourism, which heads up short-term rental enforcement, gave an update on the effort at a public meeting last week. 
The city has found that about 19 houses which had been operating as short-term rentals have been returned to the housing stock, and 51 properties have gone back to long-term renting status. 
Since July of last year, 142 new permits for short-term rentals that are in compliance with the city's rules have been issued, and around 100 more are under review. 
Three of the city's tourism code enforcement officers work on short-term rental cases full-time, and a software system called STR Helper monitors and gathers information on listings 24/7.