The possible sale of Charleston's International Longshoremen's Association Hall raises fresh doubts about the future of what many consider architect Harvey Gantt's most interesting building in his native city.
The hall is too young — less than 20 years old — and too far north of the historic district to be protected under the city's preservation laws.
Gantt's historical legacy beyond architecture — his being the first African American student to graduate from Clemson University and also the first black mayor of Charlotte, the Carolinas' largest city — doesn't change any of that.
Still, the city would encourage any buyer to undertake a robust, public process if there's any attempt to redevelop the property, city spokesman Jack O'Toole said.
Other local preservation voices also would push for its preservation.
"We would certainly be concerned about any plans to change or alter the building," said Erin Minnigan of the Preservation Society.
Winslow Hastie of the Historic Charleston Foundation said he is unsure how the ILA Hall ranks among Gantt's entire body of architectural work, one that played out largely in and around Charlotte.
But Hastie said he finds the ILA building more intriguing than Gantt's other two recent projects here: Sanders Clyde Elementary and Burke High schools. A few decades earlier, Gantt also designed the Franklin Fetter Health Center building on Meeting Street.
The ILA's building is based on modernist riffs on the shipping container industry, and it helped set a unique and creative tone for this part of the peninsula years before it got trendy and started being called "NoMo," shorthand for for the North Morrison Drive area.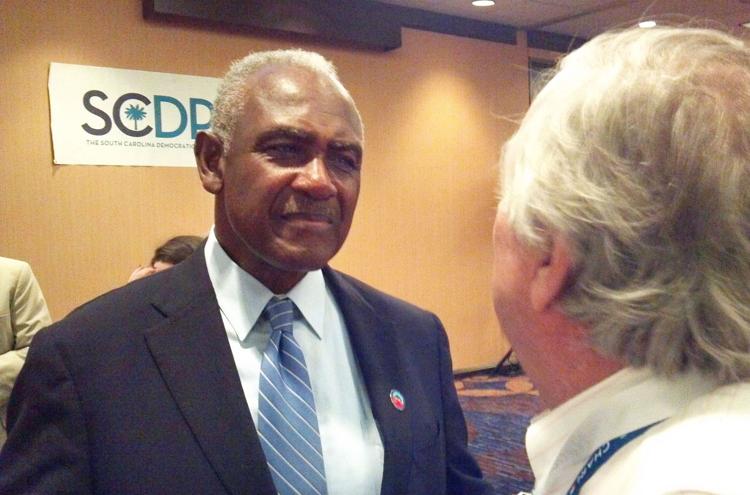 "I think there's a funky eclecticism up there that I think is kind of interesting and kind of fun," Hastie said.
The building's middle, metal section hearkens to stacked containers, and the asymmetrical curved roofs of its flanking halls pick up a common warehouse look. Its concrete circular staircase on the northwestern corner is meant to conjure up an enormous ship smokestack.
The building actually included two big spaces: a main union hall on the north end and a community hall on the opposite end that has been rented out for events. When it opened in 2002, Kenneth Riley, head of the ILA Local 1422, said it was "designed to be reflective of the industry."
At the same time, Gantt said his architecture design also reflected the evolution of the longshoremen's job:
"These fellows have gone from lifting raw cargo to containerized shipping practices," he said in a 2002 interview. "We wanted to reflect the modernity of what they do today so we used aluminum panels as a part of the major cladding of the building. We still wanted natural materials on the building because masonry is a major trade in the community, particularly among African American artisans."
Meanwhile, the success and rapid urbanization of Charleston's NoMo district likely would cause a potential buyer or developer to try to build more on the ILA site, which currently includes a large surface parking lot. 
The ILA previously had a modern hall along Morrison Drive, one designed by Charleston architect and Clemson professor Ray Huff. It opened around 1984 but survived less than two decades. That building was claimed by the path of the Ravenel Bridge, which opened in 2005.