Two national home builders have become the first to claim stakes at the Wildcat Tract, an undeveloped 2,000-acre property next to Cane Bay Plantation in Berkeley County. 
The companies — Lennar Homes and Ashton Woods — each acquired large parcels and plan to construct at least several hundred new houses on them.
Miami-based Lennar recently bought 184 acres for $7.72 million and will build 400 houses in Lindera Preserve, one of the dozen-plus subdivisions in the neighboring Cane Bay development.
In a separate deal, Roswell, Ga.-based Ashton Woods paid $6.52 million for 134 acres across from the West Lake subdivision near the end of Cane Bay Boulevard, county land records show. It's expected to build several hundred homes on its property, though the exact number was not immediately available.
Gramling Brothers Real Estate & Development owns the 4,500-acre Cane Bay tract off U.S. Highway 176. In December, the Charleston-based firm added to its holdings in the area by paying $21 million for the adjoining 2,031-acre Wildcat Tract, which has been approved for more than 5,700 homes.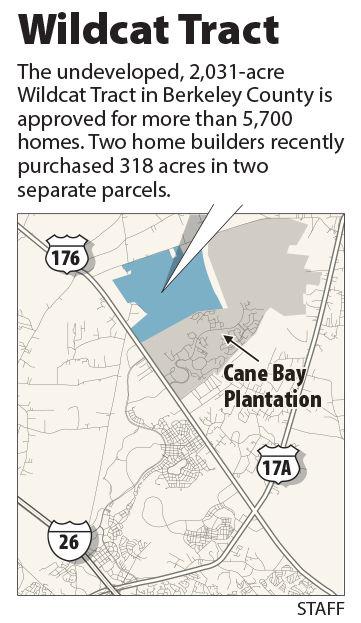 The first two sales to Lennar and Ashton Woods comprise about 16 percent of the acreage and about two-thirds of what Gramling Brothers paid for the property.
The Lennar acquisition abuts homes along Redbud Lane near Lindera Preserve. Development is expected to begin later this year on roads and other infrastructure.
"Lindera has been a huge success for Lennar, and this is a great opportunity to continue that success to another section of Cane Bay," said Jason Byham, president of the builder's coastal division. "We look forward to getting new homes going as soon as possible. We could see development beginning as early as the end of the summer."
An Ashton Woods representative did not immediately respond to a request for comment Tuesday.
Lennar, the second-largest home builder in America, accounted for about one-fourth of the 569 homes sold in Cane Bay last year, more than any other developer.
Cane Bay is permitted for up to 10,000 residences. About 3,500 will be on the ground by year's end, and the land for another 3,000 or so has been sold or is under contract, said Ben Gramling, president of Gramling Brothers.
"There is a lot of interest in the Wildcat Tract," Gramling said Tuesday. "We have a core group of builders in Cane Bay who are interested in expanding into the Wildcat Tract and some new ones who are interested as well."
He added the lifestyle and layout of the Cane Bay community — with its schools, parks and trails — has created interest.
"We were positioned well to begin with," Gramling said. "With Volvo moving in up the road - and there are a lot of job openings up in that area ... Charleston is not just a place to come visit. It's a place to come work, live and play."