Getting groceries faster and easier just got turned up a notch in Charleston, but it comes at a cost.
Online retail giant Amazon on Wednesday launched one-hour delivery from upscale grocer Whole Foods Market in the Holy City and nine other locations across the nation. Amazon bought Texas-based Whole Foods last year for $13.7 billion.
The service is available for Amazon Prime members through its Prime Now app. A Prime membership cost $119 a year or $12.99 a month. One-hour delivery costs $7.99. Two-hour delivery is free with orders of $35 or more.
"We are excited to bring super-fast Prime Now delivery to Charleston for the first time," said Tanvi Patel, head of business development for Prime Now. "Our goal is to cover as many Prime customers as possible with grocery delivery from Whole Foods Market."
The service is now available in 63 cities in the U.S., with plans for further roll-outs across the nation this year.
Curbside pickup at Whole Foods Market launched in  August, but it is not yet available in the Charleston market with its two stores in Mount Pleasant and West Ashley.
Super reopening
One of retail giant Walmart's 10 supercenters in the Charleston region can now live up to its billing.
The world's largest retailer will celebrate the long-planned expansion of its store in Wando Crossing Shopping Center in Mount Pleasant into a true big-box store on Oct. 31.
The company added a new wing of more than 60,000 square feet in what had been a vacant lot.
The expansion allowed for more grocery offerings and moved food items from across the back of the store, which had been criticized by company CEO Doug McMillon during a visit to Charleston in 2014. He said he had never seen a Walmart store laid out like that.
A welcome event with coffee and breakfast treats will kick off at 7:30 a.m., followed by a ribbon-cutting ceremony at 8 a.m. Throughout the day, vendors will be handing out free samples and raffling off products, including a small grill, while supplies lasts.
"This is a great example of Walmart's continued investment in the Lowcountry," store manager Nicole Rana said.
Besides a larger grocery department, which takes up the new wing, the expansion includes a full-service fabrics and crafts desk, paint and tool department, electronics section with interactive displays, updated pharmacy drop-off and pick-up centers, live fish in the pets department and expanded apparel with additional brands.
The store, now at 181,000 square feet, is one of the largest in the Charleston region, where Walmart also offers five Neighborhood Market stores. 
Big makeover
Big Lots will celebrate the grand opening of its newly remodeled store in West Ashley on Friday.
The store at 1401 Sam Rittenberg Blvd., which has been closed since January, will host a ribbon-cutting ceremony at 8:30 a.m. The first 50 customers on Friday and Saturday will receive a reusable shopping bag with tasty treats from Big Lots.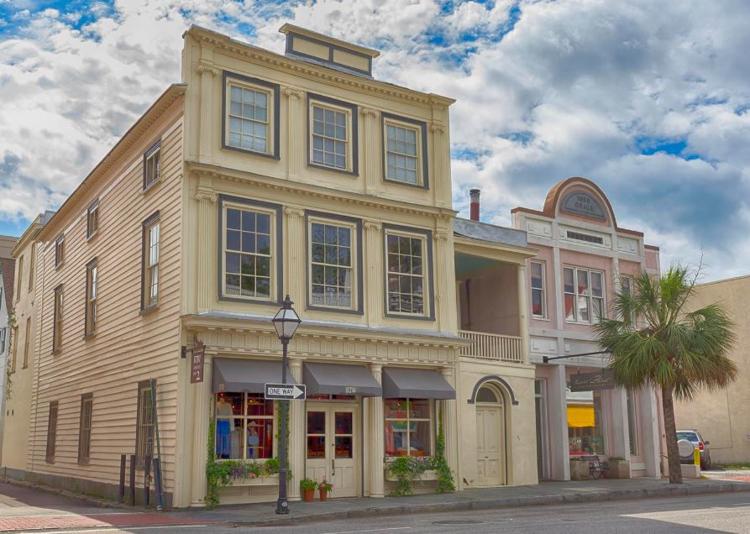 Forty years of fashion
When Janyce McMenamin opened upscale apparel shop RTW on lower King Street in downtown Charleston 40 years ago, the store was robbed 19 times the first year.
"Once, they took every bit of clothing we had for sale," she said. "But I was never deterred."
That was back when lower King Street was mostly rundown and just beginning its renaissance.
Four decades later, she is saying "Thank you" to her clients, the city and designers who have contributed to the 186 King St. store's success through an apparel exhibit of styles over the years and talks by fashion creators from across the globe.
"Our clients sent us some of their favorite pieces that they purchased from RTW over the years, and we are turning our second floor into a gallery for two weeks to celebrate RTW style," McMenamin said.
The exhibit will be open to the public beginning Monday.
A "Talk with the Designers" is set for 4 p.m. Saturday. They hail from Spain, South Africa and England and will share their perspectives on the past, present and future of women's fashion and the role RTW played in their careers.
Designers include hand-knitter Alejandra Alonso Rojas of Madrid, Spain; elegant apparel creator Peter Cohen from South Africa, but now based in Los Angeles; and British textile designer Georgina Von Etzdorf.
Now open
After a hurricane delay, Clements Ferry Ace Hardware is now open at 1008 Clements Crest Lane in Cainhoy in Berkeley County. The 12,000-square-foot store is owned by Darrin Witt.
Also, locally crafted Charleston Mattress recently opened a second location at 195 Farmington Road near Sangaree in Berkeley County, about half a mile from the Nexton development. Its other location can be found at 1078-C E. Montague Ave. near Park Circle in North Charleston.
Last days 
A Charleston upper peninsula consignment store will shut its doors after five years.
Hamilton Consignments at 1563 Meeting St. will go dark Oct. 31, according to owner Sharon Bruner. The store is offering 50 percent off items until Saturday, when items will be marked down 60 percent or more.
"We have had a good run and are grateful for the support of the community, and it is now time to retire," she said.
Halloween treat
Parents, don your children with the best costume without a mask. Citadel Mall is throwing a Halloween party.
Accompanied children can enjoy trick-or-treating throughout the shopping center along with a jump castle, face-painting and other activities. Costumes are required, but participants cannot wear masks.
The event starts at 6 p.m. Oct. 31 and runs until all the candy is gone. Not all stores are participating.
Holiday hiring
Kohl's department store is looking for holiday-season workers and will host hiring events Friday and Saturday at two shops in the Charleston region. 
Interested applicants can stop by the store at 2245 Ashley Crossing Drive in West Ashley or 3075 Proprietors Place in Mount Pleasant during store hours.
Seasonal positions will be offered for floor sales, cashiers, customer service, online orders and stock room.
For more information, go to visit kohlscareers.com/hiring.