You're seeing the Post and Courier's twice weekly business newsletter. Get all the openings, closings, and the business stories that are shaping Charleston and South Carolina here.
---
The one to watch
After about two months of being shut down because of COVID-19, South Carolina's tourist attractions have been allowed to reopen this weekend. 
Gov. Henry McMaster announced the latest phase of the state's reopening in a press conference yesterday afternoon. State tourism director Duane Parrish had said earlier this week that he thought reopening attractions would take some pressure off of the state's beaches and state parks by expanding the possibilities of where families could spend their holiday weekend. 
Some Charleston-area attractions announced their reopening plans shortly after McMaster's order went out, but others won't be bringing visitors back just yet. 
Patriots Point Naval & Maritime Museum in Mount Pleasant was one of the first attractions to announce its reopening plans. The museum had prematurely announced a reopening date of May 15, but had to call off those plans last-minute since they didn't have permission from the state. 
The museum will reopen for normal hours this weekend, but some enclosed exhibits, like the Clamagore submarine, will remain closed. 
The South Carolina Aquarium will reopen on Saturday, just in time for its 20th anniversary weekend. To control the flow of people, visitors will have to buy tickets online for a specific date and entry time. The entry times are spaced an hour apart, starting at 9 a.m. and ending with 4 p.m.
Out in Berkeley County, Cypress Gardens has said it will reopen to the public on Tuesday, May 26, joining several outdoor attractions that have starting welcoming visitors. 
Both Middleton Place and Magnolia Plantation & Gardens reopened their grounds on May 1, and two more Charleston-area plantation sites, Boone Hall and Drayton Hall, opened today. Since the sites only reopened their outdoor areas, they were allowed to resume operations earlier than other attractions, with special permission from the S.C. Department of Commerce. 
The Charleston Museum won't be open this weekend, but is aiming for a reopening next Wednesday, said director Carl Borick. They're waiting on the delivery of a plexiglass barrier for their visitor services desk and social distancing signs for the lobby and galleries, which should arrive early next week, he said. 
They're looking to reopen the museum's historic houses a little later. The Joseph Manigault House will start offering tours again on June 1, and the Heyward-Washington House plans to reopen June 15. 
The Gibbes plans to open its galleries again on June 1 and will have more details about its reopening policies soon. 
The Charleston area's National Park sites, Fort Sumter and Fort Moultrie and the Charles Pinckney site, have not announced reopening dates yet.  
Like all businesses that have been allowed to reopen, tourist attractions have been given a set of recommendations for starting up operations safely, but it will be up to individual businesses to decide what precautions to take.
The guidelines include recommendations for walking tours, which are among the attractions allowed to reopen this weekend, but some local tour operators are waiting on additional guidance that are expected to come from the city.
In a virtual City Council meeting Wednesday, Mayor John Tecklenburg said they will have guidelines for tour ready by the end of the day Thursday. 
John LaVerne, the owner of Bulldog Tours, said he and his tour guides are anxiously awaiting that guidance. LaVerne said they've been working to re-train staff and establish new protocols, but he's holding off on announcing official reopening plans until recommendations from the city are finalized. 
When they do resume tours, LaVerne said, they will be offering outdoor routes only. Food tours and tours at the Old Charleston Jail on Magazine Street will not be available. 
At least one local carriage tour company is opening this weekend. Palmetto Carriage Works is accepting reservations for private carriage tours starting this Saturday. 
The list of "non-essential" businesses that haven't been authorized to reopen in South Carolina now fall into just two categories: entertainment venues (bowling alleys, night clubs, concert venues, theaters, bingo halls, indoor children's play areas, etc.) and certain athletic and sporting facilities.
---
Want to receive this newsletter in your inbox every Monday and Thursday? Sign up for free.

---
Financial statement
"We want everybody to have the systems in place to account for every penny when that question is asked."
— Gov. Henry McMaster
South Carolina's governor reminded the Medical University of South Carolina to be fully transparent with how it spends the $25 million lawmakers allocated to the institution to help improve COVID-19 testing in the state. 
McMaster sent a letter earlier this week requesting detailed information from MUSC about how the funding will be spent. In a press conference yesterday, the governor said that letter was an example of what any agency accepting public financial assistance should expect. 
Openings and closings
Other stuff you should know
Sound smart at work
"Hey boss, did you know South Carolina has seen the tenth-highest payout of any state from the National Flood Insurance Program?"
The Palmetto State has generated over 45,000 flooding claims since 1975. About three-quarters of the money paid out went to Charleston, Horry and Georgetown counties, but homeowners farther inland experience flooding, too.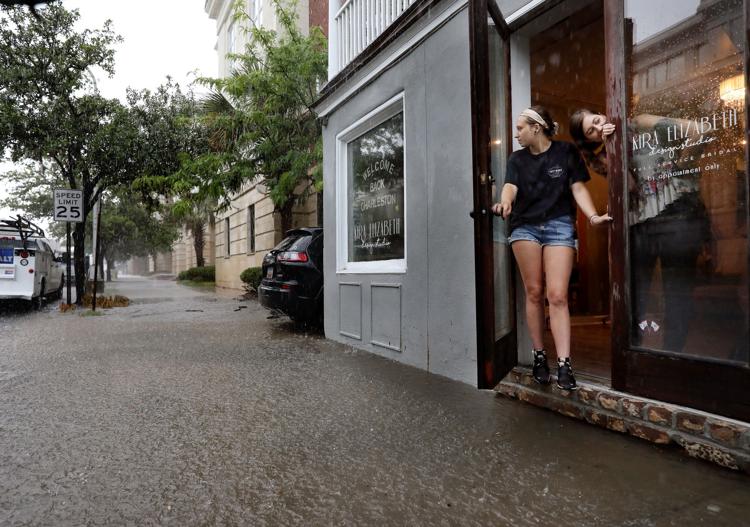 Yesterday, The Post and Courier launched Rising Waters, a special section dedicated to our serious issue with flooding. We'll be reporting on flooding events in real time but also diving deep into the data and the science behind it. 
That's what reporters did yesterday, when heavy rain swamped the Charleston area, closing streets and stranding cars. Check out our first major report here, which combines breaking coverage from Wednesday's storms, and a deep dive from Tony Bartelme on how the impacts of climate change have sped up.
Is your business frequently affected by flooding? Send me a message, and let's talk. We want to know more about how this issue affects our local business owners, especially now. 
Do you want this newsletter delivered to your inbox? Subscribe here.
Craving more? Check out all of the Post and Courier's newsletters here.