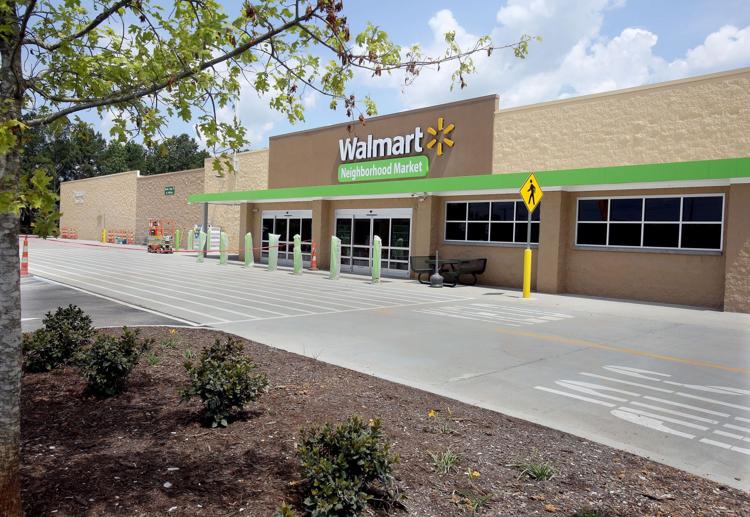 The world's largest retailer will open its newest small-format store in the Charleston area next month.
Wal-Mart Neighborhood Market is set to open at 7:30 a.m. Nov. 2 at 1616 Central Ave. in Summerville following a ribbon-cutting ceremony at 7:15 a.m.
It will be the fifth downsized Wal-Mart to open in the Charleston suburbs. Others are in Goose Creek, North Charleston and Summerville. Another is planned for the new Carnes Crossroads development in Goose Creek. The Arkansas-based retailer also operates 10 supercenters in the Charleston region.
New dining option
The former Simply Fashions store in midtown Charleston will soon house a new restaurant. 
The building at 456 Meeting St. was recently leased by The Little Donkey Charleston LLC, according to Amanda Reeves with the commercial real estate firm Lee & Associates. The restaurant will be called The Little Donkey, which has other locations in Birmingham, Ala.; Nashville, Tenn.; and Morgantown, W. Va. It offers Mexican and American fare. An opening date has not been announced.
The Little Donkey Charleston LLC is registered to Doug Van Scoy of Sullivan's Island, who is owner and partner of Pit Partners, a hospitality business, according to West Virginia University's website. Van Scoy, a retired Smith Barney executive, sits on the WVU Foundation Board as well as that of the Charleston Collegiate School.
More java
Downtown Charleston could very soon see a new coffee purveyor.
Alabama-based Revelator Coffee is set to open any day at 550 King St., just a few doors down from a new Starbucks coming to 502 King, according to general manager Cole Lloyd. "It depends on final inspections from the city," she said.
Revelator has other locations in Atlanta; New Orleans; and Chattanooga and Nashville, Tenn. The Charleston shop will be a seventh in the chain.
Rolling in
Christiana Bikes USA will open a cargo bike shop at 10 a.m. Thursday at 57 Cannon St., according to its Facebook page. It will be open Thursdays and Fridays and by appointment. The three-wheeled bicycles feature a large container for carrying goods between the front two wheels.
Prime location
Charleston-based jerky producer The New Primal now has new digs.
The company will celebrate its new Park Circle office and processing location 4-7 p.m. Thursday at 1083-B E. Montague Ave. in North Charleston with a "Meat & Greet," including tastings of new jerky products and sips of Coast Brewery beer. The business was formerly on Johns Island after being in Charleston for a while.
Founded in Charleston in 2009 by Jason Burke, The New Primal now sells to 6,000 locations across the U.S. and major chains such as Whole Foods, Publix and REI.
Popping in
Taxidermy handbags is opening a pop-up shop in downtown Charleston. Amy Driggers will celebrate the grand opening 6-9 p.m. Nov. 3 at 32 Vendue Range.
Charity sale
Belk's Fall Charity Sale is set for Nov. 5. It allows customers to support local charities and get discounts of 15 percent to 70 percent off of purchases from 6-10 a.m.
With the purchase of a $5 ticket, customers receive a $5 credit on a charity sale purchase and participating charities get to keep 100 percent of the proceeds for each ticket sold.
The first 100 customers in each store will receive free Belk gift cards ranging in value from $5 to $100, and a chance to win one of three $1,000 Belk gift cards awarded company-wide.
Tickets can be bought at Belk stores and participating non-profit organizations.
Last year's event raised more than $12 million for thousands of schools and nonprofits in Belk markets across the Southeast.
For more information about the event, customers may contact their local Belk store or go to http://www.belk.com/charitysale.
Holiday event
A Summerville subdivision will host a holiday shopping event noon to 4 p.m. Nov. 6.
The Holiday Extravaganza is set for The Ponds Farmhouse and Pavilion at 151 Village Ponds Drive.
It will feature arts and crafts from Lowcountry artisans along with products from area businesses. A percentage of proceeds will be donated to the Gregg Middle School Food Pantry. Attendees can bring nonperishable foods and monetary contributions as well. Rain date is Nov. 13.
Giving back
Twenty-four South Carolina nonprofits – including two in the Lowcountry – have received more than $360,000 in funding as a result of grants from Wal-Mart and the Wal-Mart Foundation.
The funding will support hunger relief, healthy eating and other critical local programs across the state.
Local recipients include: Dorchester Children's Center in Summerville and The Salvation Army in Charleston. Each received $25,000.