DAVENPORT, Florida — The Ritchie Bros. auction yard stirs awake early, coming to life at sunrise with all the trappings of a music festival.
A squadron of parking attendants and police officers directs traffic into a huge field off the highway. Hordes of visitors squeeze onto shuttles, clutching catalogs the size of phone books. Bidders circle around stages waiting for the show to begin.
And now comes the day's opening acts: buses, sold off piecemeal with a series of gestures and an auctioneer's singsong staccato.
There's no mention of their history, no names on the side. If you didn't know any better, you'd have no idea of the bit role they played in the biggest financial meltdown in South Carolina history.
Until last summer, these school buses hauled construction workers around the V.C. Summer Nuclear Station near Columbia, going from the break tent to the parking lot to the reactors once under construction but now hulking and unfinished.
Today, they're trashed with route maps and snack wrappers and a pad of forms to write up safety violations. It's a moment frozen briefly in time, right before South Carolina's biggest construction project became its biggest industrial collapse last summer.
But that moment is ticking away fast.
$1,500. Sold. $3,500. Sold. $2,000. Sold.
It's not yet 8:30 a.m., and more than a dozen V.C. Summer buses are gone. One bidder guesses they're bound for a new life carrying farmhands to work, but their previous owner hardly cares.
All that matters is that they're going, and as they roll away, Westinghouse Electric's epic nuclear failure fades into a massive boneyard of American industry.
Long road
Before they were ditched in Florida, the remnants of Westinghouse's failed nuclear project arrived here in a caravan of trucks, more than 400 in all. They rolled past Walt Disney World, and the Roomba Inn motel and the discount T-shirt shop splashed in neon pink. They kept going past ticky-tacky subdivisions, golf resorts and retirement communities.
They didn't stop until they reached the farthest reach of development, just before the suburbs give way to citrus groves and sand mines. It's here, on a sprawling auction lot on the edge of Orlando's sprawl that Westinghouse's decade-long relationship with South Carolina reached its finale.
The origins of that relationship were written hundreds of miles from central Florida, in the grand halls of government in Washington. Politicians wanted more nuclear power in the American energy sector, and they dangled billions in incentives to get the job done.
The relationship blossomed in Columbia, where lawmakers saddled ratepayers with enormous risk to land a leading role in the nation's coming nuclear renaissance.
Years later, it would sour in Jenkinsville, a spot on the map in the middle of the state where a pair of South Carolina utilities paid Westinghouse and its partners $9 billion for a power plant that never came close to producing power.
And it would falter in faraway cities like Pittsburgh, New York and Tokyo — the cities where Westinghouse began to doubt its nuclear bet, where it filed for bankruptcy, and where its owners scrambled to fill a crater of losses.
The relationship was ending, but it wasn't over yet. Not until it reached Davenport, Fla., next to a Cracker Barrel and a truck stop.
Mixed in
There aren't many places where Westinghouse's fleet of cranes and buses and trucks could blend in unnoticed, but this is surely one of them.
Davenport is where the world's largest industrial auctioneer holds its largest auction. Its size is as staggering as the line of cranes towering over U.S. Interstate 4.
The equipment for sale covers 200 acres, almost the size of the neighborhoods south of Broad Street in downtown Charleston. It's navigated by thousands of bidders on shuttle buses and golf carts. And it includes more than 12,000 machines in all, sold piece by piece for the better part of a week.
Look down the row from one of Westinghouse's excavators, and their arched arms will narrow into the horizon like an avenue of live oaks. Find one of the company's big red cranes — 300 feet tall — and you'll have to double-check that you're not looking at the wrong one.
That's the kind of scale you come to expect at Ritchie Bros.
Ritchie is the company you call when you're ready to hang it up or you have old equipment to unload. Or you have a massive failure to unwind.
It's a company that thrives when Texas's oil patch goes bust. When the slow decline of coal claims a new victim. When someone in heavy industry — a truck line or a crane company or a construction firm — calls it quits. Ritchie declined to be interviewed.
Ben Cerniavsky, an analyst who tracks the company for the investment bank Raymond James, once likened big industrial shutdowns to wild game — "the elephants that the Ritchie Bros. guys would hunt," he called them on a conference call with executives.
And in the shadow of South Carolina's rusting reactors, Ritchie found a big prize: enough cranes to lift the equivalent of 800 cars; enough cement mixers to pour half a mile of sidewalk in one shot. Enough buses and vans to transport the typical American middle school in one trip, to say nothing of the fleet of ATVs, SUVs and pickup trucks Westinghouse bought.
And that was only half of Ritchie's haul.
New management
Westinghouse's path to financial ruin has been documented in agonizing detail — in court records, newspaper accounts and the notes to its lawyers' monthly bills.
But the equipment baking in the Florida sun tells the tale, too.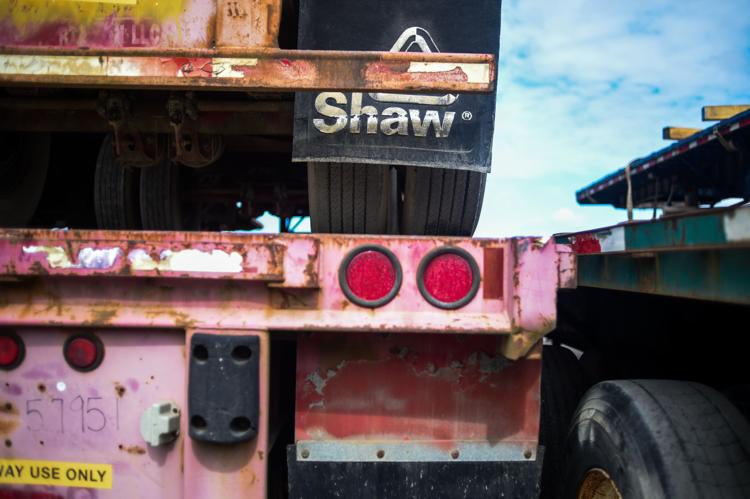 It starts on the mud flaps of so many trailers and flatbed trucks, stamped with a triangle logo and the name "Shaw." That's the name of the business that Westinghouse — a company that designs nuclear reactors — enlisted to help build the two in South Carolina.
It continues on a sticker shaped like the northern hemisphere, slapped onto the back of an excavator. That's where the name CB&I first appears.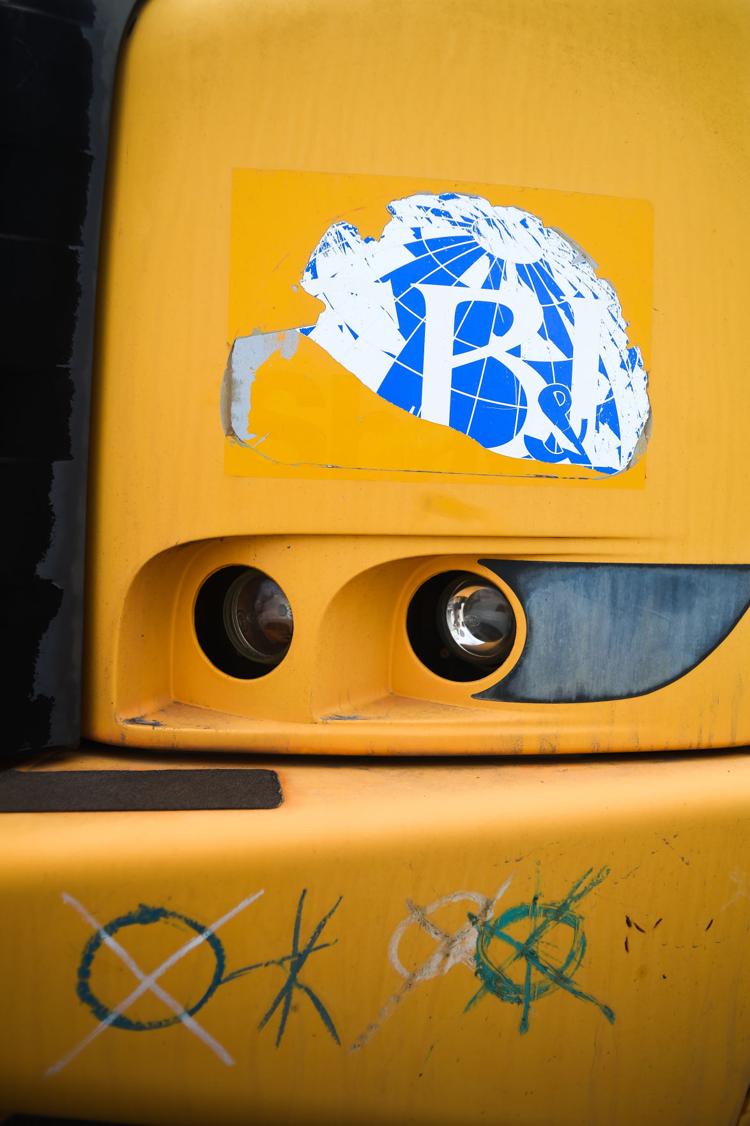 CB&I — short for Chicago Bridge & Iron — is the company that bought Shaw in 2013 just as work on V.C. Summer was getting underway. It struggled before long to do its job — making big pieces of the nuclear reactors in "modules" offsite and installing them in Jenkinsville.
The slowdown sowed division between the two partners: CB&I insisted that Westinghouse's designs were no good. Westinghouse said CB&I was no good at building them.
The fissures were so deep that V.C. Summer's owners, South Carolina Electric & Gas and Santee Cooper, were convinced they would spill into court. It looked like a death sentence for a project that was already far off track.
The Westinghouse stickers peeling off a row of truck chassis explain why it didn't. CB&I offered to give away its nuclear construction business in 2015 in return for a clean break. Westinghouse, much to its regret in hindsight, took it.
And like that, the clock was ticking toward the moment time stopped.
Cut off
The story of Westinghouse's fall picks back up on the maintenance logs crumpled in the passenger seats of its pickup trucks.
They were filled out weekly, until suddenly they weren't.
The inspection checklists run through July, nearly a decade after they began. Late one Monday morning, SCE&G and Santee Cooper called off construction, and the paperwork stopped with it.
When layoffs were handed down that afternoon, workers were told to drop their tools and go home. The decision on July 31 came so abruptly that few bothered to clean up, leaving clothes, candy wrappers and coffee cups in their pickups and crane cabs.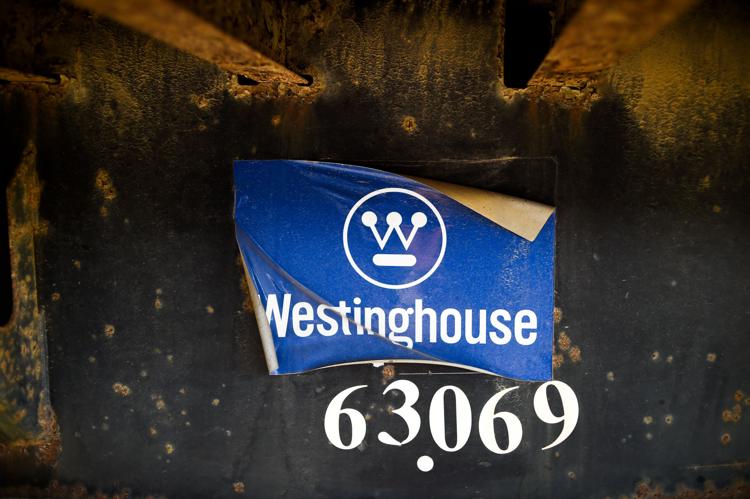 But the project's demise had been building for months by then.
After buying CB&I, Westinghouse had agreed to lock in the reactors' cost, and it quickly found itself in a deep hole. Its nuclear project in South Carolina was skidding off the rails, and it was paying for it.
So it filed for bankruptcy last March, putting its future in the hands of a judge if that meant a way out of its construction mess. Step by step since, it has distanced itself from South Carolina.
Its owner, the big Japanese conglomerate Toshiba Corp., paid SCE&G and Santee Cooper billions to wash its hands of V.C. Summer. Westinghouse presided over one of the largest mass layoffs in state history, slashing 5,000 jobs including its subcontractors. It hired an expensive legal team to answer ongoing investigations and a raft of lawsuits — from jilted workers and electric ratepayers and contractors who say they were stiffed.
All that was left was the stuff it had bought.
And on the side of the interstate, there wasn't much of that left, either.
Sold
The cranes and cement mixers had sold. So had the light-towers and generators and all the sundry machines that once filled a behemoth construction site in Fairfield County.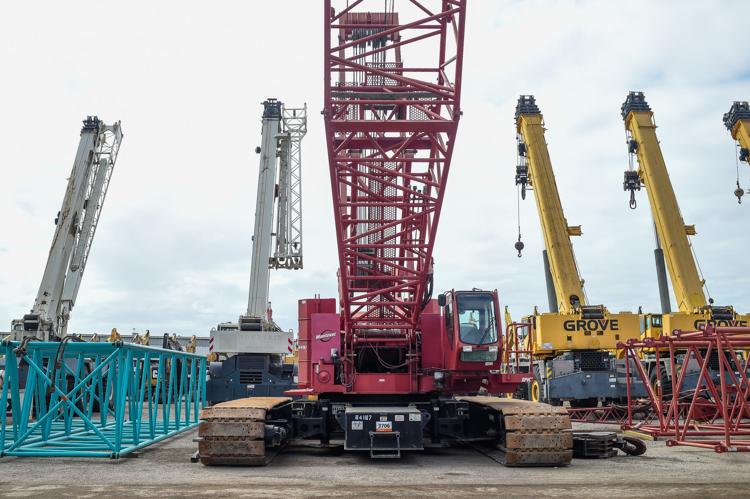 Toward the end of the six-day auction, Westinghouse had only trucks to offer — a small fleet of Chevrolet pickups and flatbeds.
Most still had their V.C. Summer parking passes, a stray employee manual or an inspection decal with "Jenkinsville" printed neatly on its side. Look closely, and you'd know these trucks had a role in the U.S.'s first nuclear project in three decades.
But that was in the past. Their buyers-to-be here inspect the fleet and crank each truck, focused squarely on the future.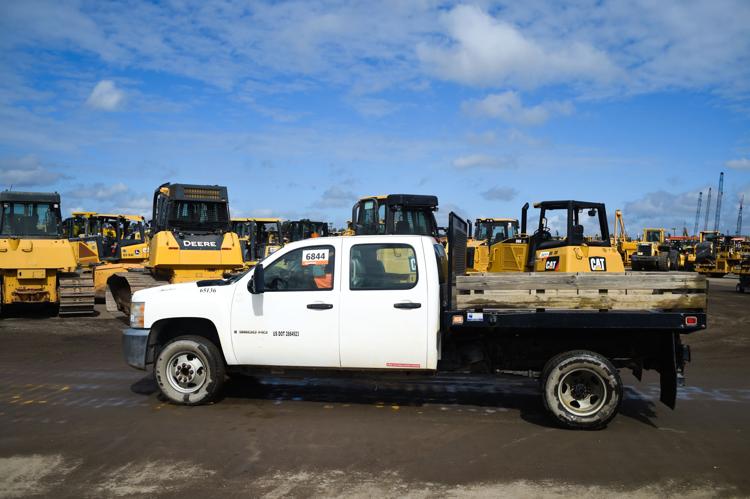 One man imagines using them to haul concrete pumps to job sites around Miami, even if he'd prefer a Ford. Another, Lucas Temple of Orlando, thinks he might be able to flip a few to local contractors if the asking price stays low.
Another still, Bob Rasch, makes plans to retrofit a couple of flatbeds to spread salt on roads in the upper Midwest. Come winter, he says, these trucks could be circling the University of Michigan.
"If I buy them," he adds.
The bargain hunters drive up the next day to the auction stage, where the buses sold that morning, and where a line of truck cabs from South Carolina now learn their fate.
"We're going to work, gentlemen," an auctioneer announces just before lunchtime. A minute later, the bid is $20,000 for each truck that hauled parts to the nuclear plant.
Sold, to a buyer in the crowd who'd bid discreetly. Sold, to a buyer in Puerto Rico, who'd bid online. Sold, to a buyer in Pennsylvania, who'd send a piece of V.C. Summer up north.
And then they rumble away, back into the obscurity of the auction yard, off to a new moment in time.