An upscale women's clothing shop woven together in downtown Charleston after the departure of Sak's Fifth Avenue is wrapping up a near-seven-year run.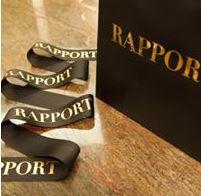 Rapport, at 194 East Bay St., plans to close at the end of February, according to shopkeeper Anne Summer.
"We don't have enough business to make it practical to continue to operate," Summer said Friday.
She said a number of factors contributed to her decision to close the shop, including the negative impact of increased internet sales, competition and sales promotions from luxury stores carrying similar brands, and the service-driven nature of her business with expert sales and tailoring staff.
"That is less and less what drives consumers," Summer said of the shop's hands-on customer service, part of its signature offerings.
Rapport started shortly before Thanksgiving in 2010 at 235 King St., partially to fill the void left by Saks a few months earlier, but Summer said increasing rental rates forced her to leave Charleston's tony shopping district in September for a less expensive retail space a few blocks away.
Shoppers will now find items in the 2,400-square-foot store marked down up to 75 percent off. The discount could accelerate as the month progresses, Summer said.
The shopkeeper, who once ran hospitals and continued in health care consulting while running the clothing business, plans to return to consulting full-time after closing the store.