An upscale townhouse development is in the works for a key downtown Charleston corner.
The Beach Co. plans to build 20 single-family attached townhomes on St. Mary's Field, where Broad Street and Lockwood Boulevard meet on the southwestern peninsula.
The proposal, initially approved by the Board of Architectural Review in late April, also calls for a waterfront park.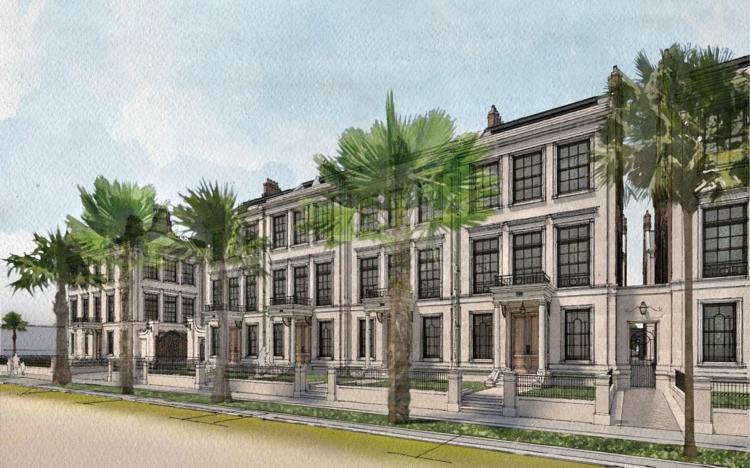 Zoning for the site allows up to 34 units, but the developer chose to reduce the unit count and provide more open space. About 75 percent of the site will be undeveloped.
Each 2,400-square-foot townhome will feature ground-floor parking, individual elevators and private rooftop terraces overlooking the Ashley River.
The three-story buildings feature individual formal front entries, limestone exteriors and large, expansive window areas in keeping with design principles of historic townhomes on the peninsula.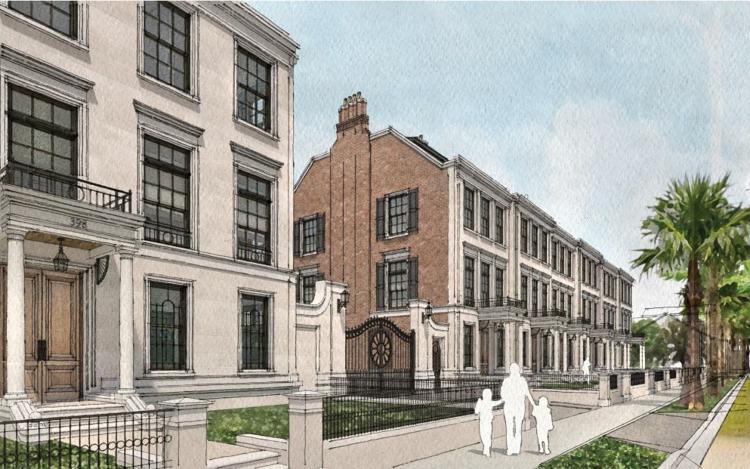 "The townhomes and park at St. Mary's Field will complete the streetscape along this prime location on Broad Street, while complementing the adjoining historic neighborhood and providing a new public space for all to enjoy," said Dan Doyle, senior vice president at The Beach Co.
It's too early to announce pricing, a spokeswoman said.
The project still needs preliminary and final approval from the BAR to move forward. Construction could start in the summer of 2020, with completion by late 2021.
The site is adjacent to the former 14-story Sergeant Jasper apartment building, which, after a lengthy legal challenge, has been largely demolished to make way for a new development, also by The Beach Co.
More multifamily
Charleston's upper peninsula is teeming with new mid-rise apartment developments, and another is on the way.
Atlanta-based Pollack Shores Real Estate Group plans to build a 231-unit complex at 107 Brigade St., just off North Morrison Drive. It's expected to open in July 2019.
Several other apartment communities are planned for the NoMo area as well, including a 275-unit complex also rising at another parcel on 107 Brigade St. It's called Foundry Point and is the $65 million project of Middle Street Partners and Charlotte-based White Point Partners with funding by Federal Capital Partners of Maryland.
Pollack's plans for the former steel yard site just northeast of Foundry Point call for 10 three- and four-story, garden-style apartment buildings. It will include 36 studio units, 114 one-bedroom units and 81 two-bedroom units.
Features include 9-foot ceilings, granite countertops, stainless steel appliances, a mixture of luxury vinyl plank flooring and carpeting, along with patio French doors that open to private balconies.
Amenities will include an upscale pool courtyard with multiple outdoor grilling stations, clubroom, fitness center and yoga studio along with vehicle charging stations.
"We will create a luxury living experience reflective of all the positive qualities the NoMo neighborhood has to offer," said Pollack Shores' president Steven Shores.
"The project's premier location offers residents ample access to transportation and some of Charleston's most popular dining and entertainment destinations," Shores said. "We look forward to creating a community that will be a hub of energy, connectivity and excitement in Charleston."
Matrix Residential, a subsidiary of Pollack Shores, will manage the site.
Nearby, another apartment development is in the works.
Ryan Hanks of Madison Capital Group of Charlotte plans to build a six-story building with 210 units at 1074 Morrison Drive near Brigade Street. The building will include five floors over ground-floor retail and possibly office space, he said. The site is now occupied by a former garage.
Hanks said plans will be presented to the city soon. He is involved in several other apartment proposals on the upper peninsula, including sites on Meeting Street and East Bay Street, as well as other projects around the metro area.