While many political wonks saw Nikki Haley's nomination to Boeing Co.'s board of directors as a positive move for her future aspirations, one group wasn't happy with the news — the International Association of Machinists union.
Boeing last week announced that Haley, former South Carolina governor and U.S. ambassador to the United Nations, will join its board pending a shareholder vote on April 29.
Haley — considered an early front-runner for the 2024 presidential race — was a leading proponent for Boeing's 787 Dreamliner campus in North Charleston during her tenure as governor, signing a $120 million incentives package in 2013 to help the aerospace giant expand its local footprint.
Haley also wasn't shy about expressing her disdain for organized labor. During her 2015 State of the State speech, Haley called the IAM's attempt to organize Boeing workers "a union power grab" and she also recorded an anti-union radio commercial for the aerospace giant.
The IAM ultimately lost a 2017 bid to gain a foothold at the North Charleston campus, and the union hasn't forgotten the role Haley played.
"The IAM has serious concerns about the nomination of Nikki Haley to Boeing's board," said Robert Martinez Jr., the union's president. "As governor of South Carolina, Haley had a record of using anti-union rhetoric and inserting politics into working people's decisions."
Martinez added that he hopes "her past statements on unions do not cloud her decision-making while serving on Boeing's board of directors."
While the IAM couldn't organize all of Boeing's North Charleston workers, it claimed a small victory last year when a majority of 169 flight-line workers at the plant voted to join the union.
Boeing is appealing the May 31 election and the National Labor Relations Board has not made a ruling. In the meantime, Boeing refuses to negotiate with its flight-line workers and the IAM.
Counting cranes  
A barometer of construction activity on the Charleston peninsula has been taken down a notch.
Workers on Wednesday completed the disassembly of a boom crane that had been towering over the Hoffler Place student-apartment project at King and Spring streets for more than a year.
Its removal lowers the peninsula skyline "crane index" to three, from a peak of seven. Two remain on upper Meeting Street and the other is at the WestEdge project near Brittlebank Park.  
Hoffler Place is being developed by Virginia Beach, Va.-based Armada Hoffler Properties, which owns a 93 percent stake in the $48 million, 260-bed project that will include 12,000 square feet of ground floor retail space. Spandrel Development Partners is a minority investor.
The seven-story building at 595 King St. is expected to be ready for students to move into by the third quarter, Armada Hoffler said last week in its annual report filed with the Securities and Exchange Commission. It will have 74 studio to 5-bedroom units, and amenities will include a courtyard and fitness center. Rental rates start at $999 per bed according to the property's website.
Work began in 2017.
Armada Hoffler also is the developer of the nearby 114-unit, 360-bed Summit Place student apartment complex slightly farther uptown at 530 Meeting St. It, too, is expected to be ready for residents by the time the fall semester starts. The estimated cost of the five-story project is $53 million, and monthly rates start at $949 per bed.
Names are news
Now that's it bought its first batch of hospitals outside of Charleston, the Medical University of South Carolina is set to put its stamp - and its initials — on the newly acquired medical centers in Chester, Lancaster, Marion and Florence counties.
Chester Regional Medical Center will become MUSC Health Chester Medical Center; Springs Memorial Hospital will become MUSC Health Lancaster Medical Center; Carolinas Hospital System-Florence will become MUSC Health Florence Medical Center; and Carolinas Hospital System - Marion will become MUSC Health Marion Medical Center.
Dr. Patrick Cawley, MUSC Health's CEO, announced the new hospital names on Friday, when the acquisitions totaling $176 million were finalized.
Flower power 
With spring set to bloom, a longtime Charleston flower business is getting a new owner who's likely a familiar face to customers.
Manny Gonzales said he and his wife Clara still maintain control of major decisions for Tiger Lily, which they bought in 1996, when it was struggling and located on King Street. But they are slowly transferring the reins to longtime employee Lisa Hays Holmes, who expressed an ownership interest.
"With the two commercial properties in Charleston, and a couple of short-term rentals in Port Royal, Clara and I have been pulled in different directions," he said last week. "Lisa's enthusiasm and fresh energy has been great for Tiger Lily. ... We all feel that Tiger Lily should be under the daily management of one unique and passionate voice. I've always felt that 'management by committee' results in a watered down, generic, mediocre business and product. We're not going to do that."
He continued, "So our plan has evolved where Lisa continues to grow her ownership stake as time goes on and is fully in control of Tiger Lily. Clara and I are available and involved in big picture decisions, but Lisa is running the show now and doing great. Other than being involved in technical decisions, Clara and I are really just getting out of Lisa's way and watching her run with it."
Tiger Lily moved its main operations to James Island last year but maintained a retail presence in a small part of the Spring Street location it has owned since 2004.
The Coastal Conservation League is moving into the space vacated by Tiger Lily on the peninsula, but it wasn't the only entity eyeing the former gas station site. Upscale outdoors retailer Orvis expressed an interest in the Tiger Lily site for its third South Carolina signature store, but it ultimately chose a King Street space that's closer to Charleston's downtown retail hub, Gonzales said.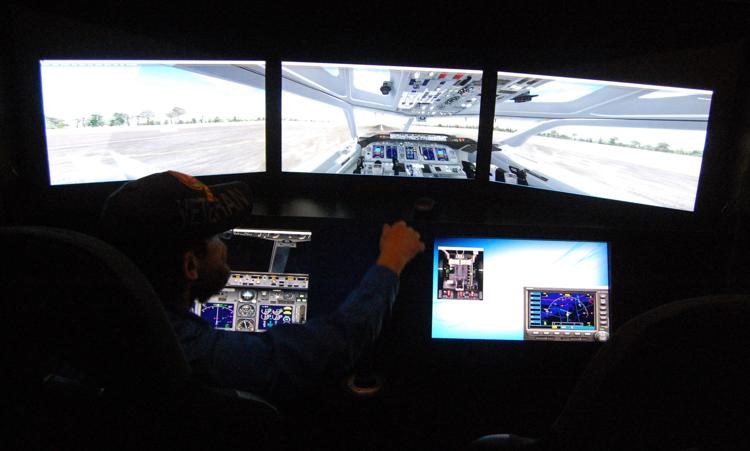 Flight-crew funding 
American Airlines has pledged another $25,000 to a Mount Pleasant program in an effort to develop a future workforce for the industry.
The donation to the U.S.S. Yorktown Foundation is for a program that teaches students what it might be like to be a commercial pilot. The Flight Academy simulation, "Take Flight to Your Future," is housed on the Yorktown aircraft carrier at Patriots Point. 
It's aimed at encouraging students, particularly those from diverse backgrounds, to think about careers in commercial aviation. 
The need for commercial pilots has been growing. In its 2018 Pilot Outlook, Boeing Co. estimated that 206,000 pilots would be needed in the North American market over the next 20 years. 
The "Take Flight to Your Future" program was added after American Airlines' first $25,000 gift last year. It simulates the experience of flying a Boeing 747 aircraft and emphasizes math and communication skills. 
The Flight Academy also offers a military mission, allowing students to use simulators modeled after the Lockheed Martin F-35 fighter jet in a challenge to save the Yorktown.  
In November, the nonprofit Yorktown Foundation announced an expansion to its need-based scholarships for Flight Academy programming. A $50,000 fund was formed with gifts from anonymous donors, allowing the foundation to open up its scholarships to groups across the state. Previously, scholarships were only available to students in Charleston, Berkeley and Dorchester counties. 
Debt reduction
Dominion Energy has already zapped some of the South Carolina Electric & Gas borrowings it assumed after acquiring the utility two months ago. 
The debt buybacks were part of a total $1.5 billion redemption offer announced earlier this month.
The Richmond, Va.-based company said Tuesday that it repurchased three sets of SCE&G-issued bonds totaling nearly $996 million, or 95 percent of the $1.1 billion it was preparing to spend on them. The debt was to come due in 2021, 2046 and 2064 and yielded 3.5 percent to 4.5 percent in interest.
Dominion is still offering to snap up another $500 million in bonds and other IOUs that were issued by Cayce-based SCE&G or its parent, SCANA Corp., both of which ran into serious financial trouble after walking away from the disastrous V.C. Summer nuclear project in mid-2017. The redemption period for that debt ends March 18.
In all, the Dominion is looking to buy back about 25 percent of SCE&G's outstanding borrowings and 35 percent of SCANA's. Spokesman Ryan Frazier said the purchases will be financed through "customary sources of liquidity, including short-term debt."