As President Donald Trump slaps tariffs on a laundry list of overseas goods to counter what he terms lopsided trade deals, the impact on South Carolina small businesses that rely on imports and exports is all over the board.
Some liquor shipments from North Charleston have been canceled. Prices for steel, aluminum and lumber are blowing up construction budgets statewide.
Other businesses are feeling little or no immediate impacts. Frank Knapp, CEO of the S.C. Small Business Chamber of Commerce, couldn't think of one member that's worried about an impending trade war.
Most businesses are simply standing by, waiting to see how it all plays out.
"The sky probably isn't falling, but it certainly has dropped several thousand feet," said Robert Johnston, executive vice president of The InterTech Group Inc. in North Charleston, which owns and invests in manufacturing businesses all over the world.
"It's very disruptive," he added. "It's very hard to make any decisions."
Trump stirred the global trade pot in May by imposing tariffs of 25 percent on steel and 10 percent on aluminum imports from most countries. Another $34 billion in tariffs that target machinery and other industrial goods from China took effect this month. 
More could be on the way: The administration is said to be considering another $200 billion worth of tariffs on all sorts of imports. Trump upped the stakes Friday, saying that he's prepared to approve tariffs on all Chinese imports to punish China for its trade tactics.
The tariffs have triggered widespread retaliation. China is taxing American soybeans and South Carolina-made BMW automobiles, among other items, while the European Union has hit Harley-Davidson motorcycles and Kentucky bourbon. Canada has imposed tariffs on a range of products — from U.S. steel to dishwasher detergent.
Vulnerable
Small businesses are particularly vulnerable because they often lack the financial firepower needed to work around tariffs, such as relocating operations overseas or shifting their supply chains to countries unaffected by the higher duties.
A new U.S. Chamber of Commerce analysis found that $3 billion of goods from South Carolina could be hit with retaliatory tariffs, the third-highest behind Texas and Alabama. The Palmetto State, which exports $6.3 billion worth of products each year to China, is particularly sensitive to that country's tariffs.
The S.C. Chamber of Commerce has sent a letter to the state's Republican-heavy congressional delegation, asking them "to do whatever it takes to inform the administration about the jobs at risk when it takes a narrower view of trade."
So far, that request has fallen mostly on deaf ears.
"Now is not the time to undercut President Trump's ability to negotiate better trade deals," Sen. Lindsey Graham said when fellow lawmakers proposed legislation that would rein in the president's ability to enact tariffs.
"I will not support any efforts that weaken his position," the Republican lawmaker said.
So far, the trade dispute isn't showing up at the Port of Charleston.
"Not yet," said Jim Newsome, CEO of the State Ports Authority.
But it is starting to show up in the economic data, and in a surprising way, said Mark Vitner, Charlotte-based senior economist for Wells Fargo. 
"The ironic thing is, in the near term, the tariffs have caused a rush of economic activity because a lot of firms have pushed up their production ... because demand was pulled forward," he said. 
While that "kind of flies in the face of common sense," Vitner said, it also suggests that "people are worried about retaliatory tariffs."
One of the other fallouts from the tit-for-tat trade war is widespread uncertainty, which businesses large and small tend to despise.
"That's the one thing we can't measure," Vitner said.
Food factor
State Agriculture Commissioner Hugh Weathers describes farming as the "tip of the spear" when trade wars break out. Since the industry deals in perishable crops, placing retaliatory tariffs on American produce is a quick and forceful way to hit the economy.
For example, he said, when the Obama administration placed a tariff on rubber tires, China responded with a tariff on beef, which hit American exporters in the pocketbook. This time, China is targeting pork, one of the state's biggest export commodities.
When Trump's tariffs were announced, the price of cotton fell by 10 cents, said Rep. Russell Ott, D-Calhoun County, whose family farm sells cotton and corn. He said he needed to take the tariffs into account while signing contracts with exporters, and that it's all a game of speculation. Ott already has takers for about half of his crop, and is waiting to see how prices fluctuate before booking the remainder.
Some South Carolina crops, such as soybeans, will be hit harder by the additional China tariffs.
"You talk to any farmers and they know what's going on," Ott said. "I think everyone's trying to brace themselves right now."
Chalmers Carr, owner of Titan Farms — the largest producer of peaches in South Carolina — is also playing the wait-and-see game. About 15 percent of Titan's crop goes to Canada, and a retaliatory tariff would put a dent in his business.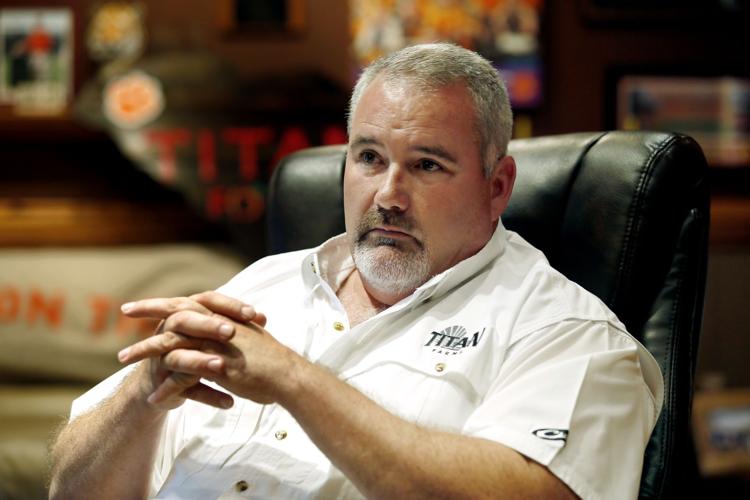 Unlike cotton, peaches are a delicate and highly perishable crop — what doesn't go to Canada today can't be shipped somewhere else next week.
"That's a whole other side of agriculture that I don't think people get," Ott said. "We have to play those markets."
One of the South Carolina industries expected to benefit is shrimping, because the proposed China tariffs would include aquaculture products. But that may not be the case.
Consumers could pay a little more for imported frozen or packaged shrimp, said Deborah Long, a spokeswoman for the Southern Shrimp Alliance. 
"There's a good amount of other product out there to replace the volume," she said. 
And the tariffs probably won't boost profit margins for hard-pressed South Carolina shrimpers. The national market prices for local shrimp didn't change much after previous crackdowns on imports, said Rutledge Leland of Carolina Seafoods in McClellanville.
"I've never seen where a tariff comes into play. It's never really shown up in the prices that I've seen," Leland said.
The latest proposed tariff "certainly hasn't pushed" up shrimp prices so far.
"They're down as low as I've ever seen them," he said.
Booze and boats
Liquor producer Terressentia of North Charleston lost some orders because of the tariffs. It exports products to 15 countries and imports from several other places, such as Brazil, China and the Caribbean.
"We have seen some impact in Europe and China, where purchase orders have been canceled, but the majority of our business has not been impacted," said Earl Hewlette, the company's CEO emeritus.
Hewlette said fewer than 10 orders had been scratched, but each of those accounted for a 6,000-gallon shipment of bourbon, representing about 10 percent of the company's exports.
Steve Potts, founder and CEO of Summerville-based Scout Boats, said his company exports about 10 percent of its production, mostly to Canada and Mexico but also to markets in Australia and Europe.
Potts said tariff impacts have been mostly limited to higher duties on imported aluminum and steel from China.
"We have a lot of aluminum and stainless steel on our boats, but it's mostly ornamental pieces of hardware," Potts said. "Those parts only cost five or six dollars, so they're not having an impact on the price of the boat."
Potts said currency exchange rates impact his business more than tariffs. For example, when the euro was strong against the dollar, Scout Boats saw a spike in sales in Europe.
Potts said he suspects some companies might be using the tariffs as an excuse to increase prices, even though the impact has been minimal.
"We're seeing impacts of 1 to 1.5 percent, but some companies are raising their prices by 6 percent," he said. "They're exploiting the tariffs to bump up prices."
'Built on trade'
Nova Gas Technologies is like many small businesses with overseas sales that are taking a wait-and-see approach. The North Charleston company produces specialty gases that are used in machines to make semiconductors. While tariffs could hike raw material costs, Craig Toporek, the company's trade manager, said no precautionary steps are being taken.
"It's going to require a little more time before businesses understand what the impacts might be," said Knapp, the small business chamber executive.
That's true for North Charleston beef jerky maker New Primal, which imports meat used in its products. The company buys six months in advance, company founder Jason Burke said, so it would take a while for tariffs to show up on the bottom line.
Even some business owners who aren't directly affected worry about how tariffs might ricochet throughout the economy.
"By discouraging trade, particularly in our state, we will be endangering the economies of several regions," said Marilyn Becker, CEO of Little Mountain-based Transfer Point Inc. and a member of the S.C. District Export Council.
Becker's Midlands dietary supplements business isn't a tariff target, but she can still imagine how trade wars tend to trickle down.
For example, the tariffs on Upstate-made vehicles that BMW ships to China through the Port of Charleston will likely ripple through the dozens of suppliers that followed the automaker to the state.
"Has the public noticed the difference in downtown Greenville since BMW established operations?" Becker said. "Has anyone paid attention to that and the affluence that many, many families enjoy by being affiliated with BMW or the spin-off businesses?"
The tariff issue and South Carolina took center stage for a fleeting moment last week, when U.S. Sen. Tim Scott asked Jerome Powell about tariffs during the Federal Reserve chief's semi-annual report to Congress.
"South Carolina, my home state's economy is built on trade," said Scott, a Republican from Charleston, according to a transcript of the hearing. "You name it, we make it, we grow it and we ship it. Cars, cotton, tires, jets, peaches, soybeans, turbines, solar panels and the list goes on and on. What's generally happened in the past economic growth when we've raised tariffs?"
Powell responded reluctantly, saying trade isn't the business of the central bank.
"But nonetheless, it has significant effects on the economy. ..." Powell told Scott. "And I would say, in general, countries that have remained open to trade, that haven't erected barriers including tariffs, have grown faster. They've had higher incomes, higher productivity.
"And countries that have, you know, gone in a more protectionist direction have done worse," he said. "I think that's the empirical result."