Standing aboard a Royal Navy ship, Andrew Staunton gazed out at the lines of South Carolina-made Volvo cars parked in orderly rows next to Charleston Harbor. 
"You can just look there at all the cars ready to be shipped," the Atlanta-based British Consul General said. "There's a lot happening here." 
Though relatively new to his role, Staunton has sights set on enhancing business ties between his homeland and South Carolina, he said.
As consul general, he represents the United Kingdom and is responsible for consular, visa and trade activities. The diplomat personally oversees the U.K.'s relationship with six states: Georgia, Tennessee, North Carolina, South Carolina, Alabama and Mississippi.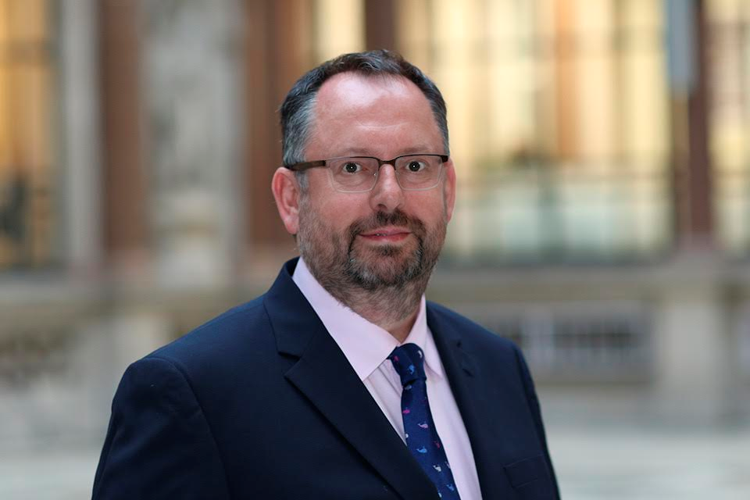 Before moving to Atlanta in June, he had served as deputy head of mission at the British embassies in Athens and Dublin.
By the end of the week, Brexit was still developing and evolving following the release of a draft of the deal. Prominent cabinet ministers have already resigned over the controversial proposal. And talk of a no-confidence vote against Prime Minister Theresa May may threaten her leadership. 
Staunton said he's tasked with looking to the "post Brexit space." He said he's not personally involved in any of the breakup talks, but as the details of the Brexit plan develop, Staunton said he will keep working to solidify existing business relationships in the U.S. and look to future deals.
One of the U.K.'s primary focuses in reshaping its economy happens to be one of South Carolina and the Southeast's strengths: advanced manufacturing.
"I want British business to be thinking Southeast," Staunton said. "I want them to be thinking South Carolina."
Most of all, Staunton said, he has been struck by the size and scale of the region. The drive through Georgia from top to bottom is about the same distance between London and his native Glasgow in Scotland.
He's been equally impressed by the abundant business opportunities, he said. 
Almost 12,000 South Carolina residents are employed by U.K.-based firms, according to the Charleston Metro Chamber of Commerce's Center for Business Research. At least 16 British businesses operate in the three-county region, including BP's Cooper River chemical plant and the telephone answering service Moneypenny. 
For the last month, almost all of the buzz around U.K.-South Carolina relations has been fixed on the new British Airways flight between Charleston International and London's Heathrow Airport that takes off in April. It's the state's first-ever nonstop transatlantic flight.
The Charleston area visitor industry is already preparing to welcome more British travelers, and business leaders are speculating whether the new air service will help lure an international corporate headquarters to the region.
In his first several months on the job, Staunton has visited Columbia to meet with Gov. Henry McMaster and has been to Greenville twice, including a meeting with the Upstate's main economic development group. He made his first visit to Charleston on Nov. 9.
During his day-long stay, Staunton made a stop at the Charleston Regional Development Alliance where spokesperson Claire Gibbons said they discussed upcoming business-recruitment trips to the U.K., the British Airways flight and Brexit. Charleston Mayor John Tecklenburg met Staunton for lunch. 
Staunton attended an evening reception on the HMS Monmouth, a Royal Navy frigate that docked in downtown Charleston after escorting the aircraft carrier HMS Queen Elizabeth during trials of the F-35B Lightning II jet.
Staunton said he has been pleasantly surprised to find that South Carolina residents had such an affinity for the British. He noted that both places are defined in part by their coastlines, and that the proximity to the open water contributes to a "willingness to explore the possible."