A newcomer to businesses in South Carolina that lets users shop out the tasks they need completed is a reminder of the growth of the gig economy.
Lawn Love introduced its entry into the Charleston market in early October, describing itself as "the Uber of" the highly fragmented lawn care industry.
The reference to the ride-sharing service, founded in 2009, is a nod to Uber leading the pack in apps of its kind, where users can hire an independent contractor using the company's technology.
Lawn Love is one of a handful now offering yard work in the area. Each is different in small ways; Lawn Love seems to want to distinguish itself for its partnerships with local businesses.
Lawn Love contracts with existing yard work businesses, which use their software and connect with customers. In that way, it is similar to Uber or Lyft. Customers can input their specific needs into the app.
Lawn Love's software takes satellite images of the user's home address and calculates how much it would cost to take care of the lawn. It measures the size of the roof — should you ever request a roof-cleaning service — and the width of the sidewalk. The algorithm blends all these variables together to come up with a price quote.
Users can choose what kinds of services they want done, including mowing, lawn fertilization, raking and gutter cleaning. Jeremy Yamaguchi, the San Diego-based company's founder and CEO, said using Lawn Love is "a more modern, delightful experience as a customer." No more checks left under the front mat, he said.
"We are essentially bringing this old, offline service into the 21st century," Yamaguchi said.
By contrast, the app Takl offers broader "home services," which includes lawn care, with an upfront price rather than a calculated quote like Lawn Love's. Takl also began allowing workers to bid for jobs in 2017.
Other sites like TruGreen offer a similar online booking interface for the customer, but the company employs its own workers. There are other applications out there offering something close to Lawn Love, such as LawnGuru, which advertises for "on-demand outdoor services" and doesn't appear to operate in South Carolina. GreenPal isn't open for business in the state, either.
The trend isn't limited to lawn care. Other apps offer dog walkers, babysitters, food delivery and more. A recent Gallup poll estimated 36 percent of all employees have some sort of gig work arrangement.
But another report from the Bureau of Labor Statistics this summer shows people working as independent contractors — like Uber or Lyft drivers do — make up a smaller group today than they did in 2005. The government's estimate came as a surprise to economists, some of whom predicted a trend of American workers moving towards these kinds of jobs. Most people still have traditional, full-time jobs, the report shows.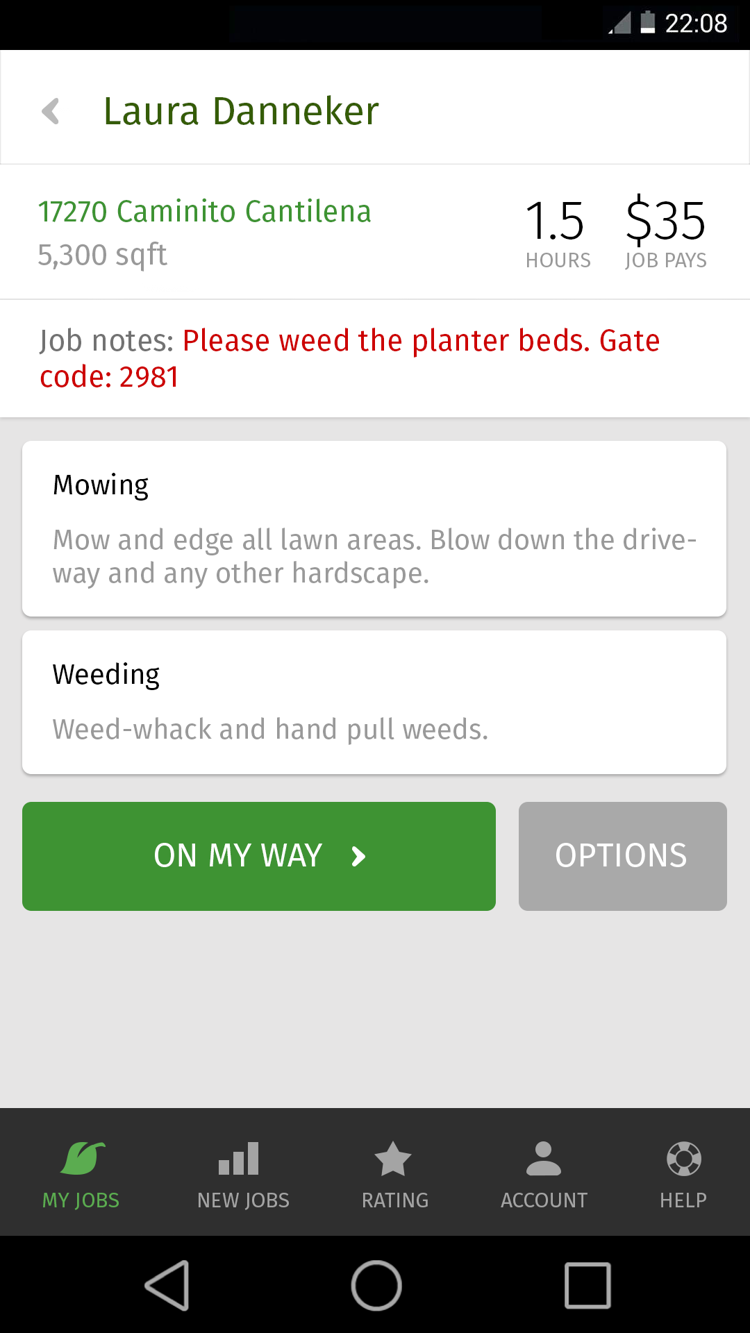 Lawn Love isn't vying for freelancers. Rather, it has partnered with more than 50 "lawn pros" in Charleston, Yamaguchi said. Each is with an existing lawn care business. Lawn Love takes a cut, ranging from 5 percent to 15 percent per job, Yamaguchi said.
And unlike Uber, Lawn Love isn't completely a la carte. Customers book their services in groups of visits.
The prices are lower if the contractor comes weekly. It costs more to space out the jobs.
Lawn Love employs about 100 people, none of whom are lawn care workers, Yamaguchi said.