JOHNS ISLAND — Staff from the Children's Museum of the Lowcountry spent the morning of Jan. 26 loading a 12-foot U-Haul truck with stored and museum-floor equipment before heading to Mount Zion Elementary School.
On any other day, they would hitch a 24-foot "Tinker Shop" trailer to a truck and be on their way. But that trailer was stolen.
Museum Director Karen Coltrane called their Tinker Shop a "museum on wheels," filled with STEM-enriching activities and technology that they bring to schools and events across the Lowcountry.
The Tinker trailer was stolen around 1:20 a.m. Jan. 22 from the parking lot of an offsite storage and workshop facility in North Charleston. The trailer had the museum's logo plastered across the sides, but no leads have led to its recovery.
"We will not let this loss keep us from providing programming for the kids," Coltrane said Jan. 23 after the theft. "It's unfortunate that someone would do this, but the kids that rely on us shouldn't suffer from someone else's error in judgment."
It was a promise she kept.
Staff members loaded their personal vehicles and a U-Haul trailer in what looked like a life-size game of Tetris at 7 a.m. Jan. 26. When the trailer doors closed, Coltrane paused and took a deep breath.
"Missing today's visit — that was never an option on the table for us," she said that morning. "From the moment we found out the trailer was stolen, our team was going to scrape together what we could and do whatever it took to pull this together."
When children couldn't come to the museum during the pandemic, the museum's Tinker Shop came to their community or school.
The STEM activities that were locked in the trailer taught children the basics of things like coding, robotics, circuitry, architecture, and archaeology. 
"The real benefit to the Tinker Shop program is the ability to bring these activities to communities and schools that may not have the funding to individually purchase and invest in these activities or programs," Coltrane said. "Last year we served 5,000 students in the four-county area."
Coltrane said the Tinker Shop became a large part of their permanent programming because of its ability to have an impact that reaches far beyond the downtown museum's walls.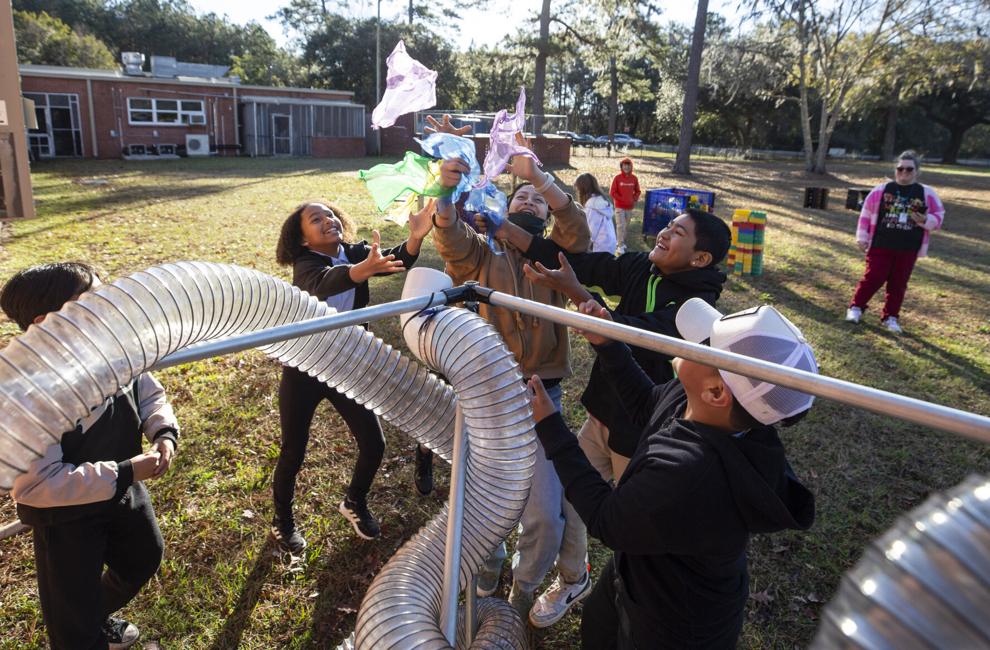 Rash of trailer thefts
The museum wasn't the only business hit that morning. A 12-foot trailer parked in the same lot, belonging to IVM Painting, was also stolen with more than $120,000 in painting supplies inside, according to the police report. In late December, a Mount Pleasant Fire Department trailer was stolen from the station at Paul Foster Road. 
The Charleston County Sheriff's Office received 66 reports of stolen trailers last year, 71 in 2021 and 70 in 2020. These numbers don't include individual police departments that keep their own records.
According to detectives with the Charleston County Sheriff's Office, trailer thefts have become a problem in Charleston County and across the state.
The Charleston County Sheriff's Office received 66 reports of stolen trailers last year, 71 in 2021 and 70 in 2020. These numbers don't include individual police departments that keep their own records.
Detective Mike Thompson said that what previous investigations have shown over the past few years is that there is a strategy behind the crime. He said that phone records of convicted trailer thieves showed that they first scout for trailers of all kinds — enclosed storage, campers and landscape trailers — and line up a buyer before actually stealing the trailer.
"This is true for most of the cases we've encountered, and most of the time they are stealing for quick cash," Thompson said. "Your trailer is already sold before it even leaves your property."
Trailers that are found either on Craigslist, local pawnshops, or by tips into police, are not always easy to return to the owner.
Detective William Martin said that because state law does not require a license plate or title for trailers, it sometimes makes it difficult to identify. Identifiable exterior markings are usually covered up. He said that trailers are usually emptied and sold to people in different counties.
Their biggest advice to trailer owners is to get an identification number stamped by the Sherriff's Office during the Stamp Out event, keep trailers out of sight, and keep thieves deterred by locking or disabling the trailer.
"Locks can be broken or cut," Martin said. "The more effort the trailer is to steal, the less likely the thief is to steal it."
A hefty cost
Charles Klinefelter, the Children Museum's director of exhibits and facilities, was notified the morning their trailer went missing by a neighboring tenant who noticed it was gone on a Sunday. Security footage showed a full-size, extended-cab white pickup haul the trailer away. Due to the rain and darkness, no further information could be pulled from the video.
The theft leaves a loss of roughly $50,000 in museum equipment and the trailer itself, the museum estimates. Coltrane said it's a $6,000 deductible to replace what was stolen, which is an unexpected cost that strains the nonprofit's budget. Many of the activities in the trailer were purchased with grant money. Museum officials are raising money to help offset the out-of-pocket costs. 
Making a comeback 
As school librarian, Peggy Haertel watched the group of fifth graders run throughout the lawn going from station to station; she had a smile on her face.
"I'm extremely impressed they were able to pull this together," Haertel said. "This is a unique hands-on experience for them. A lot of kids don't get to go downtown for the Children's Museum. When the museum visits the school, more kids get the opportunity to participate than a field trip."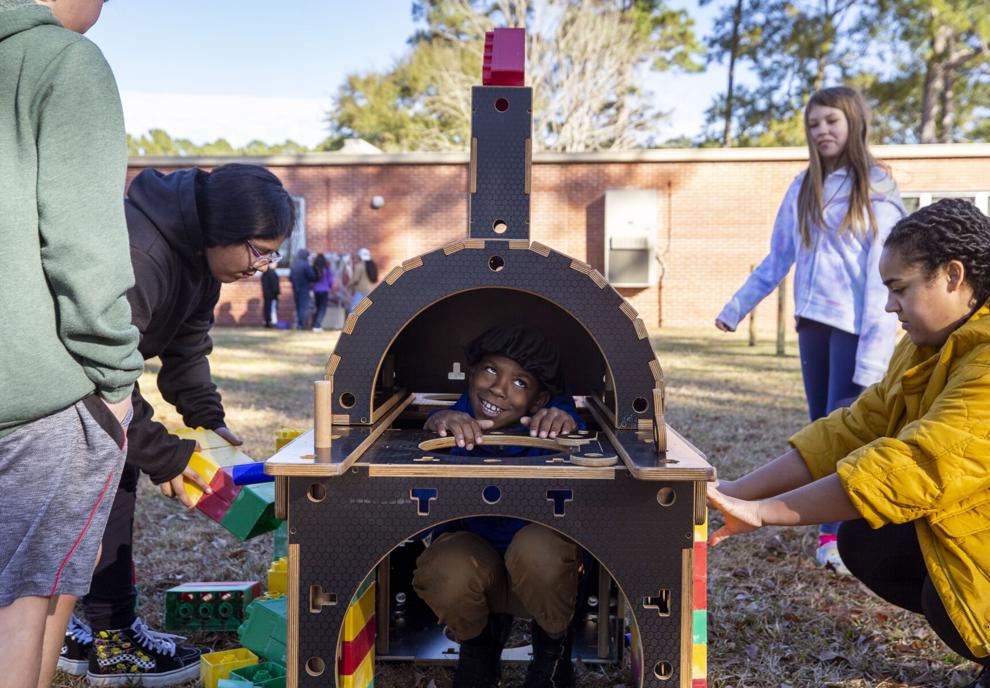 Coltrane said the response from the community wanting to help has been heartwarming since they posted about the theft. 
She said they have risen above the challenges before and expects something positive will come out of this, too.
"When people couldn't get to us, we made every effort to get to them. And we will continue to do that as we deal with this,"  Coltrane said.