Contractors interested in cleaning up as many as 800,000 scrap tires abandoned by Viva Recycling will meet at the company's Moncks Corner site this week as part of the bidding process. 
At stake is a job that could be worth up to $2 million in revenue.
Berkeley County is requiring the Wednesday site visit as part of an expedited process to pick a company to haul the heap to a recycling center. State officials say the scrap tires are a health hazard because they are a breeding ground for mosquitoes that carry diseases.
The S.C. Department of Health and Environmental Control agreed to give the county a grant to clean up the Viva site after a Post and Courier investigation showed how lax state oversight and corporate missteps fueled the rise of massive tire piles in Moncks Corner, Anderson and Jacksonville, Fla. The money will come from a $2 fee that the state tacks on the sale of every new tire. Normally, that money is used to promote tire recycling programs statewide.
Getting rid of the tires could take a while. The grant is spread out over two years because Viva's tires will enter an already full stream of used tires from other scrapyards and retailers across South Carolina.
Residents near the Moncks Corner site say they are relieved that officials are doing something, but they are frustrated that it took so long.
Viva shut down in 2017 and DHEC revoked the company's permit after learning the company had far more than the 99,000 tires that were allowed. The state agency also fined Viva roughly $1.7 million for repeated permit violations, an amount that remains unpaid.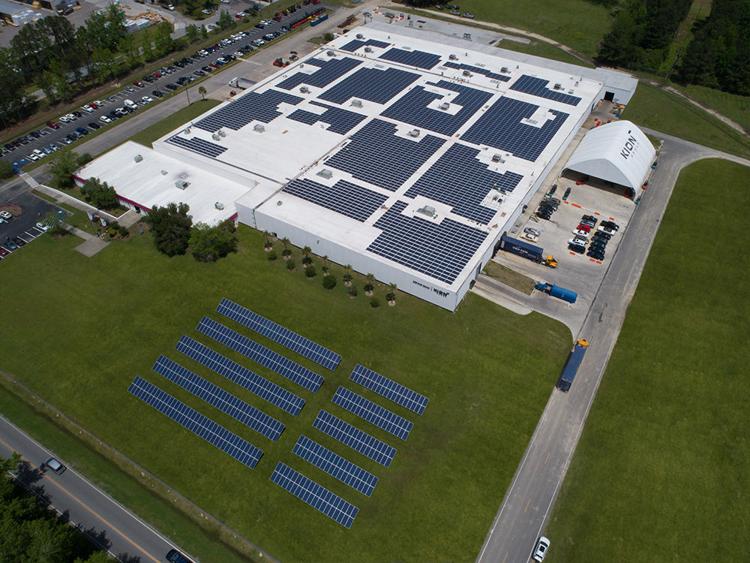 Soaking up the sun
One of the world's largest manufacturers of forklifts is now among the Charleston region's leaders in the use of renewable energy.
Summerville-based KION North America recently completed a 1-megawatt solar energy system atop its manufacturing facility. The rooftop solar farm generates enough electricity to power 133 homes and will offset about 80 percent of the facility's annual electricity consumption.
"Sustainability is a clear trend in the material handling industry — we experience this with each new day in the shape of great customer interest in electric forklift trucks," said Daniel Schlegel, the firm's vice president of operations. 
The solar panels, installed by Charleston-based Alder Energy, will offset the equivalent of more than 2 million pounds of CO2 emissions. The solar farm is a first for KION and is similar to rooftop panels Boeing Co. installed in 2011 atop its 787 Dreamliner campus in North Charleston, which can generate 2.6 megawatts of power.
Completion of the solar panels follows KION's announcement last year that it will provide energy-efficient forklifts using lithium-ion batteries for Volvo Cars' new manufacturing campus in Berkeley County. Volvo will be the only U.S. automaker to use the Summerville-made forklifts, which use 30 percent less energy than normal battery-powered models.
"KION's commitment to sustainable business practices is something for our community to be proud of," said Jay Byars, chairman of Dorchester County Council.
Office overhaul 
The mostly vacant former T-Mobile call center on Daniel Island is getting an overhaul — and a new brand, to boot.
The interior of the 88,860-square-foot structure at 115 Fairchild St. is being refurbished into conventional top-of-the-line offices that real estate brokers refer to as "Class A" space.
Jones Lang LaSalle's project and development services unit is leading the renovation, which is expected to wrap up in June. The four-story building is being marketed as The Landing.
"With office tenants facing a tight market and significant parking constraints, The Landing will be a compelling new destination for businesses relocating to Charleston or moving within the market," JLL senior project manager Drew Turner said in a written statement.
T-Mobile and a predecessor company operated a large customer call center in the building from the time it was completed in 2001 until earlier this year, when the wireless carrier moved to a former Kmart store on Rivers Avenue in North Charleston.
About 72,220 square feet of space is available in the Daniel Island property, which has been under the same ownership since 2005, when Daniel Island Sun LLC bought it for $20.8 million. The landlord, which recently borrowed $13 million against the building, is an affiliate of the Ecclestone Organization of Palm Beach, Fla.
Need a ride? 
The Charleston area's public bus operator hopes to kick off summer by setting a new ridership record.
The Charleston Area Regional Transportation Authority is leading the effort to encourage everyone to consider an alternative mode of travel besides the car on June 21.
As part of "National Dump the Pump Day," CARTA is aiming to surpass 20,000 riders, which would be a record high.
With gas prices escalating and local commuters still feeling the daily fallout of the Wando River bridge closing on I-526, the timing is ideal.
"CARTA has been steadily improving its efficiency, fleet, amenities and technology," CARTA board chairman Mike Seekings said. "'Dump the Pump Day' is the perfect time for residents to give the system a try. We think they'll like what they find, and we think it will lead to sustained ridership increases."
As part of the effort, CARTA encourages participants to sign a pump pledge at ridecarta.com/dumpthepump, then participate in a prize contest by downloading the Transit App in the Apple store or Google Play. Rides on the TriCounty Links system are eligible as well. Prizes include a new bike from Affordabike, a year-long CARTA "Golden Ticket" pass and a $50 gift card to HoM restaurant.