Wherever you live in the Lowcountry, water is nearby.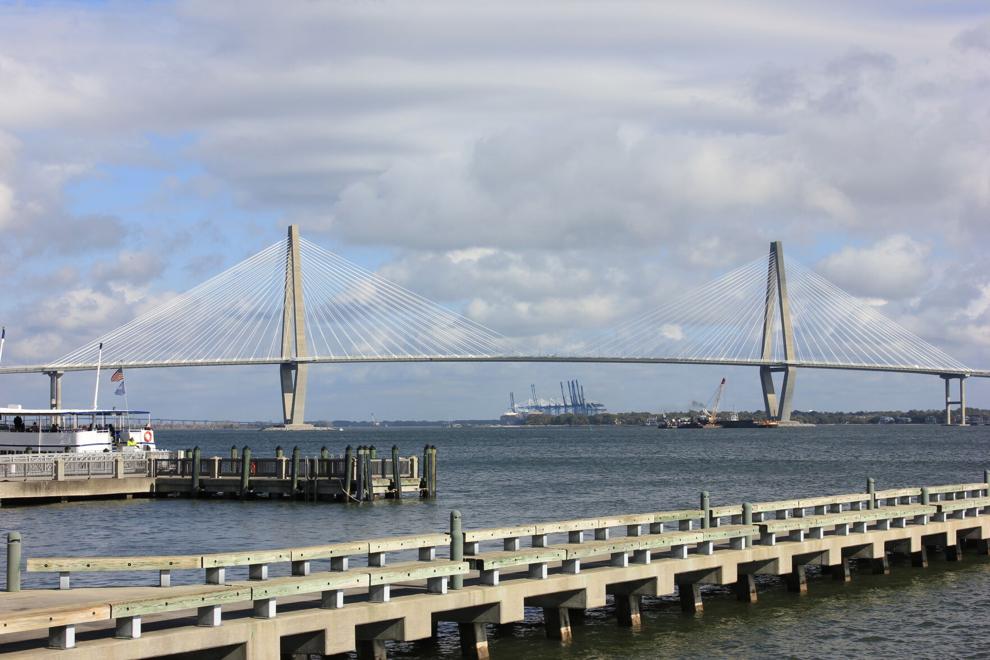 The ocean, rivers, creeks, marshes and wetlands are a constant reminder that when one needs to "center one's self," sitting on a shore, dock and bank is within easy reach. Waterways snake through neighborhoods and you can smell the ocean air most any day you want– even if you have to drive 30 or 40 minutes to do so.
Charleston is renowned for its historic significance, but it's the water that beckons locals and visitors. Any day of the year, one can view an awe-inspiring sunrise or sunset over the water, ride a boat to a remote, pristine island or load up some gear to fish off a pier.
Waterfront properties are at a premium – now more than ever. Price points for them vary, depending on where you wish to buy or build. From $65,000 for a marshfront lot in West Ashley to nearly $7 million on the Battery in downtown Charleston, waterfront living or being near water is attainable, though some properties may have additional costs associated with doing so.
Living on the Cooper River
This wide river is named after Anthony Ashley Cooper, one of the original eight Lords of Proprietors of Carolina. Historic accounts are that Cooper helped write some of the greatest laws of political and religious freedoms in British North America and the world.
The Cooper River runs through Berkeley and Charleston counties and meets up with the Ashley River to form the Charleston Harbor. Parts of it are listed in the National Register.
Some of downtown Charleston's most beautiful waterfront living are located at the gated community of Dockside at 330 Concord Street. Dockside Condos is a 19-story condo high-rise, with homes ranging from about 1,100 square feet to over 2,500 square feet. In front of them are townhomes that were built in the 1980s. Five of them sit right on the dock with far-as-the-eye-can see water views. Dockside is gated, with 24-hour security.
Judy Tarleton of Carriage Properties lists one of those five special properties at 330 Concord, TH #21. It is currently the only townhome property for sale in the community and it has been beautifully renovated.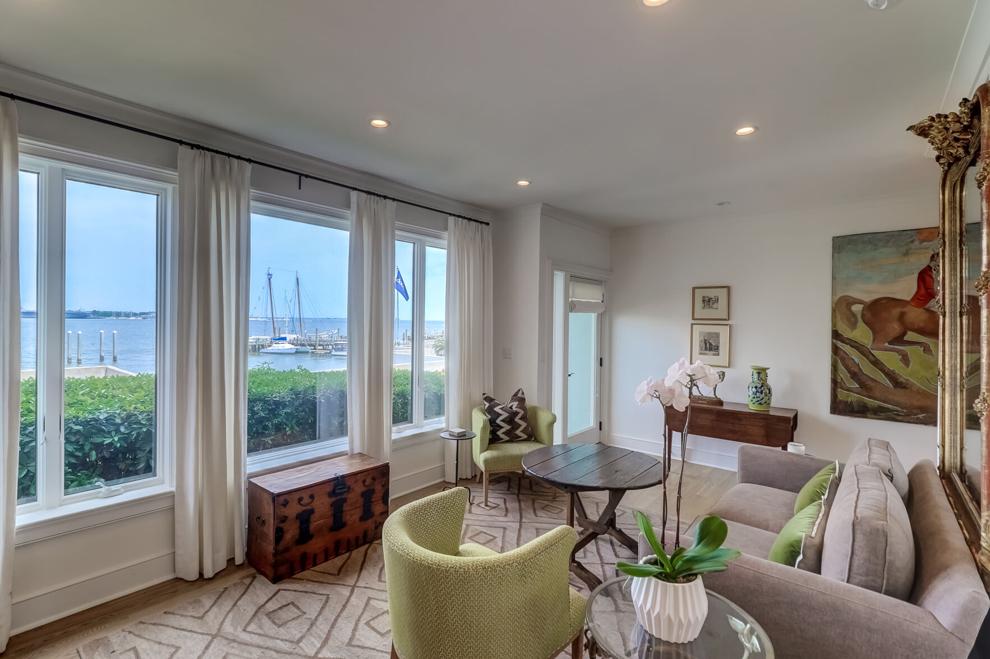 "It's a special place," Tarleton said. "The owners initially bought the property as an investment, then after retiring, they completely gutted it and renovated it, tailoring the floorplan to their lifestyle."
"Special" is an apt description for the 1,670 square foot home. Looking out of the three, large windows, the view is the Ravenel bridge, a large dock and sailboats. In front is a common area where one can sit and watch river activities – boats docking, sea gulls flying overhead – a picture perfect serene view. Walk along the docks. Walk to the Aquarium. Walk to the International African American Museum, currently under construction and scheduled to open in early 2022. Walking or biking to Marion Square for the Farmer's Market every Saturday is another nearby attraction that makes living here that much better. This unit has the added benefit of being steps away from Dockside's fitness center, indoor pool and club room.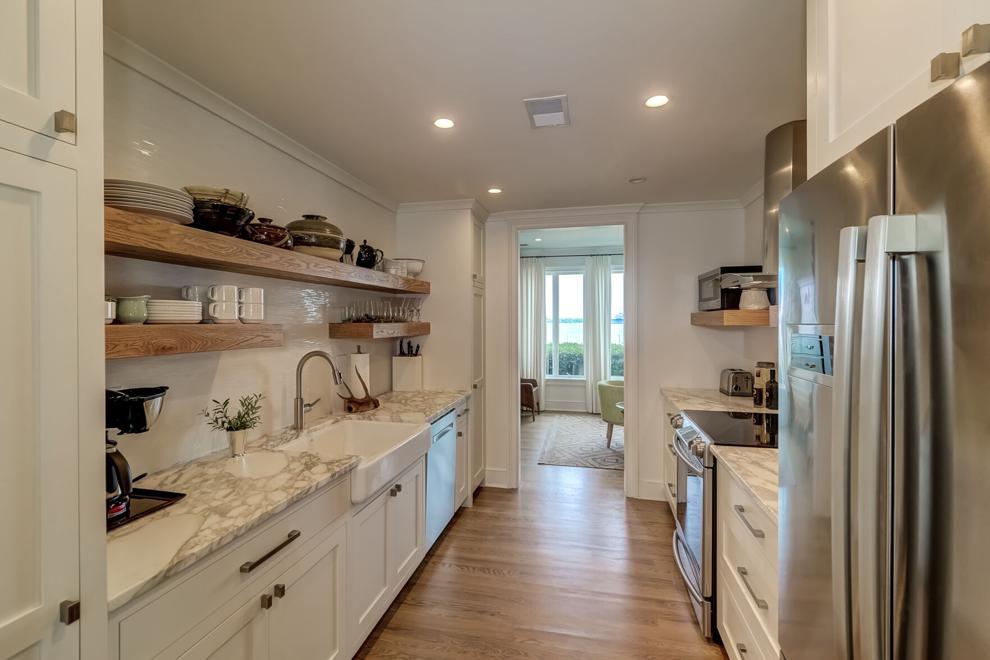 Formerly a two-bedroom, two bath home, it was converted to a one-bedroom and one and a half bath home. The result is a downstairs that houses a living room (that runs the width of the home) upon entering, a hallway with winding staircase, roomy powder room, an elevator, beautiful chef's kitchen and a dining room that runs the width of the home. From the back, a serene outdoor space with overhead pergola makes a lovely area for relaxing or entertaining.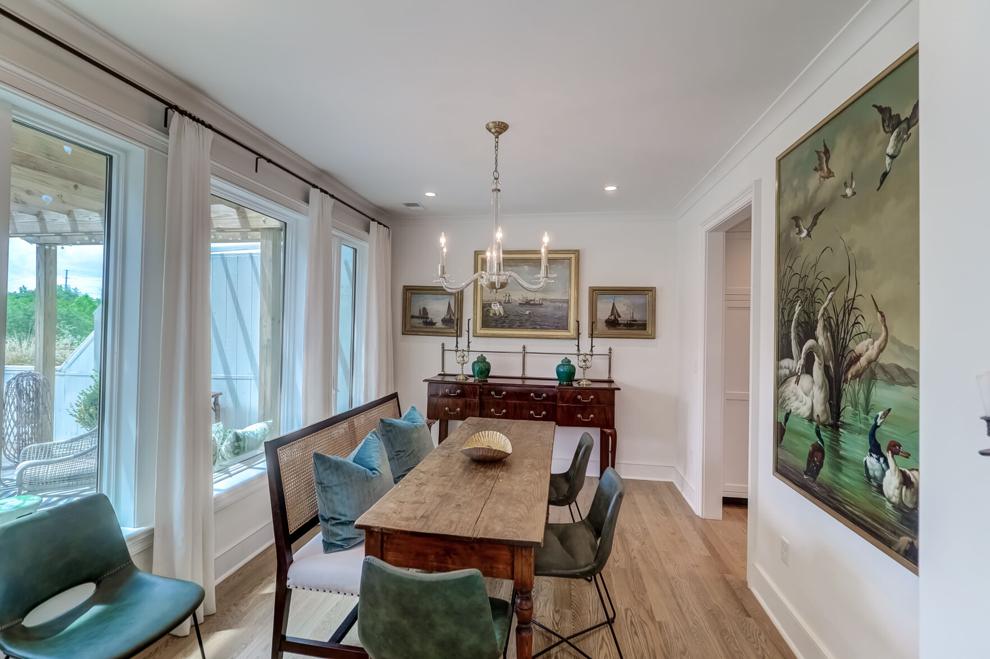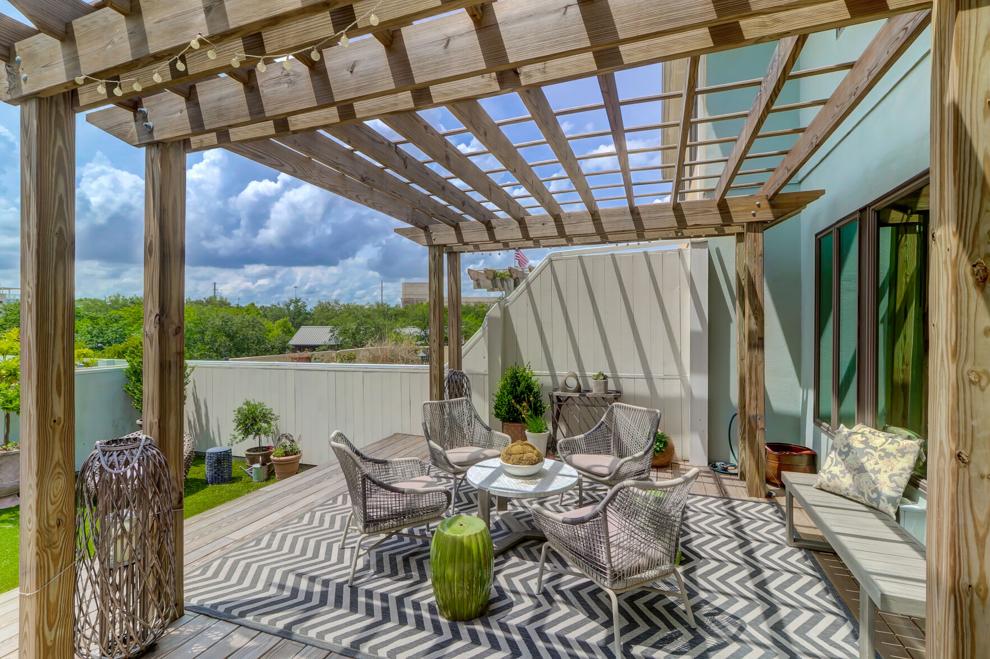 "This property's parking spot is right beside the elevator," Tarleton said, referring to the garage for residents' private parking. "There is another parking spot on the flat surface lot."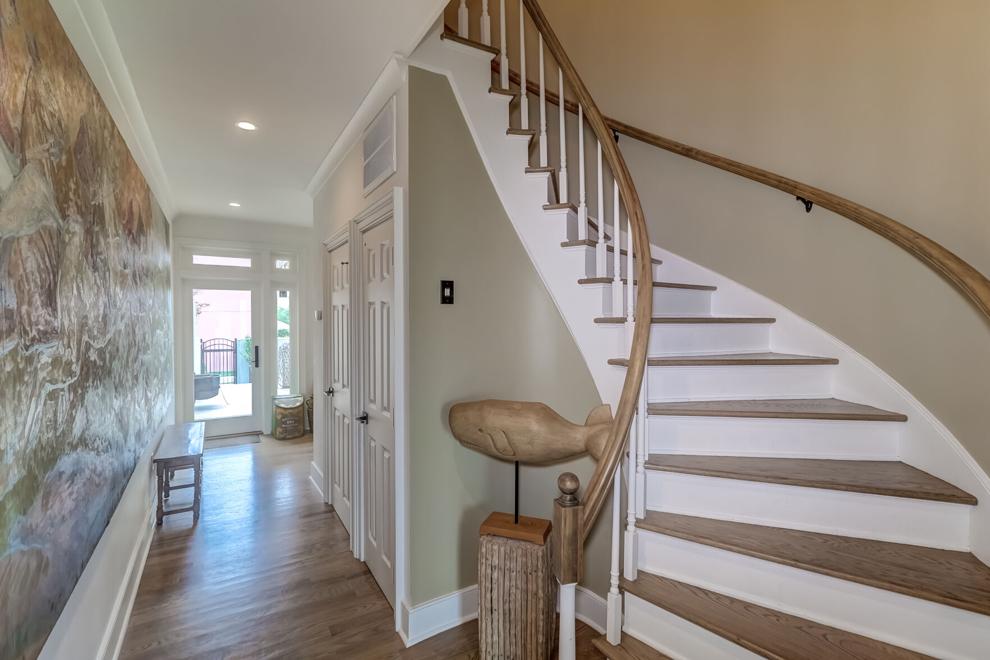 The home feels brand new – white walls, recessed lighting, open white kitchen with marbled countertops, farmhouse sink and open shelving and cabinet storage. Walk up the grand staircase and the master bedroom suite, ensuite bath and a large sitting room comprise the second level. Though the owners converted the extra bedroom into their sitting room, it can easily become a guest or master suite. This room has views of the river and its own balcony.
"They set it up as a one-bedroom for them," Tarleton explained. "They wanted this front room (former bedroom) as a personal sitting room because the views are so spectacular."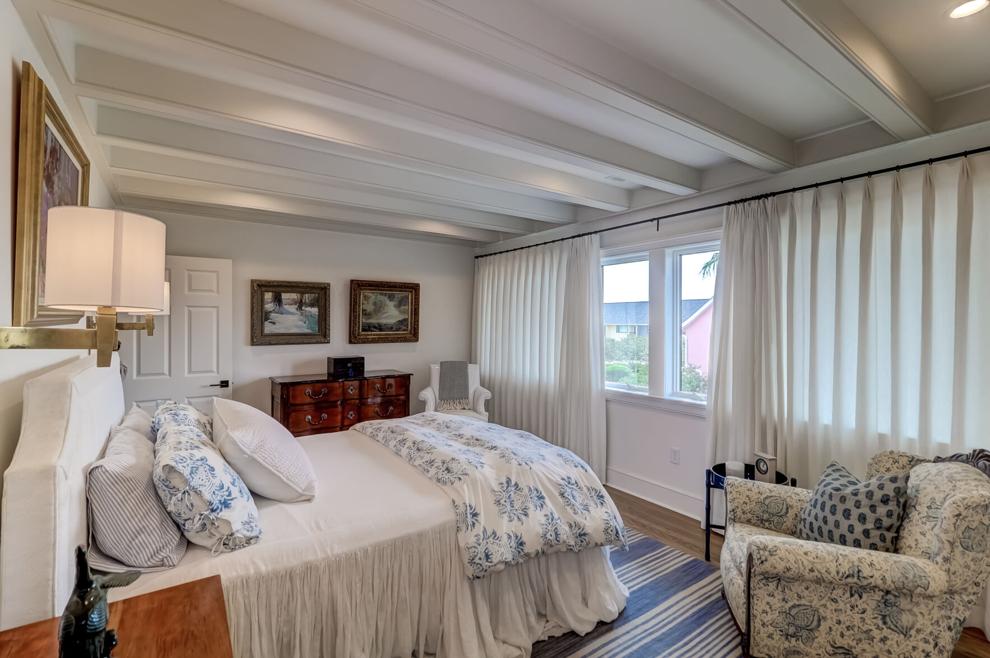 The master bedroom in the back is as well – a quiet space with natural light, overhead beams and a wall of closets. The bath is between these two rooms and is spa-light with marbled countertops, dual vanity, soaking tub and large separate shower.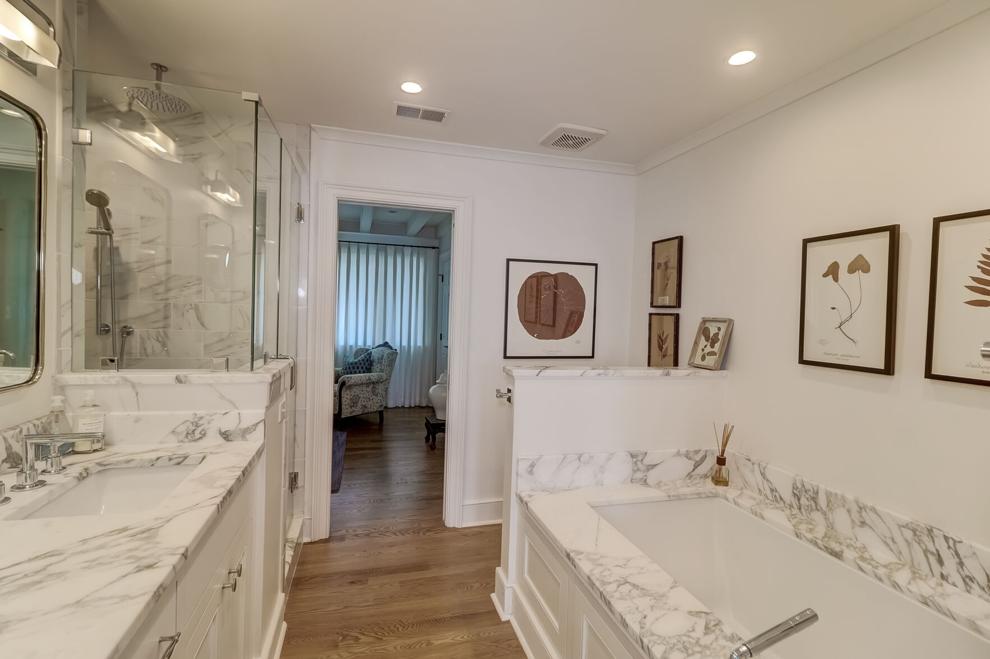 "The floors are oak," she said. "They planted lime trees out back. This home is a gem and most definitely has that wow factor."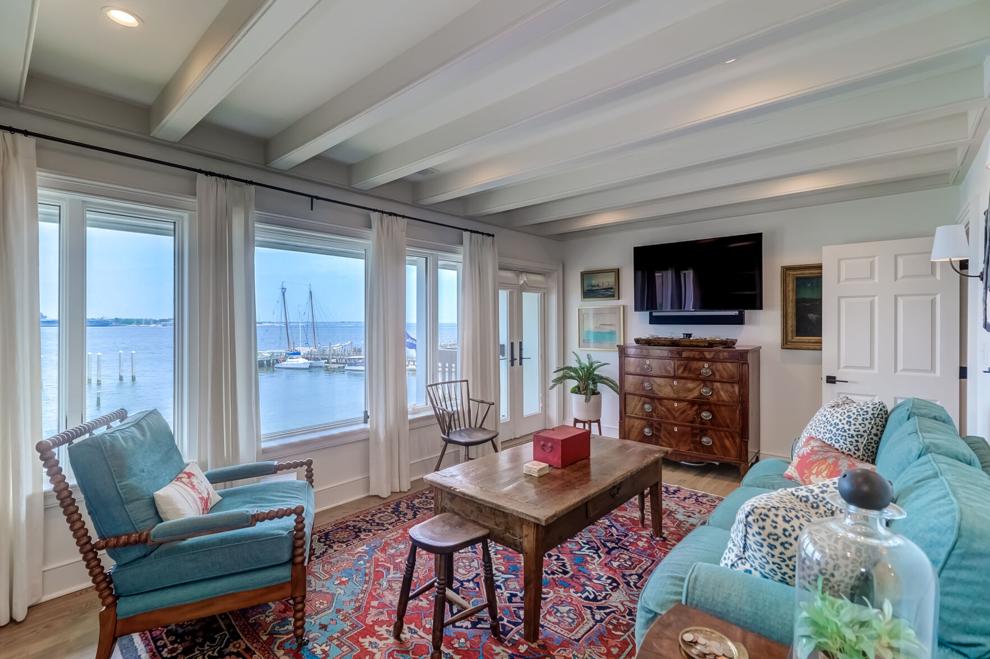 Historic land on the banks of the Ashley River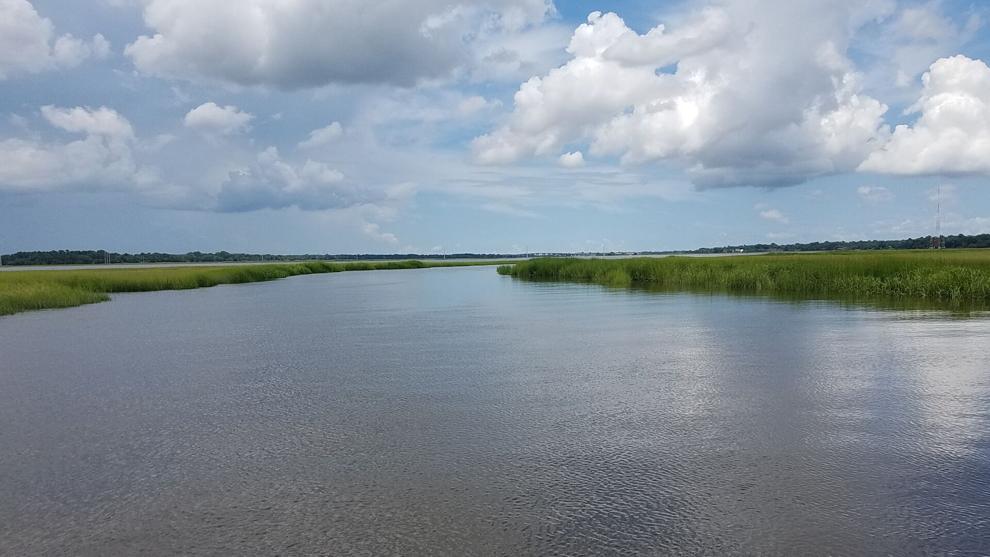 Referred to as South Carolina's "black pearl," because of its origins from a swamp and brackish black water, the Ashley River begins in Summerville. Listed on the National Register of Historic Places, it's a place for paddle-boarders, fishing and kayakers. Its historic significance is that the river's mouth was the site of the first permanent European settlement in the 1600s. Preserving it and the land surrounding it has been on the forefront since the early 1990s, with the Office of Coastal Resource Management working with communities to create a plan that does just that.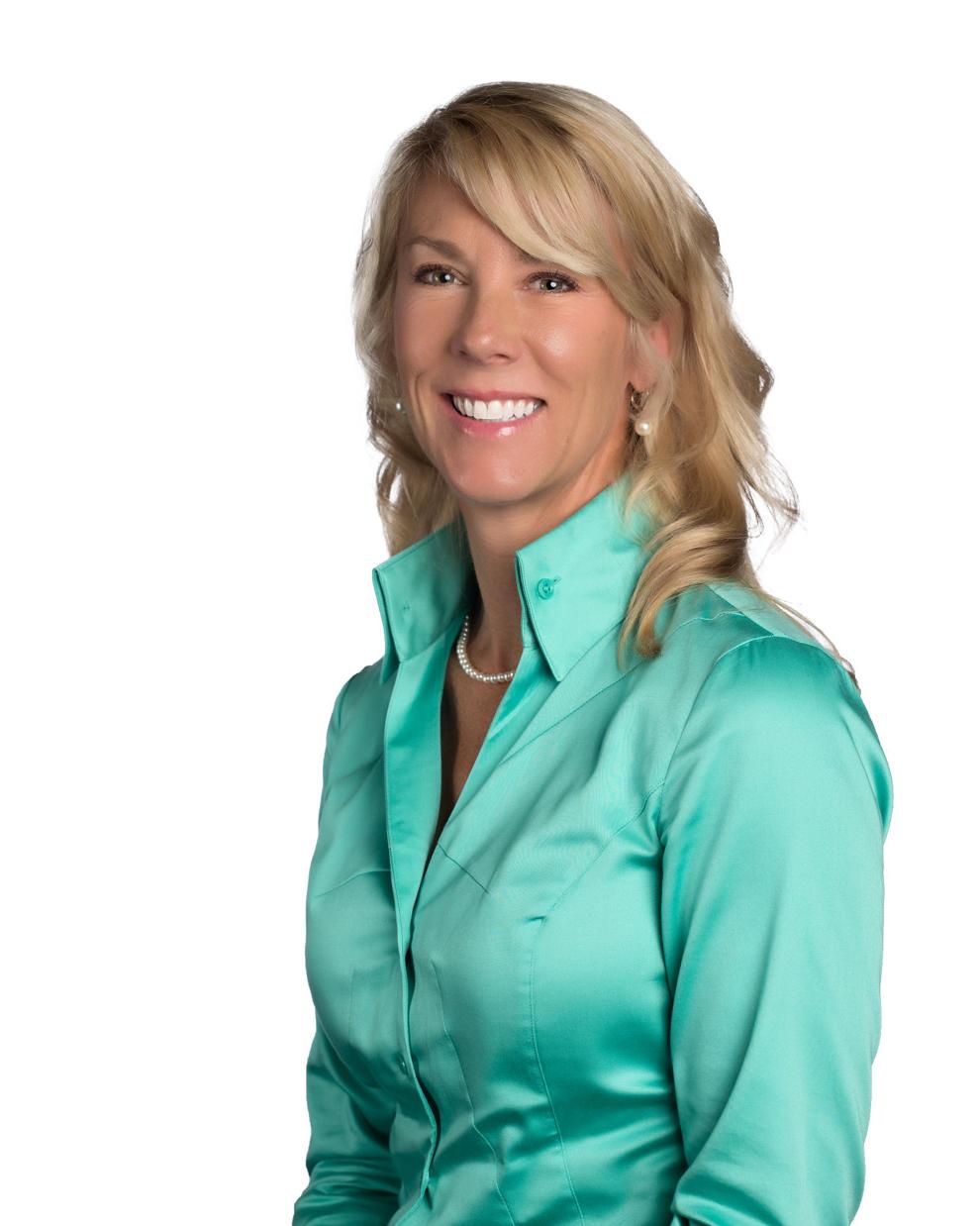 "The Settlement at Ashley Hall is one of the first new home communities in decades to be located in the West Ashley area of Charleston, inside the I-526 Connector," said Tami Zerbst of The Wadsten Group. "Our riverfront location with deep-water boating access is unique to a neighborhood our size in greater West Ashley."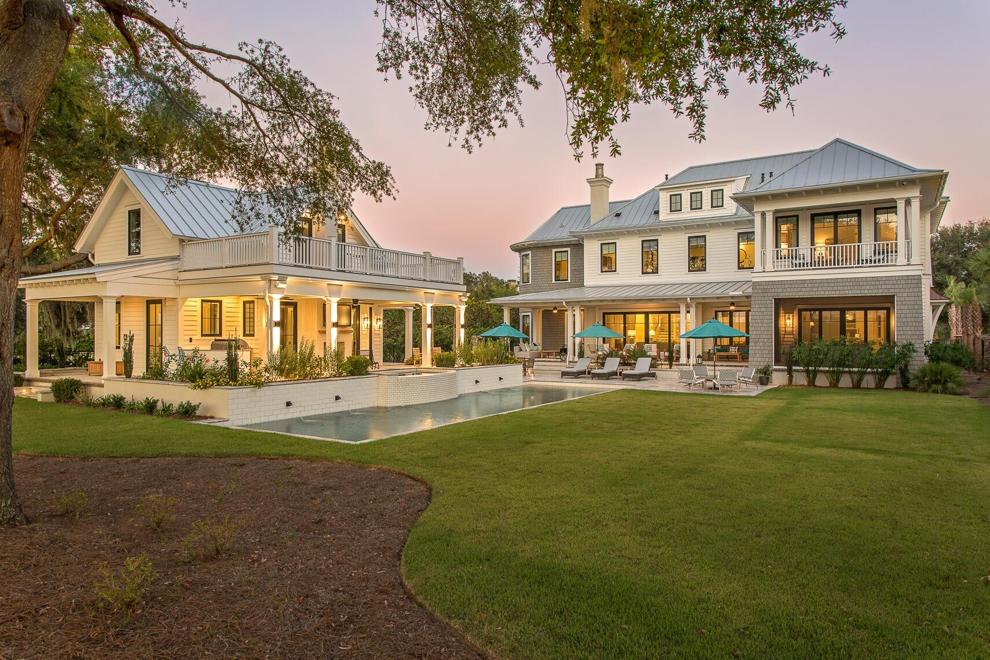 Its location makes it an convenient commute to all parts of the greater Charleston area and downtown Charleston. The Ashley Hall Tract was part of the Bull Family's ancestral home and land. In the late 1600s, Stephen Bull had 400 acres on the west bank of river, including a project tract he called Ashley Hall. Bull built a small brick home on the tract near the river and this first dwelling still stands, preserved through a pending agreement with the Historic Charleston Foundation, who will be granted authority over its ongoing preservation. The area around Steven Bull's original house and the main house are being preserved as an Historic Park and is the centerpiece of The Settlement at Ashley Hall.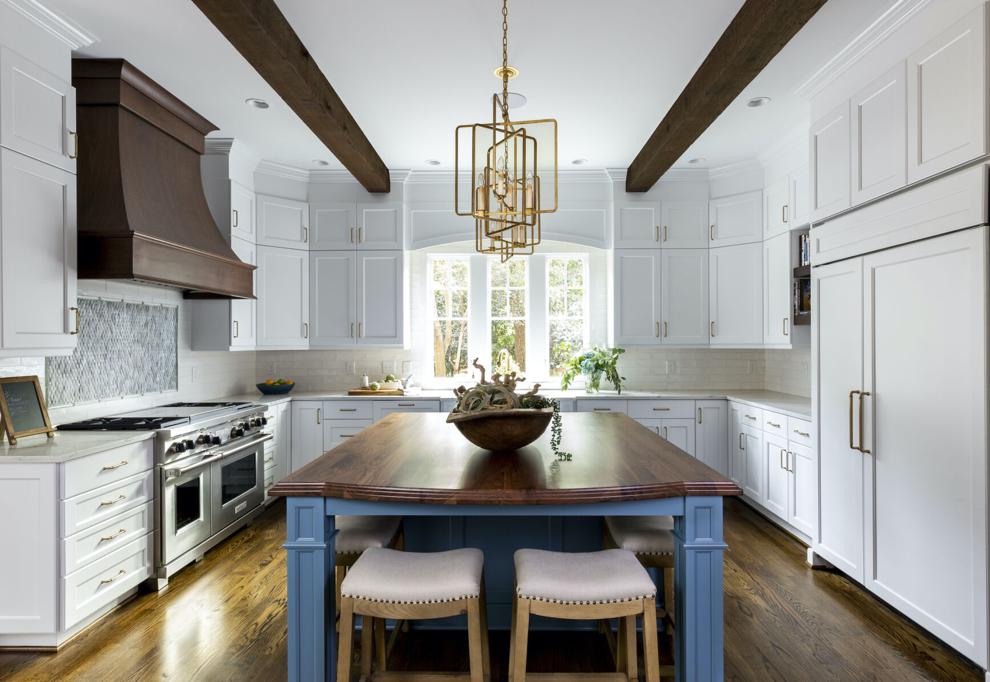 "Extensive archeology was performed before the first shovel of development was put into the ground," Zerbst said. "Many artifacts were found and are being curated and protected by The Charleston Museum. To the team's knowledge, it is the most extensive ever performed at this site."
The community will consist of 47 homes with nine of them on the riverfront. A tenth lot will be held off for a neighborhood riverfront amenity center with a pool, pavilion and a deep-water dock, according to Zerbst.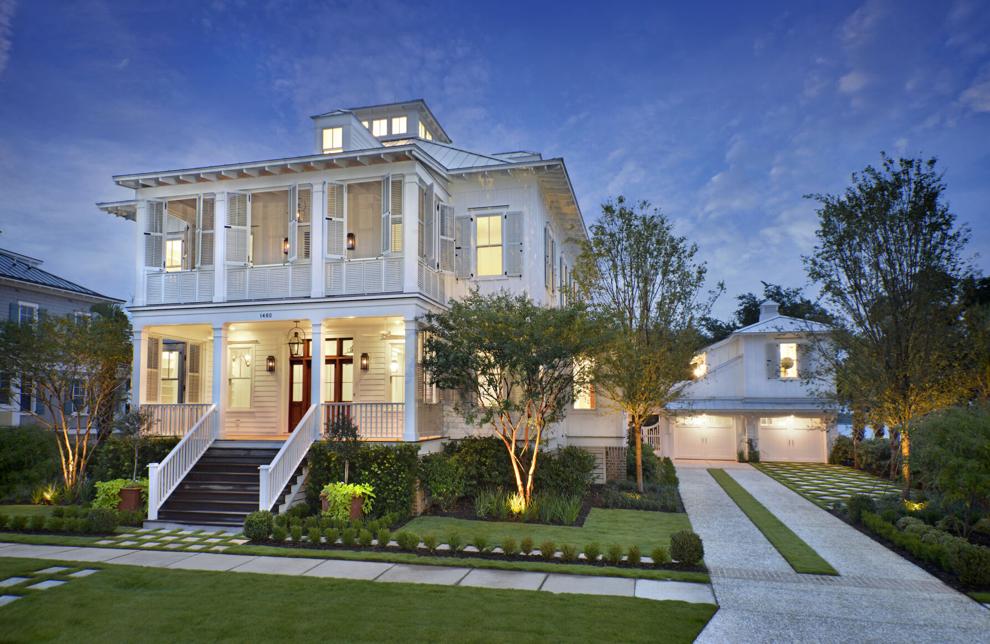 Add sweeping views of the Ashley River, living on an historic site and the ability to take a 15-minute boat ride to the Charleston Harbor and this neighborhood makes living along the waterfront idyllic. Merging history with modern-day living, The Settlement was hand-picked by Southern Living magazine as a "Southern Living Inspired Community."
"These neighborhoods embrace a pride of place and encourage new traditions of living in the South," Zerbst explained. "Preservation, thoughtful urban planning, architecture, landscape design and recreation are all parts of Southern Living inspired communities."
Zerbst said that Carolina Holdings Group creates "one-of-kind" neighborhoods that wants more than to just "cut, dig and build." The Settlement at Ashley Hall will be a testament to this vision, while honoring the history.
"The centerpiece of the neighborhood, Historic Park, will be preserved and protected for always," she said. "Sid Evans, editor of Southern Living publicly endorsed The Settlement at Ashley Hall. It is the first and only Southern Living community in the Charleston market."
Look for vertical construction to begin in March of this year. Complete build out is slated for fall of 2025, with four sections planned – Oak Allee, Oak Forest, Historic Park and Riverfront. Prices begin the high $600,000s.
Beach living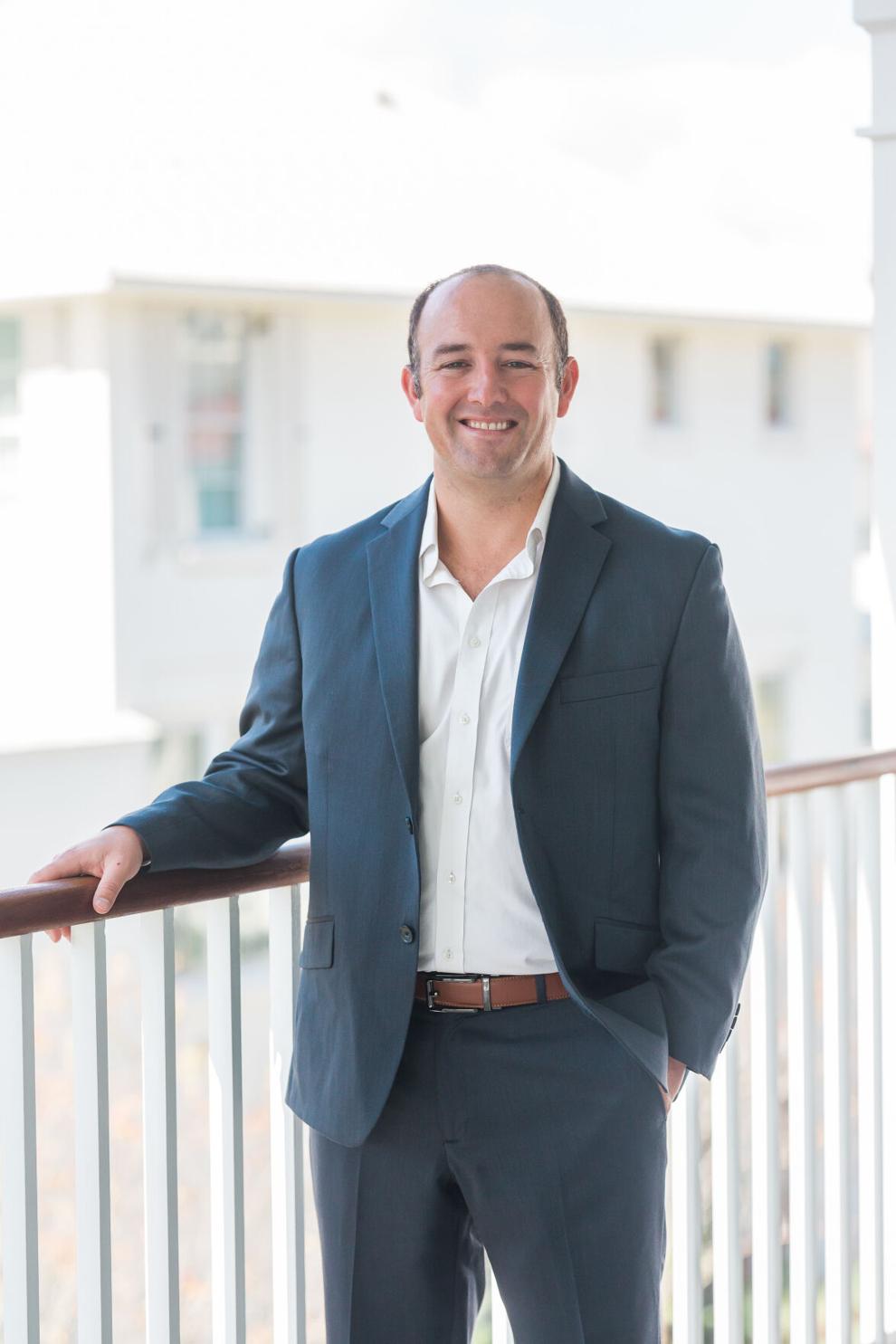 "Sullivan's Island is known for its relaxed lifestyle, friendliness of the island's residents and quick access to some of the most beautiful beaches and marshlands in the country," said Matt Anderson of The Boulevard Company.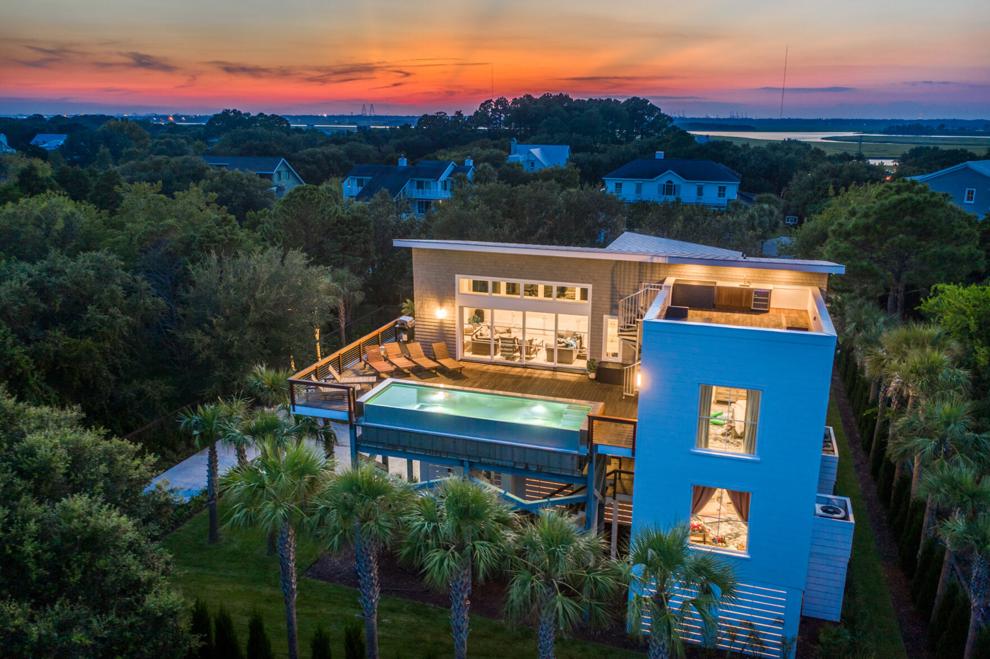 Anderson has a listing at 3115 Ion Avenue for $4.499 million. He said that when his clients decide to buy on or near the waterfront he advises them to consider all the carrying and maintenance costs associated with doing so.
"Flood and hazard insurance are the first (costs) that come to mind. Fortunately, the new Flood Insurance Maps for Charleston County are scheduled to go into effect on January 29 which will lower flood insurance costs for many if not most waterfront property owners," he said.
Anderson cited other things to consider as well – systems that are exposed to the salt air will age considerably quicker and will need to be serviced and/or replaced more frequently.
For luxury buyers in this price point, these costs may not be an issue since, according to Anderson Sullivan's Island ranks among the most expensive zip codes in the nation. "I grew up on 25th Station and when my parents purchased our home in the early 60s, the average list price was in the $200,000 range. The median list price in December 2020 was $3.2 million, year over year, which represents a 42 percent increase from 2019."
Anderson's listing is a custom-designed home built in 2018 by Julia Martin at JFM architects. It has a modern and clean design, with tons of natural light and over 4,300 square feet. On the island's north end, it sits on a large lot (.41 acres). The home is set back from the street and it gives the property a very private feel. Surrounded by lush landscaping and fenced-in, the driveway is accessed via an electronic gate.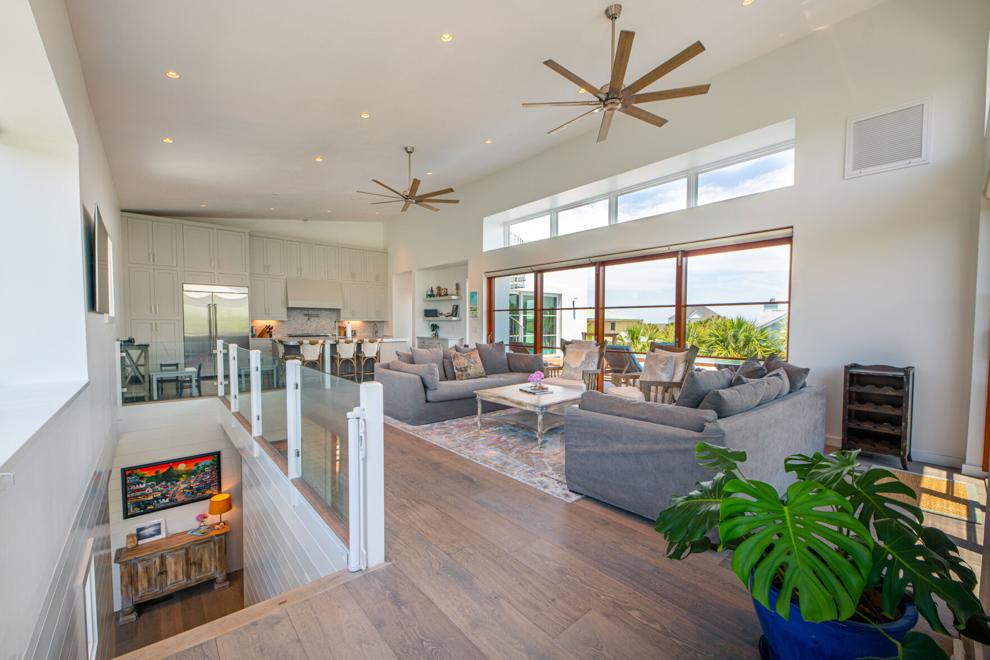 "There are views from virtually every room," said Anderson. "Views of Breach Inlet, the south end of the Isle of Palms and the Atlantic Ocean from the rooftop deck is stunning. The pool deck is three stories up so views and ocean breezes are part of it."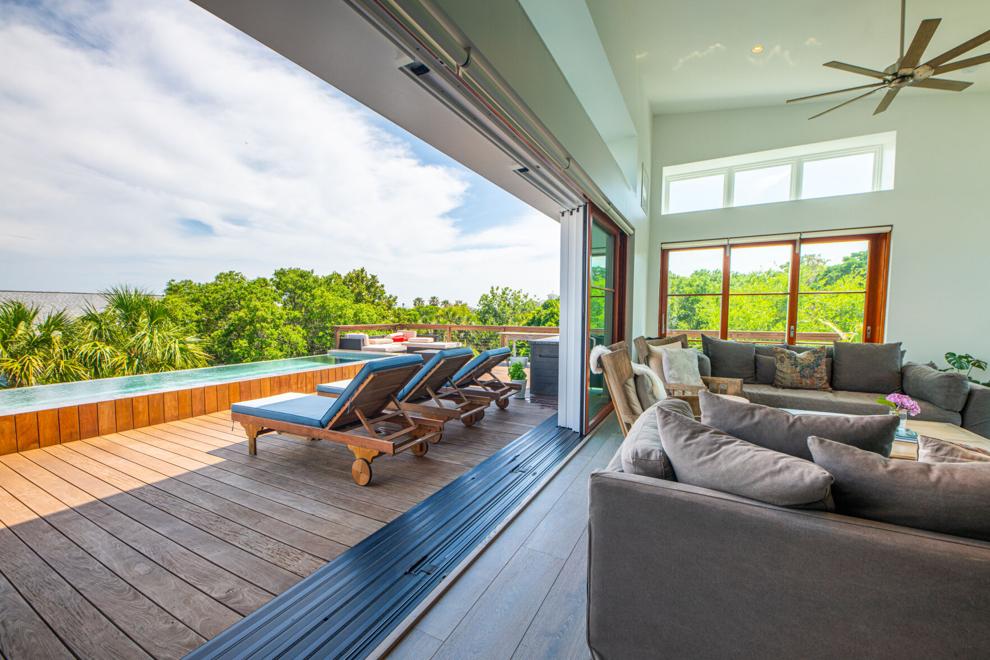 The structure of the home uses steel throughout, helical piers for the foundation and impact rated Loewen LiftSlide doors, which fully pocket in the master bedroom and living areas and open to the pool and deck area.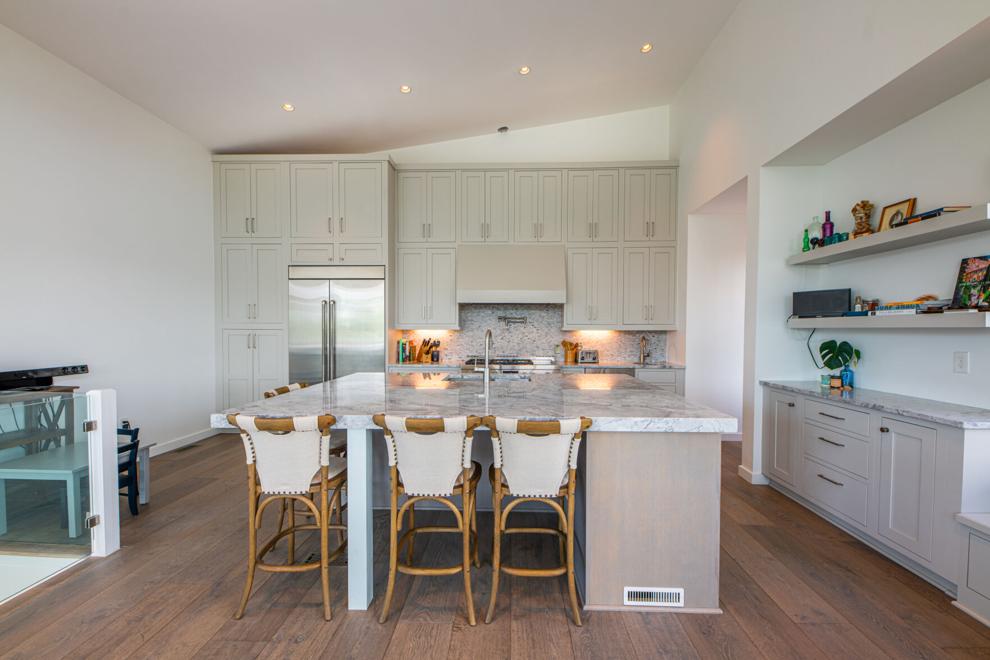 "The pool is made entirely of stainless steel with a steel substructure so it's not only aesthetically pleasing but also extremely strong," Anderson added. "There are acrylic panels in the bottom which filter natural light through to the garden space below."
If one has guests, the perfect socially-distancing option is the homes' 1,225 square foot guest cottage. It has two large bedrooms with ensuite baths and a living area with vaulted ceilings and stairwell. Very private it could also serve as a beautiful home office.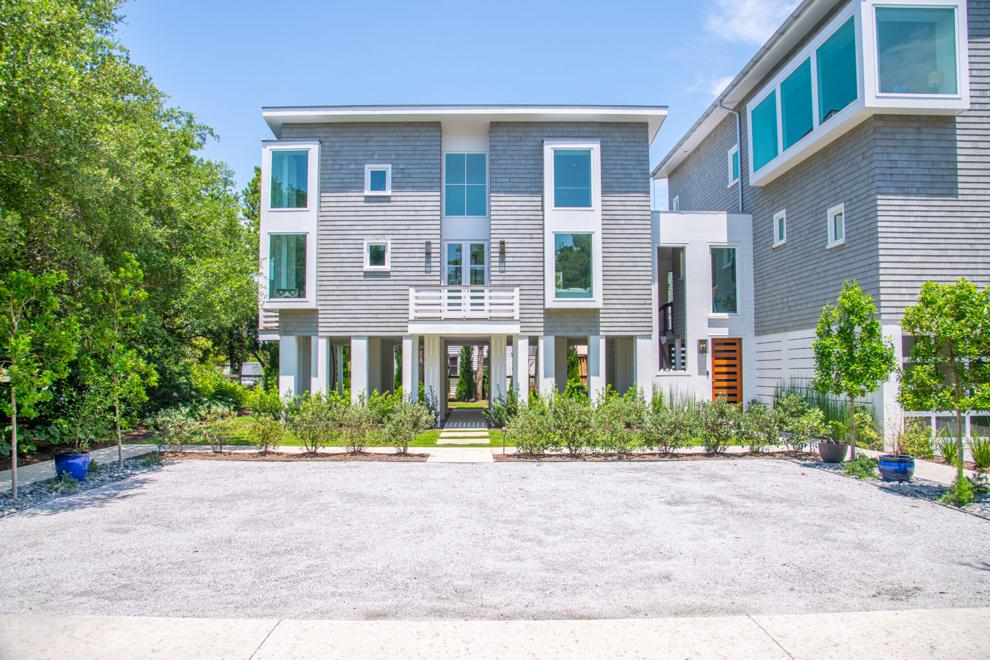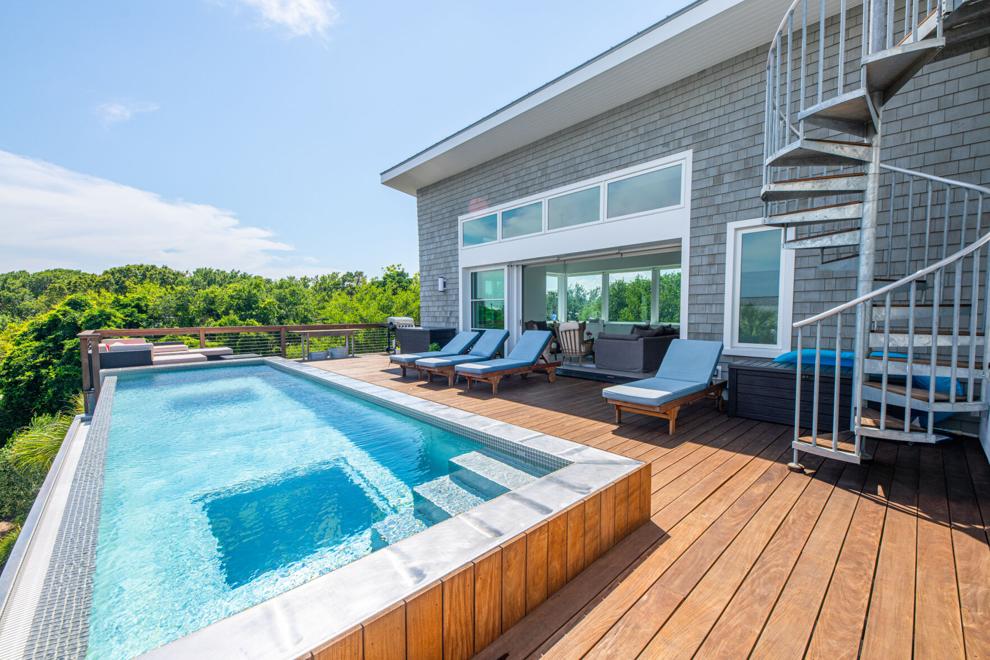 A block from the serene shores of Sullivan's Island, this home ticks a lot of boxes for waterfront living – panoramic water views, gourmet kitchen, wine cellar, heated and cooled infinity pool, rooftop decking and lots of extra space for guests and entertaining. The five-bedroom, six and a half bath home is a showstopper.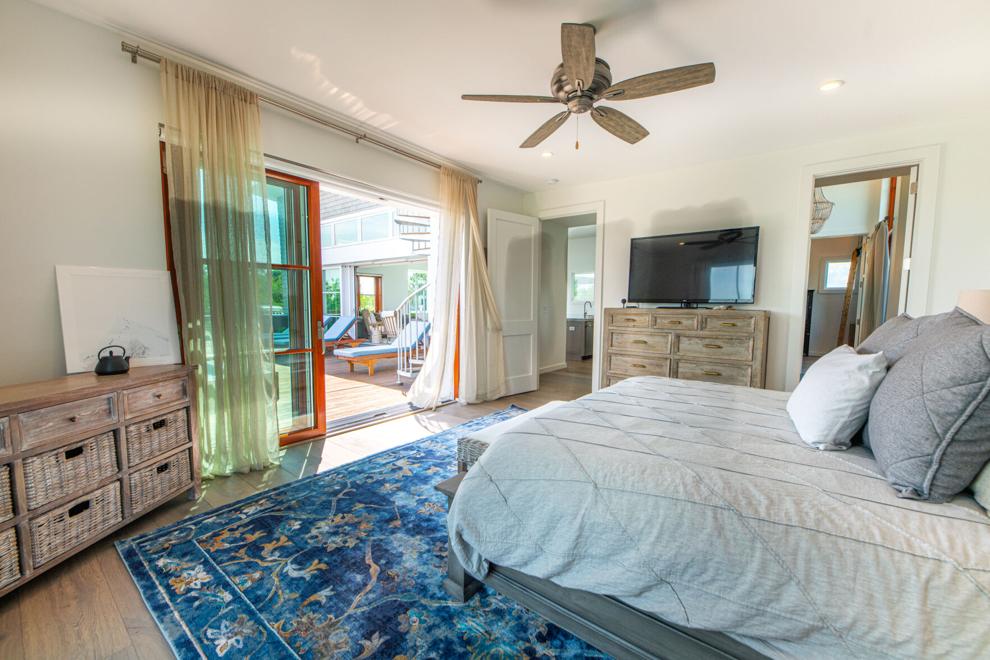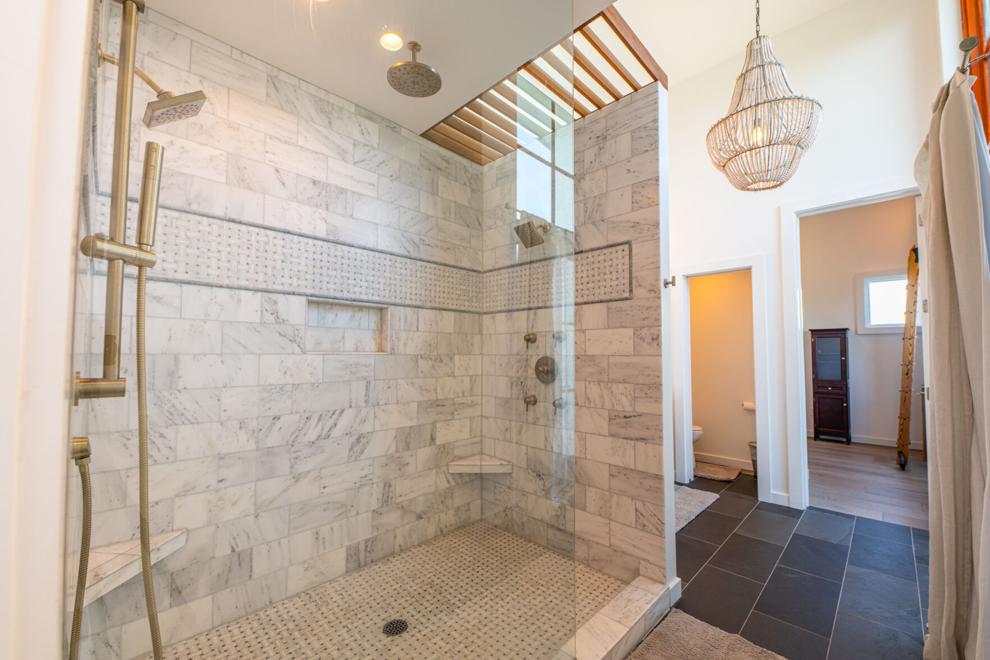 "Inventory is extremely low here and in all of Charleston's barrier island," Anderson said. "Demand has increased exponentially since the pandemic. Charleston is a top tier city on the eastern seaboard and Sullivan's Island is seeing a large influx of new residents from New York, New Jersey, Connecticut, Washington DC and Chicago. It seems that Charleston has always been on their radar but with the advent of the work-from-home capabilities many folks are moving up their timelines and purchasing primary or second homes on the Islands."
***
Contact Brigitte Surette at bsurette@postandcourier.com.
***
Sources of flood hazards in Charleston:
• Stono, Ashley, Cooper and Wando Rivers
• Wappoo, Orangegrove, James Island and Church Creeks (mapped and unmapped tidal creeks)
• The Atlantic Ocean
Flood Zones in Charleston County
Zones A and V – Special Flood Hazard Area (SFHA) - considered high hazard flood zones
Zones S and D – Outside of SFHA, moderate and/or minimal flooding
Source: Charleston, SC government website, "Know Your Flood Zones"
***
Top 10 things to consider before buying waterfront
• Find an agent or broker who specializes in waterfront properties.
• Consider the property more than the structure – you can change the house, but not the location.
• Choose a waterfront property that fits your lifestyle – lake vs ocean vs marsh.
• Get your loan (if applicable) in the works before you start looking.
• Make sure structure can withstand the elements (storm shutters, hurricane proofed, etc.)
• Get insurance quotes upfront – most have to have extra flood and sometimes wind insurance over and beyond a general hazard policy.
• Find out what you can do with the property – can you add a dock or seawall? What are the restrictions?
• Get a feel for the neighborhood or where you're buying by talking to the residents who live there, if possible.
• Some rural properties may not have the utilities you want – check with your agent and the companies that supply the utilities.
• Make sure you understand your part of any HOA fees, regulations, upkeep and maintenance (if applicable).
Source: HGTV