The day Dominion Energy bought South Carolina Electric & Gas in January, the newly sold utility vowed to "hit the ground running" and "embrace change."
The first visible sign of that change, for the masses at least, is now showing up in hundreds of thousands of mailboxes around the Palmetto State.
The latest monthly power and gas bills went out in an envelope showing two side-by-side safety helmets — one bearing the SCE&G logo, the other with the Dominion logo. In between are the words "is becoming."
A small flyer tucked inside in the billing statements spelled out some of the changes that South Carolina customers can expect, such as a $5 million increase in philanthropic contributions over at least the next five years.
They also include swapping out the well-known SCE&G brand for Dominion's, and replacing the corporate logos on uniforms and vehicles to reflect the new out-of-state ownership.
That switch is coming soon.
Spokeswoman Rhonda O'Banion said the transition is scheduled to start in earnest effective April 15, when SCE&G officially becomes Dominion Energy.
"But it all won't happen overnight," she said Friday. 
For instance, some SCE&G logos on uniforms and ID badges won't go away for another month or two.
"It's a phased-in approach," she said. 
Customers will be notified in advance that the Dominion name will be on all statements from now on, O'Banion said.
"We don't want folks to become confused when they start getting their bills for the ... cycle after April 15," she said.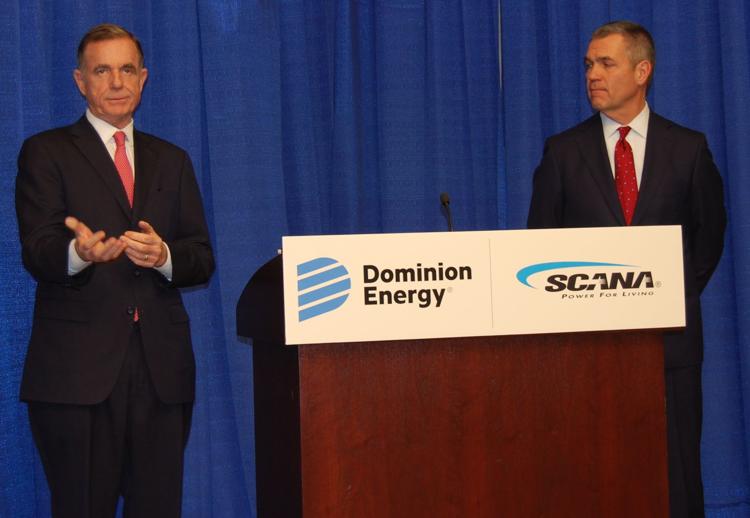 The name change will end an extended run for what had been the only investor-owned utility headquartered in South Carolina, a company that delivered power to more than 730,000 customers from Charleston to Columbia and natural gas to 380,000 users.
The SCE&G name goes back more than eight decades. The company's predecessor was started in the Lowcountry in 1843, as the Charleston Gas Light Co.
Around 1937, after a series of mergers, the utility rebranded itself for the long haul by adopting South Carolina Electric & Gas Co. as its official corporate moniker. It stuck. 
The utility later became part of SCANA Corp. — an unorthodox acronym for "South Carolina" — that was created as the holding company in 1984.  
Richmond, Va.-based Dominion emerged on the scene after the failed expansion of the V.C. Summer Nuclear Station in Fairfield County.
SCANA and state-owned Santee Cooper abandoned the Midlands project in mid-2017 after spending more than $9 billion on it. A financial, legal and political firestorm ensued. SCANA's stock price tanked, forcing the wounded company to slash its dividend and seek potential acquirers.
After numerous hearings and days of testimony, state regulators determined that an early 2018 buyout offer from Dominion was the best option.
The $14.6 billion deal was approved in December and finalized Jan. 1, making SCE&G part of Dominion's newly formed Southeast Energy Group.
At least one major change is in the works in the wake of the buyout. Dominion is looking to trim its senior ranks under a cost-cutting plan attributed partly to the SCANA acquisition. 
The Virginia energy giant, which has 21,000 employees, recently offered early retirement buyouts to all who are at least 55 years old. They're eligible for up to 14 months of pay based on years of service.
The voluntary buyout offers affect nearly 1,300 of the 5,000 employees who were on SCANA's payroll before the sale and about a third of Dominion's total workforce.
In a letter to employees last month, CEO Tom Farrell said early retirement offers are common after a big acquisition, "which creates opportunities for new efficiency and cost savings."
"We now have that chance again as we integrate the Southeast Energy Group into the company," he said. "This program complements the transformation underway across our operating units."
Eligible employees must decide whether to take the buyout offer by April 16, one day after the SCE&G name starts to fade away.