Volvo Cars will postpone production of its technologically advanced EX90 sport-utility vehicle to 2024, citing unspecified software problems affecting the automaker's South Carolina assembly line.
The all-electric SUV was expected to start production during the second half of this year.
In a written statement, the automaker said May 11 that the delay was necessary "to ensure a high-quality introduction of the car and to maximize customer benefit from its technology from day one."
A Volvo spokeswoman could not immediately be reached for comment.
The software issues will also delay production of the electric-powered Polestar 3. Volvo was to start assembling that SUV this year for its sister brand at its Berkeley County plant near Ridgeville.
The EX90 announcement comes just days after Volvo said it was closing its order book for the vehicle due to high demand. Buyers who have placed orders for the vehicle were notified of the delay this week.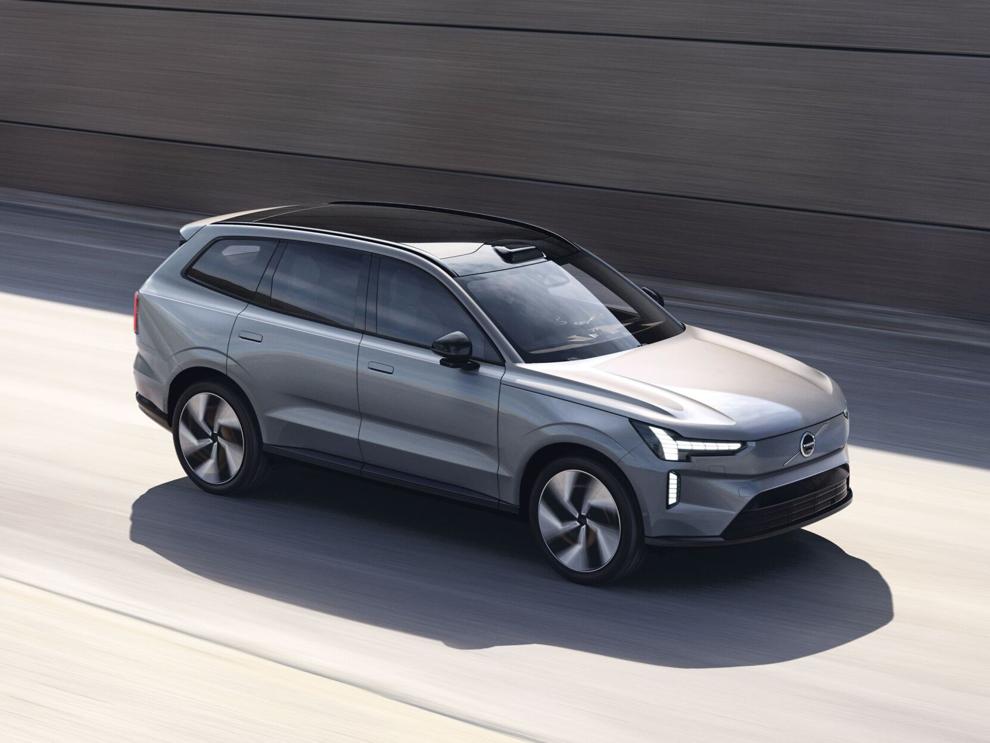 With production now pushed to the first half of next year, the EX90 likely won't be available in showrooms until the fall of 2024, according to the electric-vehicle news website Electrek.
Volvo and Polestar aren't the only carmakers to have trouble aligning their production schedules with the sophisticated inner workings of their vehicles, according to a report by Bloomberg. Volkswagen, for example, has delayed the Porsche Macan for two years because of software issues. Also, EV startup Fisker cut its output forecast because of software-integration problems.
The seven-seat EX90 — with a list price starting at $80,000 — has been touted as having some of the industry's most advanced technology, including equipment that can map out roadway features for safety and autonomous driving and software that check on a driver's alertness and whether passengers are locked in the back seat.
At least one Volvo partner, Luminar, issued a statement Thursday saying it is not to blame for the production push.
"Luminar remains on schedule and our internal timeline has not changed," the company said, adding Volvo's delay "is due to vehicle software unrelated to Luminar."
Polestar CEO Thomas Ingenlath said the technology shift in the automotive industry presents "an incredible learning curve" and, while "painful learning steps need to be taken now, I'm certain this will pay off in the future."
The Polestar 3 delay won't affect production of the automaker's other electric SUV, the Polestar 4, which is being built in China on a different manufacturing platform.
The news came on the same day that Polestar announced its first-quarter earnings.
The automaker reported a net loss of $9 million, or less than a penny per share, for the three-month period that ended March 31. Polestar benefited from about $213.4 million in positive changes related to its merger with a special-purpose acquisition company last year. Last year, Polestar reported a net loss of $274.5 million, or 14 cents per share, for the first quarter.
Revenue grew to $546 million from $452.2 million a year earlier.
Polestar said the production delay and market uncertainties have cut into its sales forecast for 2023. Polestar now expects to sell between 60,000 and 70,000 vehicles this year, down from a previous forecast of 80,000. The automaker also said it will trim its global workforce by 10 percent, or about 300 jobs, to cut costs.
"We are taking necessary steps to strengthen Polestar in the near-term," Ingenlath said. "While production of Polestar 3 will now start in the first quarter of 2024, the successful launch of Polestar 4 last month means that we add two strong offers in the attractive electric SUV market in 2024. I am confident that we will deliver on our growth ambitions and path towards profitability."
Meanwhile, Volvo is looking to hire 1,300 workers for its Lowcountry plant in advance of the EX90 and Polestar 3 production. The company is holding a job fair from 10 a.m. to 4 p.m. on May 16 at its Volvo Car University at 270 Three Point Drive in Ridgeville. Pre-registration is required on the company's website.
Volvo is based in Sweden and owned by China's Geely Holding Group. The automaker currently builds the S60 sedan in Berkeley County, where production began in 2018. Polestar, also headquartered in Sweden, was part of Geely prior to going public in 2022. Its shares are traded on the Nasdaq stock exchange under the ticker symbol PSNY.