Solar power jumped in South Carolina last year, creating about 1,000 jobs in 2016 as the young industry gears up for growing output.
That's the finding of a new study released Tuesday by The Solar Foundation, a nonprofit advocacy group. Its annual tally of solar workers found that 2,772 people work in the industry here, up from 1,764 in 2015.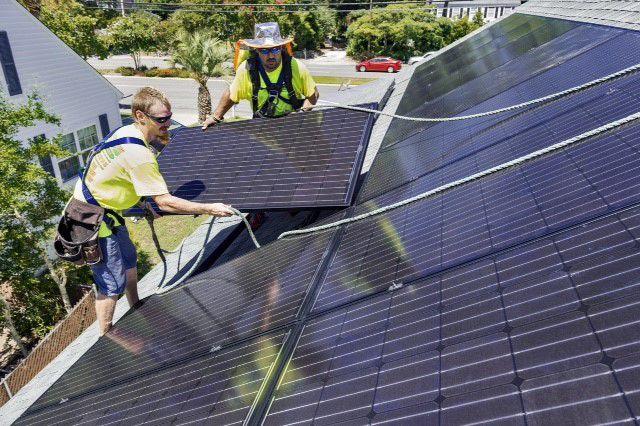 The state's 57 percent increase was one of the largest in the country, ranking No. 16. And it comes as solar power in South Carolina ramps up from a tiny niche to an emerging industry.
"South Carolina is one of the better states in terms of percentage and the sheer number of jobs that were created over the last 12 months, a prime example of what's happening across the country," said Andrea Luecke, president and executive director of The Solar Foundation. "South Carolina is an up-and-coming state, and it is one of the strongest states in the region."
As it is, solar panels cover only a tiny fraction of the state's electricity usage. South Carolina has 78 megawatts of solar energy capacity, according to the Solar Energy Industry Association, a trade group. The overwhelming majority was installed in 2016.
That's enough to power some 8,000 homes, but it's negligible stacked up against power sources like nuclear and coal. The state's total power generation capacity from all sources stands at 22,698 megawatts in the summer, according to the U.S. Energy Information Administration.
In the coming years, though, solar might make more of a dent. The Solar Energy Industry Association expects 1,501 megawatts of capacity to be installed over the next five years in South Carolina, including about a third of that total this year. That's the 17th-highest projection in the country.
The growing output should translate into more jobs, Luecke said: Solar companies' hiring plans for 2017 point to 15 percent growth this year, or about 400 positions. If current patterns hold, those openings will be concentrated in installation work and office jobs like project management and sales.
About 25 of those will come from Power Production Management, a Gainesville, Fla.-based solar energy installer that's one of a handful making forays into South Carolina. Jason Gonos, the company's co-founder, said it plans to start staffing up with project managers and a work crew in Florence.
It will face an increasingly competitive landscape in South Carolina: The nation's biggest solar installer, California-based SolarCity, opened an office in Ladson last fall, and the second-largest provider, Utah-based Vivint Solar, has an office in North Charleston.
Gonos said his firm was lured to South Carolina by the state's tax credits and utility rebates - and the sunny weather.
"The financials really work well in the South Carolina market," Gonos said. "A lot of these things coupled make it an ideal market and make solar very worthwhile there."
The state is also seeing a growing number of solar farms, which can generate enough electricity to power thousands of homes, even though they employ relatively few people.
S.C. Electric & Gas announced plans last year for six new solar facilities totaling 36 megawatts of capacity, and Bluffton-based Adger Solar said it would build two solar farms in Clarendon County, each providing 72 megawatts.