A pair of shipping lines are bumping up the size of their existing container vessels in a move that — if it catches on — could hurt traffic at the expanded Panama Canal.
According to maritime newsletter Alphaliner, Mediterranean Shipping Co. and CMA CGM lines are converting up to 21 of their "neo-Panamax" vessels capable of carrying 14,000 cargo boxes into supersized ships that can haul 17,000 containers.
The conversions include lengthening the ships from 1,200 feet to 1,294 feet, raising deckhouses and funnels and raising and strengthening container lashing bridges. All of that work will make the ships too big to fit through the recently enlarged Panama Canal. Ships of that size would have to travel through the Suez Canal in the Mideast to sail from Asia to U.S. East Coast ports.
Panama officials say they aren't worried about the 21 ships slated to be supersized because those vessels are currently deployed in routes that don't need or use their canal. 
The ships that are being converted represent about 11 percent of the global neo-Panamax fleet of 190 vessels. Most of that fleet, nearly 75 percent, is deployed on Asia-to-Europe routes. Only 11 neo-Panamax vessels are making the Asia-to-East Coast trip.
While Alphaliner predicts as much as half of the global neo-Panamax fleet could be upsized in coming years, thus making them unable to pass through the Panama Canal, that's not the biggest concern for canal officials.
"What we worry about the most is the increasing overcapacity that looms in the market due to the ordering of very large vessels (carrying 22,000 containers), which will result in even lower charter rates," specialists with the canal's business and development office said in a statement.
They add those ultra-large vessels would make efforts to stretch current neo-Panamax ships "less profitable for carriers."
Jim Newsome, president and CEO of the State Ports Authority, said the conversions bear watching and could lead to a significant trend if other shipping lines follow suit.
The conversions "seem to confirm that bigger ships are a key strategy of the container shipping industry," Newsome said.
While that could be bad news for the Panama Canal, which spent more than $5 billion on its expansion to accommodate neo-Panamax vessels, it won't impact the Port of Charleston.
Newsome said the port's depth can already handle ships carrying up to 18,000 containers — even more easily when a project to dig Charleston Harbor to 52 feet is finished in a few years. And the SPA's new cranes are tall enough to move cargo on the upsized vessels, where boxes will be stored one to two tiers higher than on their neo-Panamax counterparts.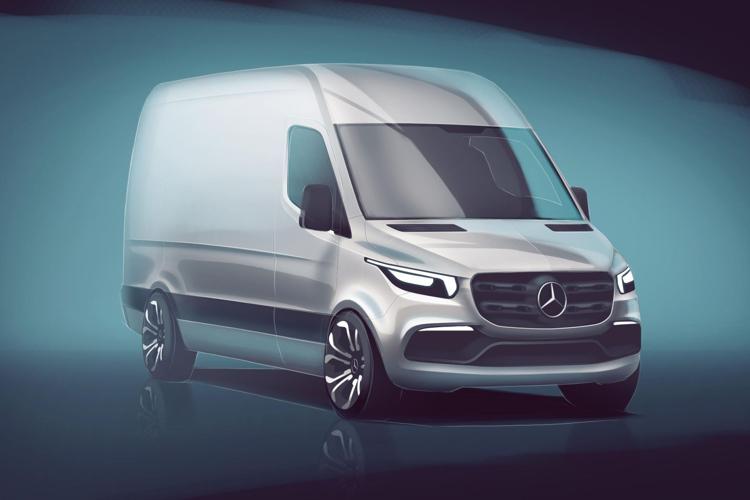 Van plans
Mercedes-Benz Vans will unveil its next-generation Sprinter model in February, with production of the newly redesigned commercial vehicle to follow a few months later at the German automaker's new manufacturing campus in North Charleston.
The new vans will be available in the United States beginning in the fourth quarter of 2018.
The redesigned Sprinter will come in multiple configurations, according to the Trucks.com website, with diesel, gas and electric models available. Buyers will be able to pick from three roof heights, according to the website, and Sprinters will be sold in front-wheel drive, rear-wheel drive and four-wheel drive versions.
The new vans also will be completely connected to the Internet through a factory-installed telematics system that can be customized to fit various industry needs.
Mercedes-Benz Vans sold a record 142,000 vehicles worldwide during the first nine months of 2017, including nearly 20,500 in the U.S. Volker Mornhinweg, the company's president, said he expects U.S. demand to remain stable.
"We are in good shape," Mornhinweg told Trucks.com. "2018 is the perfect starting point for our all-new Sprinter."
The timing of production in North Charleston was done with the new Sprinter in mind, said Michael Balke, head of the Palmetto Commerce Park site. Mercedes-Benz Vans is investing $500 million in a new paint shop, body shop and upgraded assembly building to start making Sprinter vans from scratch. The site currently reassembles vans imported from Germany.
"If you make such a decision, it's always good to start with the beginning of the life cycle," Balke told The Post and Courier. "All of this equipment is pretty expensive and you can depreciate that equipment now over the complete life cycle. If the product was only running three more years, you would have to depreciate your investment over just those three years."
Mornhinweg said he plans to visit the North Charleston site in February. That's about the same time the company will start its major push to hire what eventually will be a workforce of roughly 1,300 employees.
Three in a row
A Mount Pleasant company wants to build three warehouses on industrial property located along Beidler Street in North Charleston, according to a permit application filed with the Army Corps of Engineers.
North Charleston Industrial Associates wants to fill less than an acre of wetlands at the site and excavate another quarter-acre for the construction of warehouse pads, loading docks, a parking lot and a stormwater retention pond. The developer is offering to buy credits from either the Pigeon Pond Mitigation Bank or the Swallow Savannah Mitigation Bank in exchange for the permit.
The state's Department of Health and Environmental Control also must sign off on the proposal.
Plans show three 11,700-square-foot warehouses on the 4.76-acre property, located in an industrial area off Ashley Phosphate Road and between Cross County Road and Peppermill Parkway.