Young technology companies enrolled in a state program designed to help them survive and thrive have hit $1 billion in combined funding, the S.C. Research Authority announced.
The capital came in the form of "follow-on" funding —   financing a company raises after an initial investment — typically from angel or corporate investors and venture capital firms.
The companies total 140 and are each enrolled in the research authority's SC Launch program. They reached the $1 billion mark over the course of 12 years.
Enrollment in the entrepreneurial program generally helps startups access grants and other forms of capital from the state-chartered institution, along with support services such as mentoring.
"The funding provided by SC Launch is vital in enabling our client companies to overcome many of the barriers faced by early-stage enterprises," said Bob Quinn, SCRA's executive director. "However, void of follow-on funding, these companies often flounder. Therefore, we are thrilled to be celebrating this $1 billion milestone."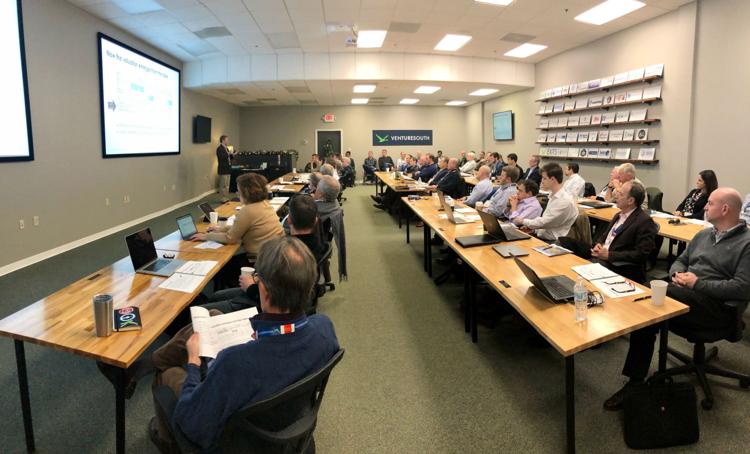 Upping the ante
Investors with a South Carolina-based angel investment group collectively put $7 million toward startup businesses in 2018, up from $4.5 million in 2017.
Those millions went to 22 Southeastern startups. The sum was also an annual record for VentureSouth. Charlie Banks, managing director, said the increased investments also reflected a broader geographic reach for the group.
"We've got more investors and more investors who are becoming more comfortable with what we do," he said. "We're continuing to attract the best deals in the region."
Investors with VentureSouth range from retired C-suite executives to real estate developers, Banks said. Its  membership grew to 300 investors across the Southeast last year.
The group is based in Greenville and targets up-and-coming businesses throughout the Carolinas, including the Charleston area.
VentureSouth also operates the Upstate Carolina Angel Network, the largest angel investment group in South Carolina. 
The increased investment numbers bode well for South Carolina's technology industry. Only a handful of early-stage backers like VentureSouth are active in the Palmetto State. And many young companies find it challenging to raise capital outside one of the country's major tech hubs, like Boston, New York City and San Francisco. 
"It's not just philanthropy," Banks said. "This is an actual asset class that they can allocate the resources to."
Cypress Gardens reboot
Visitors to a shuttered Berkeley County park will find some high-tech amenities, including a WiFi connection, to go with the natural beauty when it reopens this spring.
Cypress Gardens was so inundated with floodwater in 2015 that it's been closed for more than three years. When it reopens April 13, it will have improved digital access, the result of a partnership with Google. The tech giant, which operates a big data center in Moncks Corner, will also supply about 100 Chromebook laptops and charging stations.  
Also, the butterfly house at Cypress Gardens will be equipped with an interactive program.
"Google's engagement will help make the experience all the richer, especially as the young people who'll flock there discover the joys and wonders of science," Lilyn Hester, Google's head of Southeast external affairs, said in a written statement.
The park is at 3030 Cypress Gardens Road in Moncks Corner.