PINOPOLIS — Santee Cooper's biggest customers aren't sure whether they want the state-owned power company to be sold, but they're open to the idea.
The state's electric cooperatives, which buy the overwhelming majority of Santee Cooper's power, said they want a comprehensive evaluation of what the electricity provider would fetch from the private sector — and how a sale would affect their customers.
Michael Couick, chief executive of the Electric Cooperatives of South Carolina, a Columbia-based trade group, called for a "numbers-first" approach to evaluating the possibility. But at a meeting of the co-ops and Santee Cooper management on Lake Moultrie, he said the leaders of South Carolina's 20 co-ops hadn't made up their mind.
That's important because the cooperatives hold the keys to selling Santee Cooper, thanks to a long-term contract they hold to buy most of the utility's electricity.
The prospect of selling Moncks Corner-based Santee Cooper was raised by Gov. Henry McMaster after the utility walked away from a $9 billion effort to build two nuclear reactors north of Columbia on July 31.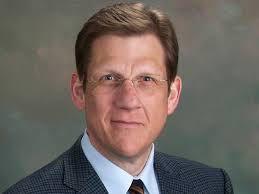 McMaster hopes a sale could pay down Santee Cooper's debt or help restart construction on the scuttled Midlands project. It's up to the Legislature to approve the utility's sale, and the governor is said to be in talks with four private-sector power companies — Virginia-based Dominion Energy, Charlotte-based Duke Energy, Florida-based NextEra Energy and Atlanta-based Southern Co.
But the co-ops could walk away from their contract if Santee Cooper changes hands.
"While we have not yet decided whether we believe Santee Cooper should remain a state asset or should be sold, electric cooperatives believe we cannot answer that question before finishing the next critical step in this process: the evaluation of any prospective offers that interested companies might make for Santee Cooper," Couick wrote McMaster last month, in a letter shared with the utility's board Monday.
"Transactions like these are a lot like legislation: the devil is in the details," Couick continued.
Couick says that evaluation should be bigger than an appraisal of Santee Cooper's value. Instead, he says it should consider the impact on electric rates and the state's economy.
And once buyers step forward, Couick says, Santee Cooper's management should have a chance to make a counter-offer of sorts, with a commitment to do better.
"Industries change. Markets change. There's a dynamic change. So I wouldn't assume that anyone sitting here has a preconceived notion that Santee Cooper should never be sold," said Bill Finn, one of the power company's board members. "We need to look at where the world is today, assess that and determine what our best future is."
The co-ops are currently on the hook to buy most of Santee Cooper's electricity for the next five decades. As suitors line up, the co-ops' contract is arguably Santee Cooper's most valuable asset — more than the fleet of power plants, thousands of miles of electric lines and pair of lakes it owns.
Couick says the power companies he's talked to are interested in buying the contract more than power plants or a stake in the abandoned nuclear reactors.
Santee Cooper and South Carolina Electric & Gas, the project's majority owner, spent about $9 billion on the reactors before halting construction in July.
After years of rising costs and mounting delays, the power companies decided the project was no longer economical. Cost projections had more than doubled initial estimates, and the energy market has been flooded by a glut of cheap natural gas.
They're now debating whether it's economical to even maintain the two partially built reactors at the V.C. Summer Nuclear Station in Fairfield County. SCE&G wants to let them rust away and take a tax write-off for abandoning the reactors. Santee Cooper wants to maintain them in case the power market turns back.
Rob Hochstetler, chief executive of Central Electric Power Cooperative, which acts as a middleman between Santee Cooper and the co-ops, said he supported plans to upkeep the units. But he said the decision to walk away was essentially a giant bet on natural gas.
Santee Cooper says it wants to lock in its wager by purchasing long-term contracts to buy natural gas while it's cheap to do so. If it does, its hedge on fuel prices would last about a decade.