The State Ports Authority kicked off the construction phase of its new headquarters Monday, a project that will move the maritime agency off the Charleston peninsula and within eyesight of its busiest shipping terminal.
The roughly 84,000-square-foot office building off Long Point Road in Mount Pleasant is on a relatively quick timetable, with an expected completion date of December 2018.  It's expected to cost about $35 million.
"We'll be able to see our terminals. We'll be able to interact with the people on our terminals," said Jim Newsome, the SPA's chief executive officer.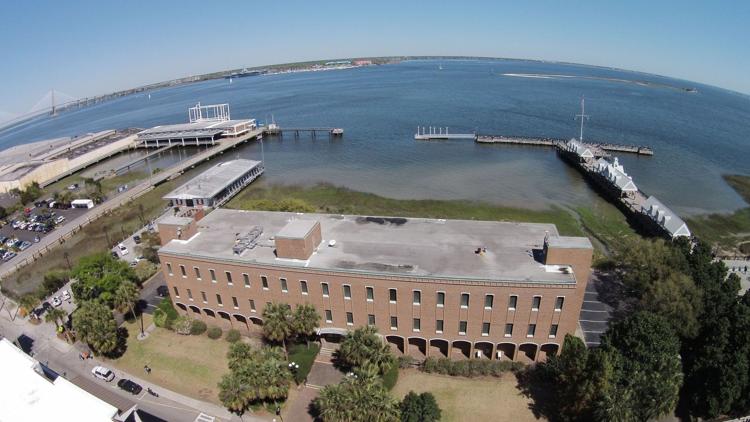 The new building will more than double the agency's office space at 176 Concord St. It will house about 200 SPA executives and employees who are now spread over several locations, including about 80 based at the 5-acre downtown Charleston site.
"We have people everywhere," Newsome said after the groundbreaking ceremony.
Amenities will include a glass atrium, reflection pool, fitness center, cafeteria, walking trails, two rooftop terraces and more than 400 parking spaces. 
The site is on the northeast corner of the Wando Welch Terminal and is accessible off Wando Park Boulevard. The property will include a new entrance to the working area of the busy container terminal.
The SPA has been based next to Waterfront Park since the 1970s. It sold its downtown property for $38 million earlier this year to Lowe Enterprises, which plans to raze the port building and replace it with a 225-room hotel overlooking Charleston Harbor. The SPA is leasing 176 Concord back from the Los Angeles-based developer until its new headquarters are completed.
Monday's groundbreaking preceded Newsome's "State of the Port" address, his ninth annual industry update before the Propeller Club of Charleston.
He projected 5 percent growth for the SPA this fiscal year, which started in July, said said the outlook for the shipping industry is "encouraging." 
It was in many ways a year of major accomplishments, Newsome told the audience of about 600 at the Charleston Area Convention Center. The highlights included federal authorization of the long-awaited Charleston Harbor deepening, a record 10 percent increase in cargo volume and the May arrival of what was then the largest container ship ever to visit the East Coast.
Also, the SPA spent a record amount on improvements last year — about $180 million — in order to handle the larger vessels and ensure South Carolina remains among the 10 biggest ports in the country, he said. 
That spending will continue: Newsome projected the SPA will invest a combined $826 million in its terminals by 2021 to handle the ships of the future. 
"A lot to do, a lot to deliver," he said.