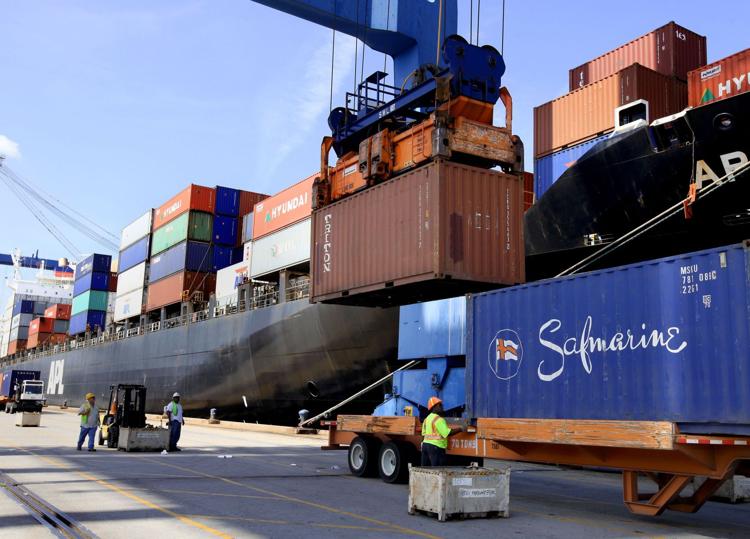 For more than a year now, the presidential campaign has focused on global trade and the way it's shaped the economy in places far from South Carolina.
Voters have heard anti-trade candidates rail against the economic trouble they say it brought to places like Indiana and Ohio, and the win it delivered to countries like China and Mexico.
But the global shifts in trade and manufacturing — and the way they've shaped Americans' work and wages — has hit much closer to home, too.
New research shows that more than most states, South Carolina has been hit hard by the transitions brought by foreign competition, as closing factories and textile mills set swaths of the state on a path toward dwindling job prospects and stagnant paychecks that rippled through local economies.
And yet, the Palmetto state has also benefited tremendously from the cargo and investments that flow in from abroad, even if the gains haven't reached all corners of the state.
The Port of Charleston is among the fastest-growing and most productive in the country, making South Carolina an attractive spot for manufacturers and distributors — especially in the Lowcountry and the Upstate. And it's helped build a new concentration of factories making products like cars and tires, many of them bankrolled by foreign investments.
"The hope is that people who lose jobs in one sector will be able to be relocated to another," said William Hauk Jr., a University of South Carolina economist who studies the effects of global trade. "This has been a less-than-smooth process. In a lot of cases, the jobs that get destroyed through import competition and the jobs that are created through new exports, they're not always located in the same places."
Gut punch
The textile mills had already started their march out of Marlboro County when Charles Paul Midgley Jr. left his native Bennettsville in the late '80s.
Cheaper labor elsewhere made it hard to compete, so even before the U.S. started negotiating the North American Free Trade Agreement, the trajectory of Midgley's corner of the Pee Dee was clear enough: The foundation of its economy was slipping away.
So when NAFTA was signed a few years later, in 1994, it was a gut punch for the region. The textile mills and carpet factories that hadn't left were no longer insulated from their competitors overseas, and job prospects for many of their workers dwindled further.
"We were already pretty much in dire straits," says Midgley, now the chairman of the Marlboro County Economic Development Partnership. "That kind of put the nail in the coffin, it seemed like."
More than two decades later, the hospital in town is closed, saying last year that it wasn't bringing in enough revenue to stay open. Bennettsville's historic downtown is lined with empty storefronts, and Midgley figures there aren't enough jobs nearby to attract a new sit-down restaurant like a Fatz Cafe.
Bennettsville is hardly the only depressed town in the state, but it sits a region especially vulnerable to the effects of NAFTA, according to a study published this month. Economists Shushanik Hakobyan of Fordham University and John McLaren of the University of Virginia measured how much different parts of the country depended on the tariffs that the trade deal removed.
Out of more than 500 regions, they found, the Pee Dee was among the 10 most exposed in the country. So were three other parts of South Carolina, toward the northwest corner — places like Abbeville, Anderson and Oconee counties.
Four parts of North Carolina made the top 10, too, and so did part of northwest Georgia. All told, the three states took nine of the top 10 spots.
Ripple effect
That's important because when it comes to the way trade has reshaped the U.S. economy, location matters.
Economists are increasingly asking what happens not only to a factory worker whose job is lost to foreign competition, but also what happens to her neighbor whose job isn't affected directly.
In recent years, they have found that a big trade shock can drive up a region's unemployment, shrink its labor force and keep its workers' wages from growing much. Trade's ripples, they've found, can have a damaging effect on a fragile local economy.
Textbook economic theory says that global competition will make the goods that consumers buy cheaper, fueling more purchases and giving the economy a boost. Economists think that overall, Americans are slightly better off with free trade.
But the benefits haven't been spread evenly across regions, McLaren says, even for workers who have never worked in a factory.
Take, for example, a waitress at a diner in rural South Carolina. If a plant closes nearby, the people who worked there might start looking for a job at the restaurant, giving her less leverage if she asks for a raise. And the factory workers she serves might not have enough money anymore to eat out, cutting into the diner's business and her income.
The end result, McLaren found, is that she would get fewer raises than a waitress in a more stable economy, like suburban Maryland.
"Let's postulate that NAFTA as a whole makes the U.S. as a whole a little bit wealthier," McLaren said. "So the pie becomes a bit bigger, but it's pretty clear to see in the data that there is some minority of workers who wind up with a smaller slice of pie."
Local benefits
Even as parts of South Carolina have been hit hard by trade, places like Charleston have been well-positioned to reap the rewards of goods flowing between countries. And broadly speaking, the state has seen enormous benefits.
Almost 160,000 jobs in the state are supported by exports, among the most in the country. USC researchers estimate that nearly a 10th of the state's economic activity is connected to activity at the port. And foreign firms have invested heavily here, employing workers at one of the highest rates in the country.
That impact is evident in the Upstate, where German automaker BMW and French tire manufacturer Michelin are among the biggest employers. And it's growing in the Lowcountry, where Mercedes-Benz Vans and Volvo are building factories to be close to the port.
The Lowcountry is poised to see trade grow even more, said Pennie Bingham, executive director of World Trade Center Charleston, an arm of the Charleston Metro Chamber of Commerce.
The Port of Charleston is one of the nation's fastest-growing, and it's well-positioned for trade through the newly expanded Panama Canal, which could draw a direct connection between South Carolina and Asian markets. And as more vehicles are built in the region, more exports will roll onto ships.
But the state's recent manufacturing growth strikes at trends facing the country as a whole: The factories opening here are high-tech, requiring fewer workers and more advanced training. By some estimates, technological efficiency might account for as much as 88 percent of America's manufacturing job losses.
And when new plants do arrive in the state, they're not always returning to the places hit hardest by manufacturing's departure, said Hauk, the USC economist.
The Charleston area, for example, had about 27,000 manufacturing workers last year, according to the Labor Department — about a third more than it did in 1990. Meantime, South Carolina lost more than 100,000 jobs over the last 25 years, falling by about a third even as output has grown.
"You have seen this reallocation of where a lot of the economic activity is taking place in the state — away from the smaller towns in South Carolina towards some of the more thriving parts of the state," Hauk said.
Political shift
As trade has reshaped parts of the economy, it's changed politics, too.
In a study released this year, a group of economists led by David Autor of the Massachusetts Institute of Technology found that trade has helped push American politics toward extremes.
The more an area has been exposed to trade with China, they found, the less likely it is to elect a moderate member of Congress. That is, if jobs start fleeing a district represented by a Republican, voters there aren't likely to flip parties and elect a Democrat. Instead, they're more likely to choose a hard-line conservative.
The research suggests that as a local economy struggles, voters on both sides are likely to dig in their heels. That finding helps explain the rise of populist candidates like Republican nominee Donald Trump and former Democratic candidate Bernie Sanders, who have both railed against trade's effects on workers.
"This process was well underway throughout the 2000s," Autor said in an April interview released by MIT. "In some sense, what we're seeing … in the presidential primary isn't as surprising in retrospect, because so much of it had already occurred, in congressional votes, along the economic fault lines of areas badly impacted by declining manufacturing."
It also helps to explain why trade has been such a contentious and consistent question in this year's election, decades after global trade started to redraw the American economy or the U.S. signed on to NAFTA.
The issue featured prominently in Wednesday's final presidential debate, and NAFTA stirred testy exchanges, 22 years after it went into effect. The issue has continued to draw fierce rhetoric, even as both Trump and Democrat Hillary Clinton now say they'd oppose the proposed Trans-Pacific Partnership free trade deal.
It's a recognition, in part, that as politicians and scholars debate the benefits of free trade to the nation as a whole, its effects — good and bad — haven't been distributed evenly.
"We're sort of overdue to have these issues on the front burner of the political process," said McLaren, the University of Virginia economist. "Once you allow for distributional effects, the arguments for free trade get muddier and more complicated."