South Carolina added zero jobs in April, according to new figures released Friday, a surprisingly dreary report in an economy that's fast running out of room to grow.
The jobs report published by the S.C. Department of Employment and Workforce shows that the job market literally flat-lined in April after accounting for seasonal hiring patterns. Scrub out the normal surge of hiring for the summer tourist season, for instance, and there's no growth left.
The April report marks the state's worst performance since last fall, when South Carolina briefly shed jobs. It tracks with a labor market that is struggling to keep growing because workers are hard to come by.
The unemployment rate in South Carolina fell to just 4.2 percent, matching its lowest level in more than 17 years.
Job growth is only flat when you take into account the normal ebb and flow of South Carolina's job market. Economists try to erase those patterns to see how the economy is really doing. Without seasonal adjustments, the state added 9,200 jobs.
Hiring has been slowing down over the past few years as unemployment falls and the pool of those looking for work has dwindled. The tight labor market is especially pronounced in cities like Charleston, where the jobless rate across the metro area fell to 2.3 percent.
The Lowcountry's unemployment rate has only gotten that low once in the last 28 years, in April 1998.
That signals a labor market that has grown "exceptionally tight," said Rick Kaglic, a Charlotte-based economist for the Federal Reserve Bank of Richmond. And it has the potential to restrict the region's efforts to lure new industry.
"When you're talking about recruiting businesses, one of the first questions that they are going to ask is, do I have an adequately sized and an adequately skilled labor force to fill the jobs that I may be creating?" Kaglic said.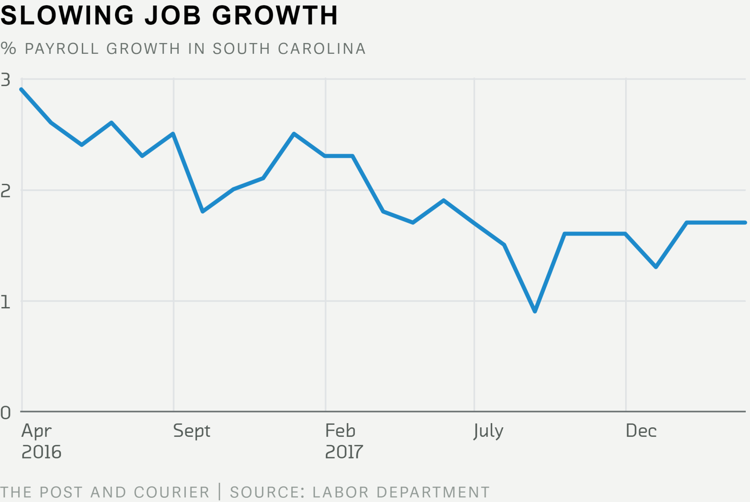 Those issues have been bubbling up here for years, but they've steadily worsened. Volvo Cars and Mercedes-Benz Vans, which are each opening new factories near Charleston this year, say hiring has been a bigger challenge than they expected.
Likewise, employers across the Carolinas are still interested in hiring more people, according to surveys conducted by the Richmond Fed. And they've managed to piece together decent job growth over the past year, expanding at about the same pace as the rest of the country.
South Carolina is still edging out the rest of the country, despite last month's lackluster performance. But even if it turns out to be a one-month stall, April's report highlights how hard that pace will be to maintain.