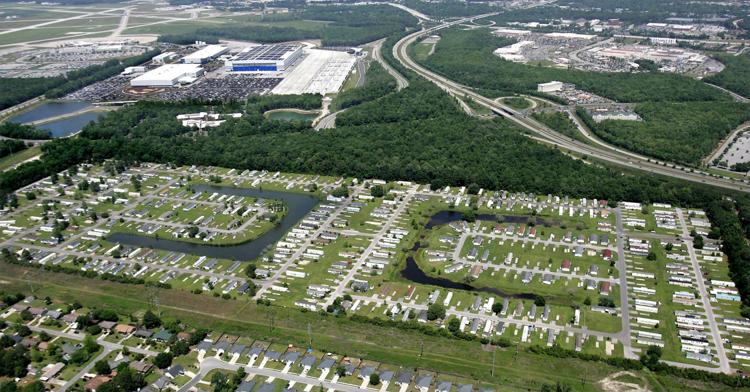 The past week brought another tale of a South Carolina mobile home park that will be shut down and redeveloped, a fraught situation that offers some important financial lessons.
The closure of Campbell-Knuppel Mobile Home Park in Charleston's Maryville-Ashleyville community has long-term renters unsure where they can afford to go, and homeowners in the surrounding community fearful that redevelopment will cause their property taxes to soar.
I have bad news for the first group, and good news for the second. The bad news is, owning a mobile home on rented land is financially perilous. The good news is, decade-old changes to South Carolina property tax laws protect home owners in gentrifying communities from large tax increases.
First, a little background. A growing number of Charleston area mobile home parks have closed because the owners — who typically own the land and rent lots to mobile home owners — were offered big bucks for their land.
The 105-acre Trailwood park was the largest, with about 400 residents before the site became part of a deal to expand Boeing South Carolina's operations near Charleston International Airport at some point in the future.
A smaller park in the Wando Woods area was closed for a College of Charleston expansion. Another in North Charleston was eyed for a retail development, but city zoning rules thwarted the plan.
In each case, some of the residents lived there for decades. Some owned mobile homes too old to relocate. Others could move, but the cost of relocating a mobile home can be thousands of dollars, so some sold at cut-rate prices to mobile home re-sellers.
So, lesson number one: Mobile homes generally aren't "mobile," and buying a home that sits on rented land can lead to great financial pain. In many areas, ordinances prevent older mobile homes from being moved. Richland County, for example, prohibits moving a mobile home older than mid-1976 into or within the county. So, if such a home is on rented land, and that land gets sold, the mobile home is basically worthless. 
Mobile homes, unlike most stick-built homes, generally decline in value — more like a car than a house. For people who own land, they can be an option for affordable housing, and South Carolina has one of the highest rates of mobile home ownership. 
Remember the 2013 Miss America pageant comment from South Carolina's contestant? "From the state where 20 percent of our homes are mobile, because that's how we roll, I'm Brooke Mosteller, Miss South Carolina."
On rented land, a mobile home owner could at any time face the possibility of having to scrap, sell or move the home at great cost.
Now, the good news for homeowners in communities that are seeing fast-rising property values because of redevelopment.
It's common to hear residents express fears of being "forced out" by rising property taxes, when real estate values are soaring. I've heard it on Charleston's East Side, in the Snowden community east of the Cooper River, in West Ashley and other areas.
The fear is understandable, because that's how property taxes worked until 2007, when Act 388 took effect. But that was a decade ago, and even now I hear elected officials talk about the fear of constituents being taxed out of a neighborhood.
Act 388 brought sweeping changes to South Carolina's system for taxing property. One of those changes limited how much an owner-occupied home's taxable value could increase when counties reassess property, generally every five years.
As long as the home's ownership doesn't change, the owner is protected from dramatic increases in property tax bills due to rising real estate values. And in effect, the law's cap on taxable property value can result in lower tax bills, even as nearby properties soar in value.
Here's why: Act 388 limited the increase in the taxable value of an owner-occupied home to just 15 percent every five years. If a 15 percent gain in property value turns out to be below-average for the years between reassessments, the owner could see a decline in their tax bill, because reassessments redistribute the tax burden to properties that have gained the most taxable value.