Locally owned jewelry stores, clothing shops and furniture showrooms are among the thousands of independently owned merchants who make up the majority of firms in the U.S.
All of them, and dozens of other small businesses like them, can be found in Charleston and across South Carolina.
On Saturday, they'll take center stage.
It's the day set aside once a year during the holiday season to drive business to locally owned retailers.
Now in its ninth year, Small Business Saturday encourages people to shop local after the big-box deals on Thanksgiving and Black Friday have passed.
As it becomes more widely known each year, the promotion spearheaded by American Express inspires more people to visit local merchants. About 83 percent of shoppers expect to patronize a small business during the holiday season, according to a recent study by the credit card giant and the National Federation of Independent Businesses.
The National Retail Federation estimates 67 million people will shop on Small Business Saturday, with 78 percent saying they will do so specifically to support locally owned, independent merchants.
"Black Friday is when families get up early, sit in traffic, circle the parking lot to find a place to park, jostle with crowds and stand in line to save a few bucks on presents probably no one asked for or really wants," said Ben Homeyer, South Carolina director of the National Federation of Independent Business.
In a way, he said, it's the opposite of Small Business Saturday.
"When you shop at a chain store, most of the money goes to some corporate office somewhere," Homeyer said. "But when you shop on Main Street, most of that money stays on Main Street."
'Powerful movement'
Small businesses, like the rest of the retail industry, anticipate a healthy holiday shopping season.
"I think it's going to be crazy busy," said Robben Richards, owner of Worthwhile women's boutique in downtown Charleston, which is celebrating its 25th anniversary this year. "I'm basing that on what it's been like the past couple of weeks. Once the temperature drops, people really get in the mood."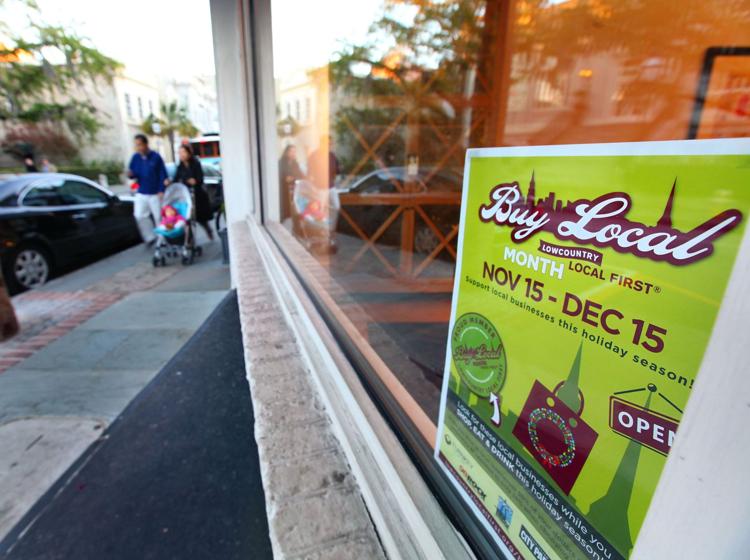 At locally owned Celadon home furnishings store in Mount Pleasant, head buyer Rebecca Hawkins expects the holiday season to be merry.
"It's been a great year, and we foresee it continuing that way," she said.
At The Station Park Circle, a reclaimed furniture and home accessories location with 33 local vendors, owner Sharon Payer expects the season to be robust as well.
"Overall, based on the trend we are seeing, the marketing we are doing and the response we have seen from the local community, this shopping season is going to be a great one," Payer said.
With a Small Business Saturday event planned and a Sip and Shop set for the evening of Nov. 29, she also noted the importance of supporting locally owned businesses.
"It's vital," Payer said. "For us to thrive, we need that community support. It's easy to sit down in front of your computer, but it's so much better to get out and enjoy shopping and listen to the holiday music, knowing that the money you are spending at a local merchant may be sending children off to play volleyball or take a dance class instead of it going to some national firm that just looks at adding another dollar to its bottom line."
In Columbia, nearly two dozen merchants in Five Points will offer specials.
Among them, Loose Lucy's will offer 20 percent off regular-priced items, the Oops! Co. will give away a free Yeti mug with a purchase of $100 or more, and Village Idiot Pizza will offer 20 percent off with a receipt from a Five Points retailer.
"The single day has grown into a powerful movement, and Five Points will be participating in a big way," according to the Five Points Association. "Businesses will be offering sales and specials in their stores and the intention is to help boost sales for the local merchants and provide patrons the opportunity to keep their dollars in their community."
More than one day
In Charleston, Lowcountry Local First aims to capitalize on the locally focused buying movement by launching Buy Local Month through Dec. 15 each year.
Different retailers and different communities host events throughout the month to drive home the message of buying local and supporting independent merchants.
Among the events, home furnishing store Celadon will host its Flea & Farmers market Sunday  at its warehouse on the old Navy base in North Charleston. Charleston Crafts on Church Street in downtown Charleston will host an open house Dec. 7, and the Carnes Crossroads Holiday Market is set for Dec. 8 at the growing subdivision in Goose Creek.
"We know that we must invest in what we value, or else risk losing it," said Charleston-based Lowcountry Local First executive director Jamee Haley.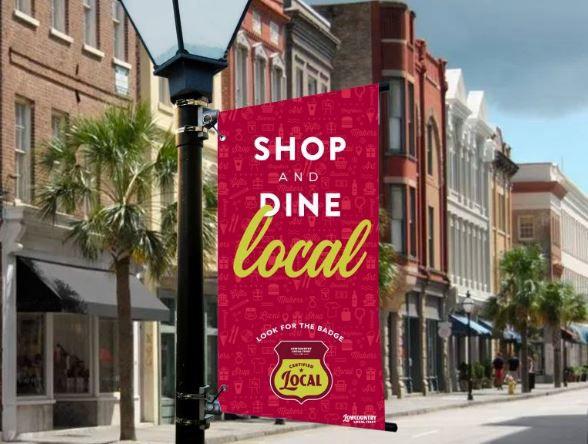 "We believe that the sense of place that we have in the Lowcountry — all that makes this place unique — is largely thanks to our local retail businesses," Haley said. "Local shops, both service- and product-based, are what build our culture. It's the places where you can fix a shoe, find the perfect dress, buy a coffee or a new book, and connect with neighbors."
Dollars spent within the local community recirculate and drive other businesses to prosper, according to Small Business Saturday supporters.
According to a recent Small Business Economic Impact Study from American Express, an average two-thirds, or 67 cents, of every dollar spent at a small business stays in the local community. Lowcountry Local First puts the amount at 45 percent of every dollar and said just 14 percent of that money stays in the community when spent at a non-local business.
Lowcountry Local First supports Small Business Saturday, but Haley believes local businesses deserve support every day and it does not put a lot of effort into the one day of the year set aside for locally owned businesses.
"Ultimately, we realize that the campaign benefits a national credit card company — so we don't invest a ton of energy into it, noting that every day is 'Small Business Day,'" Haley said. 
The organization will support the efforts of member businesses on Small Business Saturday and favors events created in local shopping districts such as Park Circle in North Charleston and South Windermere in West Ashley.
Lowcountry Local First provides "Buy Local" badges to certified local members to display in storefronts and maintains an online business directory for shops throughout the Charleston region. To see the list of more than 500 local independent businesses, go to LowcountryLocalFirst.org.