It's the electronic gadgets supplier in Summerville, the gift shop in North Charleston and the fishing supply store in West Ashley.
It's the jewelry retailer in Charleston, furniture dealer on Johns Island and lingerie merchant in Mount Pleasant.
Small businesses make up the majority of firms in the U.S., and Saturday is the day set aside during the holiday season to focus on them.
Now in its eighth year, Small Business Saturday encourages people to shop local after the big-box deals on Black Friday have passed.
As it becomes more widely known each year, the day inspires more people to visit local merchants. About 75 percent of shoppers expect to patronize a small business during the holiday season, according to a recent study by the National Federation of Independent Businesses and American Express.
Small businesses, like the rest of the retail industry, anticipate a healthy holiday shopping season.
"I think small business is what drives the economy," said Rich LaVecchia, who owns Charleston Angler shops in Mount Pleasant and West Ashley.
"We are always pushing the "Buy Local" theme throughout all of our marketing," LaVecchia said. "We pride ourselves that we have the local guys — when they aren't out there on the water — in here providing advice to shoppers, and that's something you can't put a price on."
He expects a strong holiday season for the fishing gear merchandiser.
"We have good momentum going into the holiday push," LaVecchia said.
Since the shops cater mostly to men, he expects 75 percent of the holiday sales to come during the last two weeks before Christmas.
"Men put off shopping until the last minute," he said.
At locally owned Hurricane Electronics in Summerville, owner Bill Via also anticipates upbeat holiday sales.
"We have been exceeding (sales) each month year to date, especially since there are no other Radio Shacks nearby anymore," Via said.
The last Radio Shack-branded store in the Charleston market closed earlier this year in Mount Pleasant. Via's store is an independent dealer of Radio Shack products.
He said sales are expected to be just as brisk after the holidays as before because people will return to buy hookups and adapters and other accessory items to go with the big electronic gadgets they got for Christmas.
And though Summerville is rapidly becoming immersed in the ever-expanding Charleston metro market with new industries and housing developments all around it, Via said one thing has remained constant.
"Even though we are growing and the landscape is changing, Summerville is all about shopping local," he said.
Dena Davis, owner of The Pink Crocodile gift shop in North Charleston, is bullish on shopping local as well and loves the idea behind Small Business Saturday.
"It provides such a great sense of community and you get to meet your neighbors that you might not have met before because they specifically come out to support small, locally owned shops," she said. "It's a fantastic kickoff to Christmas."
Davis, with her distinctive pink awning on Montague Avenue, expects sales to be exceptional this year not only because the economy is better but because people have discovered Old North Charleston's shopping district near Park Circle.
The shopkeeper is so successful she opened a second location Friday down the street in the recently opened, mixed-used Marquis Station at East Montague and Virginia avenues. 
Columbia also gets in on the Shop Small movement with stores in Five Points offering sales and specials on Saturday.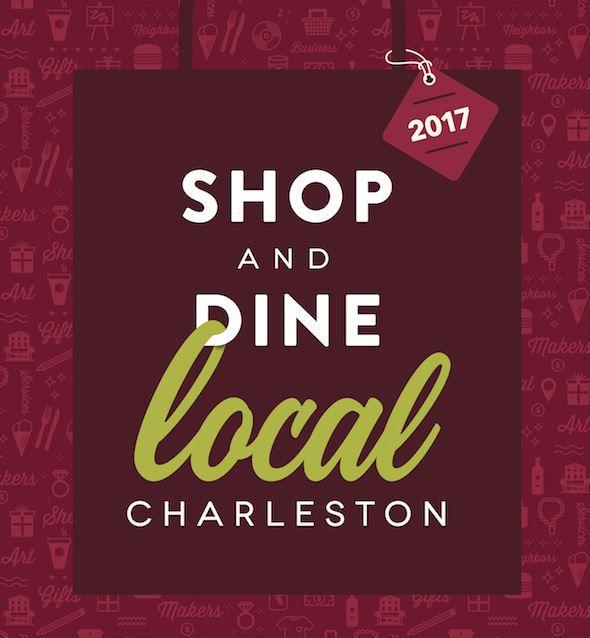 In Charleston, Lowcountry Local First aims to capitalize on the locally focused buying movement by launching Buy Local Month from Nov. 15 to Dec. 15 each year.
"If we don't invest in what we value — the businesses unique to the Lowcountry and owned by our neighbors — we run the risk of losing what makes us special and becoming 'Anywhere, USA,'" said Lowcountry Local First Executive Director Jamee Haley.
"The dollar you spend with a local business — be it retail, with a service provider or an experience-based outing — is recirculating throughout the community, being passed along from neighbor to neighbor," she said.
"For every dollar spent with a local business, three times more stays here in the community as compared to a dollar spent with a national chain," Haley said. "We urge the community to think before they spend, and choose local first as much as possible."
Lowcountry Local First supports Small Business Saturday, but Haley believes local businesses deserve support every day and not just one day of the year.
The organization provides "Buy Local" badges to certified local members to display in storefronts and maintains an online business directory for shops throughout the Charleston region. To see the list of more than 500 local independent businesses by category, location or keyword, go to LowcountryLocalFirst.org.
The U.S. Small Business Administration also encourages shoppers to get offline and visit unique shops to boost the gift-buying experience and support locally owned businesses.
"If you're a customer, commit to making at least one purchase from a locally owned small business retailer," said Gregg White, South Carolina district director for the U.S. Small Business Administration. "Get to know the owner, and make your gift more meaningful by sharing their story as part of what you give your loved ones."
He also encouraged people to dine at small businesses when they are finished shopping and to meet one-on-one with the businesses that make a community special.
"Travel outside your comfort zone — and away from your computer screen — to discover an out-of-the ordinary shopping district with some trendy local stores," White said.