Several new shops are now welcoming customers in a new northern Mount Pleasant shopping center.
Joining supermarket Lowes Foods, which opened in the spring at the Market at Mill Creek on S.C. Highway 41, are Marcos Pizza, Tipsy Nails and Sea Island Medical Care.
Also open are Bubbles Gift Shoppe and alcoholic beverage store Mill Creek Spirits, according to Mistina Chambers of Adams Property Group, which developed the shopping center. Mexican restaurant Agaves Cantina is expected to open soon.
A Starbucks cafe is in the works along with yogurt and sushi venues. An outparcel could one day house a gas station as canopy plans have been making their way through the town's approval process.
The 74,000-square-foot Market at Mill Creek sits on 12 acres near the Dunes West subdivision. It's made up of three separate buildings.
A small parcel next to Starbucks could house an undisclosed fast-food restaurant with a drive-thru. Another parcel that was sold by the developer just west of the shopping center on Highway 41 is expected to house a dental office, car wash and tire store.
What's cooking?
Three food-serving venues are expanding with new locations across the Lowcountry.
In the developing Wando area of Berkeley County, Dog and Duck has targeted July 22 for the launch of its third East Cooper site. 
The location at 1937-A Clements Ferry Road is just down the street from socks and T-shirt importer Gildan's distribution center. The food and spirits vendor has other locations under different owners in Mount Pleasant and Summerville.
On the Charleston peninsula, a new dining option is now available in the developing WestEdge community.
Jimmy John's has opened a sandwich shop at 99 WestEdge St. where the Caroline apartment building sits across from Joe Riley Stadium. Delivery within a certain area and catering options are available.
It's a third shop in Charleston for owner Scott Dyer. He plans to hire about 20 workers. His business partner is Tony Penta.
Also in the food expansion realm, a sandwich business with a kiosk at Charleston International Airport recently secured a restaurant site in North Charleston.
Mama Chef Cuban Cafe leased 2,409 square feet at 5325 Park Forest Parkway in Park Forest Commons off Dorchester Road near Ashley Phosphate Road, according to commercial real estate firm Belk|Lucy.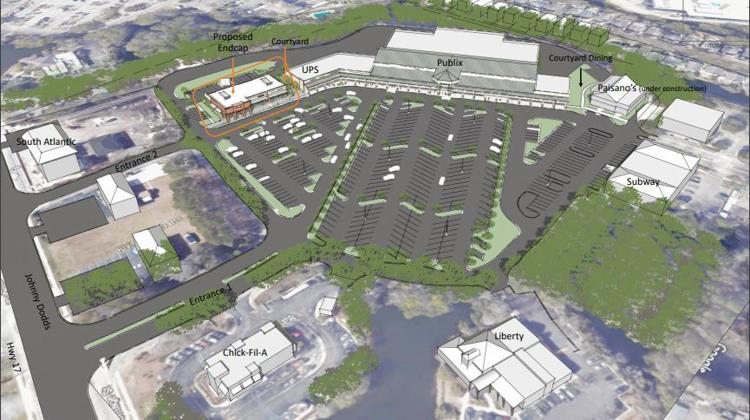 Adding on
An addition is in the works for a Mount Pleasant retail center anchored and owned by Publix supermarket.
The Florida-based grocery chain plans to build an 8,226-square-foot, free-standing, one-story building with five tenant spaces on an empty lot in Queensborough Shopping Center at 1000 Johnnie Dodds Blvd. The lot, near the UPS store and behind South Atlantic Bank, is often used for Christmas tree sales during the holidays.
Plans show one space slated for a 2,900-square-foot restaurant and four other tenant slots of 1,331 square feet each. No tenants have been announced.
The town's Commercial Design Review Board is considering plans for the proposed structure.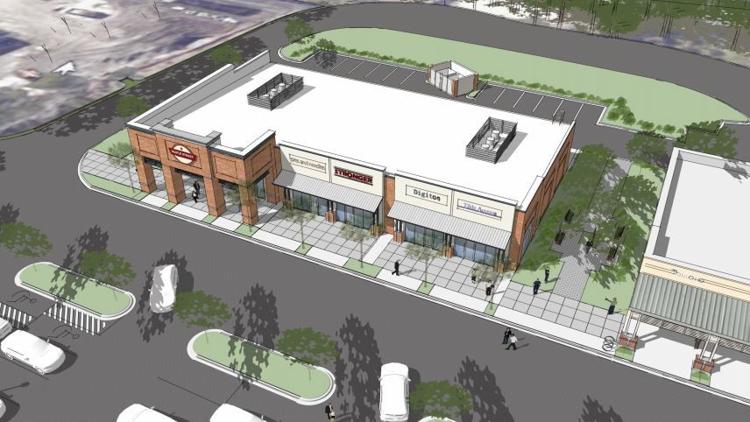 On the opposite end of the shopping center, another free-standing building is under construction and will house Paisano's Pizza Grill and Lash Beauty Salon, according to Andrew Tackitt with commercial real estate firm Radekopf & Associates. The pizzeria has other locations in West Ashley and on James Island. Tackitt believes the building will be completed in late August.
Pizzeria makeover
On Johns Island, a pizza restaurant owner wants to upgrade the building.
JEM Restaurant Group, which owns the Pizza Hut at 1828 Bohicket Road, will ask Charleston's Design Review Board on Monday for preliminary approval to renovate the drive-thru restaurant.
Going dark
A West Ashley home furnishing store is shutting down.
Plum Goose at 422 Savannah Highway is going out of business after launching three years ago.
The 4,500-square-foot shop was the first and only brick-and-mortar location for the Charlotte-based online retailer.
"The store just wasn't profitable and is not my primary business, so it was hard for me to devote any time to work on it," said Roy Crain, managing partner of Atlantic Retail.
The closing timeframe is open-ended while inventory is liquidated.
Popping in
A short-term women's boutique is coming to Mount Pleasant Towne Centre.
Apparel, jewelry and accessories pop-up shop Millie Lynn will launch at noon Sunday and run through Oct. 31 at 1309 Theater Drive. Owner Stacey Weismann said each piece is curated and selected by her, and it will showcase three vendors that create candles, coasters, hats and drink tumblers.
New proposal
A few months back the owners of the building that once housed Chase Furniture at 414 King St. asked the city of Charleston for a special exception for fewer parking spaces than the city requires to put a restaurant on the ground floor of the three-story building.
Now, they are back with a new plan and requesting a special exception to allow 6,783 square feet of retail space on the first and second floors and 2,411 square feet of office space on the second floor without the required 22 off-street parking spaces.
The Board of Zoning Appeals will take up the latest proposal Tuesday.
It's electric
Walmart's latest offering is simply electrifying.
The retail giant, in collaboration with Electrify America, recently added an electric vehicle charging station at its store at 2110 Bells Highway in Walterboro, one of about 130 across the U.S.
The around-the-clock stations feature 150 kilowatt and 350 kilowatt DC fast chargers, capable of charging vehicles at speeds of up to 20 miles of range per minute.
The service can be found at two other stores in South Carolina: at 360 Harbison Blvd. in Columbia and 230 N. Beltline Drive in Florence. Others are in the works across the nation.