Tourism in Charleston is now a year-round business, but the visitor industry really gets kicked into high gear in March, when visitor volume takes its largest leap by far.
According to data collected by the College of Charleston, the largest increase in hotel room nights sold — the best monthly indicator of tourism traffic since visitor counts are only broken down annually — is between February and March.
Over the last three years, there was, on average, about a 30 percent swing between those months.
Bolstered by a combination of spring warmth, local blooms and the annual Charleston Wine + Food Festival in Marion Square, the transition to March well outpaces other month-to-month fluctuations throughout the year. 
Other March events like the Citadel Corps Day, Charleston Fashion Week, and the Festival of Houses and Gardens also give the month on edge on others, said Daniel Guttentag, director of CofC's Office of Tourism Analysis.
The second-highest month-to-month increase occurs between January and February, an average 11 percent difference. February's figures get an annual boost from the Southeastern Wildlife Exposition, which is often viewed as the kickoff to the visitor industry's busy season. The event, which attracts upwards of 45,000 attendees, is hosted in Charleston every Presidents Day weekend.
For the last three years, the percent change between February and March has increased, going from a 27 percent bump in 2016 to a 29 percent swing the next year to a 35 percent jump in 2018.
Once the Charleston area hits March, however, visitor volume stays fairly consistent throughout the spring and summer. For example, just about 1.5 percent more nights were sold last year in the highest-volume month, June, than in March.
Last year also broke records for total room nights sold. Visitors stayed a combined 4.62 million nights at Charleston-area hotels in 2018. 
The monthly figures also reflect the effects of recent severe weather events. This past September, when the threat of Hurricane Florence prompted a mandatory evacuation order, room nights sold dropped almost 22 percent compared to the previous month. The year before, when Irma hit Charleston as a tropical storm, that drop was about 20 percent.
However, the last two years' figures also show visitors returning in October. Last year, October numbers were not only up more than 30 percent from September, but about 4,500 nights more nights were sold in October than in August.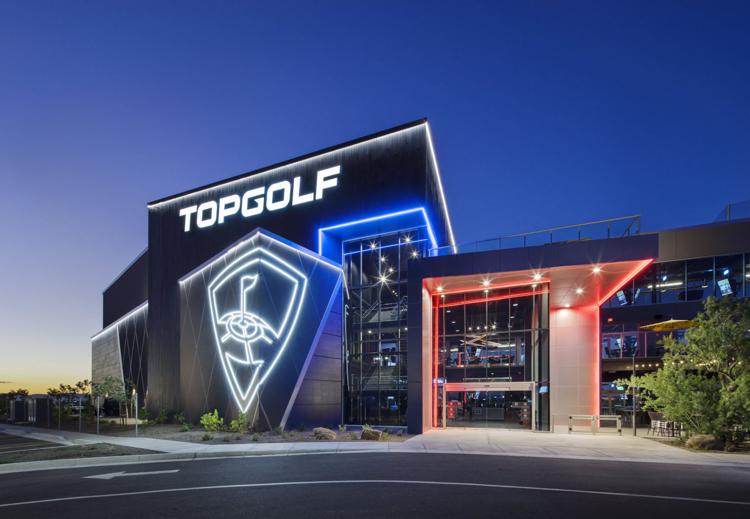 Teeing up
From Kiawah Island's oceanfront courses to the greens dotting the Grand Strand, South Carolina has been regarded for years as a top golf destination. Now, a different kind of golf venue has come to the Palmetto State that could prompt some changes at traditional courses. 
Topgolf opened its first sports entertainment complex in the state this month in Myrtle Beach. The three-story, 55,000 square-foot venue is expected to draw about 300,000 visitors a year. 
The company says it designs its point-scoring games for golfers and non-golfers of all ages. Its balls are equipped with microchips that automatically measure a player's score based on distance and accuracy. 
Players make their swings in large climate-controlled bays, and the venues include places to eat, drink, watch sports and host events. 
The company's second South Carolina venue is set to open soon, too. A Topgolf complex will open in Greenville late this spring. 
Founded about 20 years ago in the United Kingdom, Topgolf has since opened dozens of locations in the U.S. and four venues abroad. The Myrtle Beach and Greenville locations are its 53rd and 54th openings. 
In addition to building more of its own complexes, Topgolf has also ventured into providing other venues with their golf games and technology. 
For example, in downtown Columbia, the recently-opened Venue on Main features a Topgolf-branded "Swing Suite." Rather than the large, tech-enabled bays at Topgolf complexes, the suite format features several rooms with golf simulators and comfy furniture.
Topgolf's success may be an indication of "the changing definition of what it means to participate in golf," said Jay Karen, the CEO of the National Golf Course Owners Association.
He thinks it will have a couple effects. First, he expects a marginal number of Topgolf patrons will come to legacy golf courses in South Carolina because of their experience. Karen also expects traditional golf courses to respond. 
"I'm asking courses, 'How can you capture and emulate what Topgolf is doing but do it at your facility?'" he said. 
That could mean installing a small number of similar tech-enabled bays at a course, incorporating simulation technology or expanding on the food, entertainment and event venue offerings at traditional courses. 
There are more than 2,300 "alternative golf facilities" including practice ranges, miniature golf courses and indoor facilities, which brought in a combined $1.1 billion in 2016, according the most recent U.S. Golf Economy Report from the coalition WE ARE GOLF. 
Topgolf Myrtle Beach, which is on Robert Grissom Parkway near Pavilion Park, has 72 hitting bays, a rooftop terrace and a full-service restaurant.  
More than 350 full- and part-time employees were hired to staff the Grand Strand venue, and the company is looking to hire about the same number in Greenville.