When South Carolina cuts off federal pandemic-related jobless programs late next month, tens of thousands of residents will stop receiving weekly checks.
The reason for ending the aid, which was to serve as a lifeline for out-of-work Americans during the COVID-19 crisis, is the estimated 81,000 job openings around the state, according to Gov. Henry McMaster's directive to the S.C. Department of Employment and Workforce on May 6.
McMaster said the benefits have become "a dangerous federal entitlement" that pay workers "to stay at home rather than encouraging them to return to the workplace."
Some experts have countered that it's not quite that simple.
South Carolina was the second state after Montana to say it would terminate pandemic benefits early. In the week after McMaster's decision, at least 14 more Republican-led states followed suit, including Georgia and Tennessee. 
McMaster and DEW have described the change as a return to "pre-pandemic, state employment operations." 
That means an end to four different federal programs, including one that's paid claimants an extra $300 weekly.  
The effective date for that termination cited in McMaster's statement was June 30, but since that falls in the middle of the week, the state will return to pre-pandemic unemployment rules on June 27, according to a fact sheet on those changes posted by DEW.
During a webinar about the benefits changes hosted by the S.C. Chamber of Commerce, McMaster said on May 11 that "people all over the state are pointing to" enhanced benefits as a reason they're having trouble making hires.
"I believe in that information and whatever data is available," McMaster said.
Other factors 
Laura Ullrich, a regional economist with the Federal Reserve Bank of Richmond, said she thinks enhanced benefits have likely been "one of several factors" that have kept South Carolinians on unemployment during the pandemic.
Childcare availability and fear of contracting COVID-19 are also part of the puzzle, she said. 
Both of those are key reasons why Elijah Samuel, a Summerville resident who said he's worked in the food-and-beverage industry for most of his life, hasn't returned to work yet. He, like many others, lost his job because of COVID-19 last spring. 
Samuel said he wants to work again. 
"I'm scared, honestly," said Samuel, who has two underlying health conditions that make him extra wary of the virus. 
A likely bigger challenge than securing a job before benefits end, Samuel said, is ensuring his two daughters are looked after while he's at work. Finding childcare that's affordable and available when he needs it — which, given the food service schedule he's used to, requires putting in a lot of hours on weekends and some late nights — won't be easy, he said.
He thought he had more time. 
"I set my life around getting back to work in August or September and this just takes two months of benefits away, and I don't have a babysitter," Samuel said. 
Samuel said his family is still living paycheck to paycheck on unemployment. For others like him, he said, any lapse in income between the end of benefits and the start of a job could be a big financial setback.
"I'm not sitting back waiting on a check," he said. "It's a lot more complicated than that."
When asked about childcare during Tuesday's webinar, McMaster pointed to the fact that, while many providers in the state closed during the pandemic, about 96 percent are now open. 
In terms of COVID concerns, McMaster referred to the expanded availability of the vaccine in South Carolina. Despite that ample supply, less than half of the state's population had received at least one shot as of last week.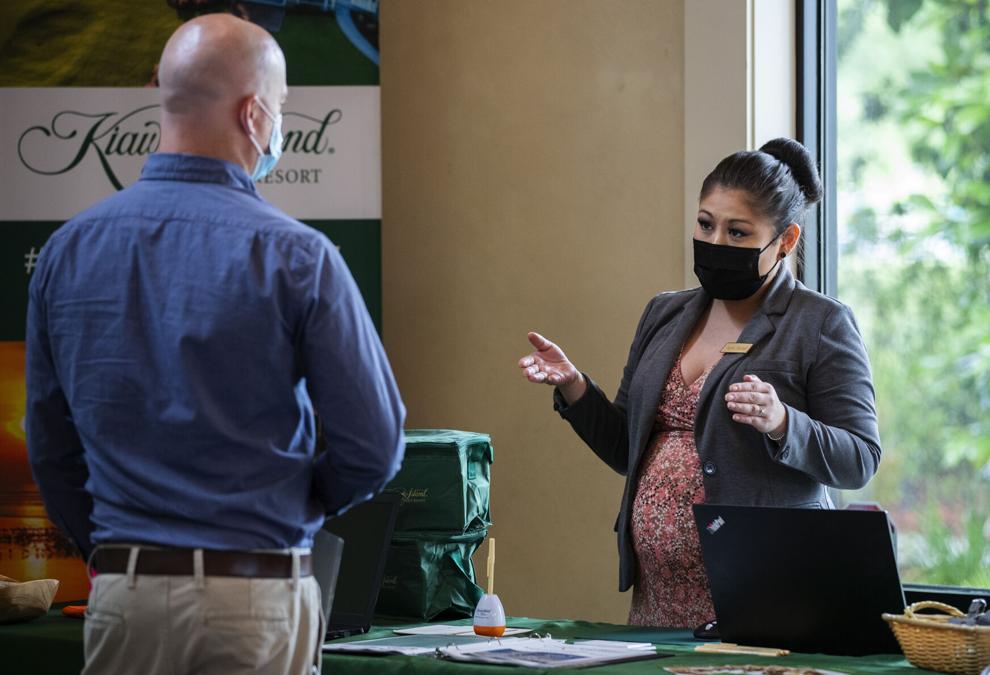 DEW director Dan Ellzey has backed McMaster's decision to end federal benefits. Last week, he described an effect of the programs as "recall resistance," referring to when unemployment checks are higher than the recipient's prior wages.
Workers making minimum wage could make 153 percent of their previous wages through the unemployment aid system. Someone who made $9 an hour would be making 133 percent of what they were earning before. The break-even point would be about $15 an hour, Ellzey said. 
Ellzey cited retail, accommodation and food service — typically lower-paying job areas — as sectors that "suffer with the federal benefits."
For hospitality jobs, the SC Works site lists an average hourly wage of $9.48. 
The programs
Every person collecting unemployment benefits in South Carolina at the time federal benefits are turned off — including those who meet normal, pre-pandemic rules for collecting jobless aid — will experience a change.
That's because one of the federal programs set to end is a $300 add-on benefit that's paid to every eligible claimant.  For the week leading up to May 8, that translated into 103,054 South Carolinians.
Any person who is still eligible for their standard state unemployment benefits after June 26 will stop receiving the additional $300 a week in federal aid and will get only their normal weekly benefit amount. The average was about $230, according to the latest data. 
For the vast majority of unemployment claimants in South Carolina, the end of next month will mean losing all benefits outright.  
For the week that ended May 8, 88,547 claimants were being paid though federal programs that will come to an end next month, according to DEW spokeswoman Heather Biance. That's about 86 percent of all the people who received jobless checks from South Carolina that week.  
According to a memo from Ellzey to McMaster about the federal programs, the one with the most claimants is Pandemic Emergency Unemployment Compensation, which extends benefits for another 51 weeks after the standard 20-week period for jobless aid in South Carolina ends. 
Payments for that program accounted for about 22 percent of the total payout for the week ending May 8. 
As of Ellzey's memo, a substantial number of claimants, about 37,000, were receiving benefits through a program for self-employed and so-called gig economy freelance workers who don't qualify for regular state unemployment benefits. 
On a national level, some have argued that those workers, specifically, shouldn't be losing their benefits because of the way that program, called Pandemic Unemployment Assistance, was written into the CARES Act. The nonprofit National Employment Law Center and Democratic Vermont Sen. Bernie Sanders both sent letters to Labor Secretary Marty Walsh last week urging the federal government to continue those benefits, even for gig and self-employed workers in states that say they're opting out.
In South Carolina, about $6 million was paid out to those recipients during the most recent weekly data, or about 10 percent of the payout total
Frank Knapp of the S.C. Small Business Chamber of Commerce said McMaster's decision to cut off that aid sends the signal that the state discourages entrepreneurship and self-employment. 
"He could have left that ... alone," Knapp said. 
Overall, payments for the federal programs that are coming to an end make up more than 90 percent of total weekly payouts in South Carolina right now.
The jobs
Hospitality, more than any other sector, has claimed a severe labor shortage this spring. It was the industry Ellzey of DEW called out in a statement in McMaster's May 6 announcement, saying hotel and food-service businesses had worker needs that "threaten their sustainability."
As of May 14, a search on the SC Works website of active job listings in South Carolina showed 5,581 open positions in accommodations and food services.
More than 1,200 of those listings were in Horry County, home to tourism hub Myrtle Beach, and 862 were in Charleston County, followed by Greenville with 664 active hospitality listings late last week. 
There's reason to think the end of COVID unemployment programs will "have some marginal benefits" for hotels and restaurants in their quest for workers, said Daniel Guttentag, the director of the College of Charleston's Office of Tourism Analysis.
It's "certainly one of many factors," Guttentag said, but, much like the labor shortage the sector was experiencing pre-pandemic, there isn't one thing — including turning off enhanced benefits — that will be like "flipping the switch" on hospitality's labor problem.
Hospitality is the only sector in the U.S. showing some signs of a labor shortage, said David Cooper, a senior economic analyst with the Economic Policy Institute who specializes in state labor markets.
The "clearest sign of a real labor shortage," he said, is rapidly rising wages, and it looks like hospitality is actually upping pay to attract workers. That's overdue, he said, and, even with improved wages, pay in the sector is comparatively low.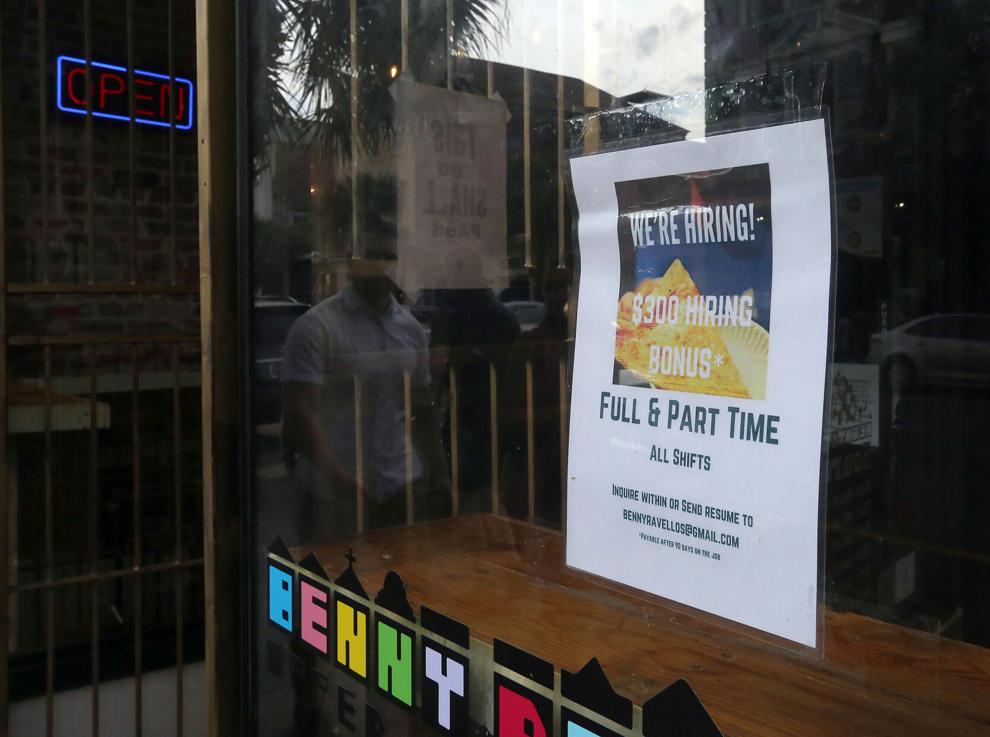 But the economy is still in the midst of recovery, Cooper said. 
The U.S. is still down 8.2 million jobs. As of South Carolina's last employment report, the state was down 66,600 jobs year-over-year. Two of ten sectors — construction and trade, transportation and utilities — had fully recovered their pre-pandemic jobs while the others posted deficits. 
Cooper said he's concerned the decision by some states to end benefits early could be "short-sighted."
"The point of unemployment insurance is to keep people afloat, until they can find a decent job that's appropriate for their skills," he said. 
Removing the safety net while the economy is still recovering, Cooper said, could lead workers into lower-wage jobs or jobs they're overqualified for.
While that could fill openings in the short-term, he argued that doesn't "promote economic well-being."