When Perry Fant opened an email telling him he had the best ratings of any Airbnb host in South Carolina, he thought it was scam.  
Though he didn't believe it at first, it was real.
"I was floored," he said. 
According to Airbnb's new report that names the "most hospitable" hosts in every state, Fant is one of a select group that has never received less than a five-star rating in the cleanliness, check-in and communication categories. From more than 160 reviews total, his listing's overall rating is 4.99 out of five.
Fant and wife Paige have been operating their short-term rental since 2018. They built it themselves as a fully furnished apartment above a detached garage on their property in Mount Pleasant. She handled all of the decorating and cleans after every guests' stay. 
He said the night the couple first posted the rental listing, which went live at around 10 p.m., they had two bookings before midnight. Right now, they're about booked solid through the rest of 2021.
Their place is listed as, "Newer Apt in Old Village mins to Beaches/Downtown!" on Airbnb. Images on the posting show all the amenities, including bikes for guests to borrow, an outdoor seating area and guests' parking spots at the end of the Fants' driveway.
Having built it with their own hands, he said, there's some pride in seeing how well it's worked out and how many people have genuinely enjoyed their stays.
Fant said they've met guests from all over — Scotland, Australia, Spain and all parts of the U.S. If the visitors seem interested in chatting, they'll go outside to socialize and "the next thing you know, it's like we're like neighbors and friends," he said.
They've even had guests decide to move to the Charleston area who reach out for help and recommendations. 
Especially given how the cost of living in Mount Pleasant has continued to rise, Fant said, having a successful Airbnb unit has been a big help. 
"I knew I had to do something, and I didn't want to move because I was born and raised here," Fant said. "I have everything within minutes of my house."
He said that the secret to running a good Airbnb really comes down to making it convenient for the guests. If the Fants are able to accommodate an early check-in or a late check-out, they'll always reach out to the guests and offer it. And if anything goes wrong during a stay, they'll "drop everything" and try to fix it. 
"It's just good old Southern hospitality," he said. 
Drinks and a deal
Patrons at a new hotel bar in downtown Charleston can now opt to extend the experience and stay the night for a reduced rate.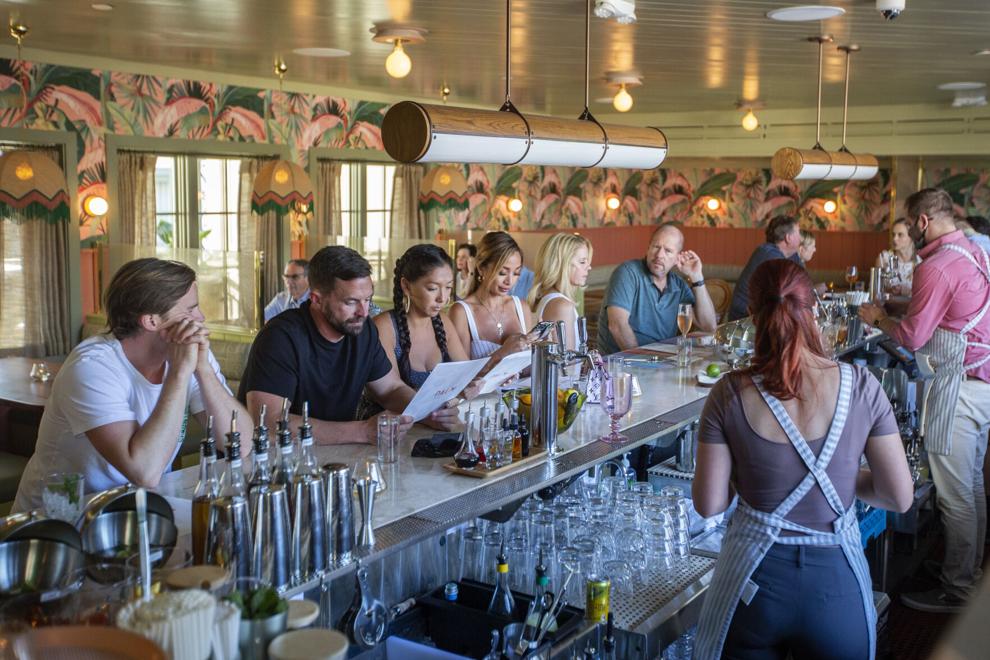 The Ryder Hotel, which opened in the former King Charles Inn on Meeting Street this spring, started a new deal that allows customers at its bar, Little Palm, to book a room for 30 percent off. 
Called the "Look Before You Leap" package, it's only available for on-the-spot bookings, with the idea that locals or tourists who are drinking and dining at Little Palm may enjoy it enough that they decide to book a stay right then and there. Guests who take advantage of the deal will receive a collateral card for their booking. 
Named for a character in a Jack Kerouac novel, the Ryder was the concept imagined for the downtown property after it sold for $43 million in late 2019. It opened to guests in May. 
Gin & Luck, the hospitality firm behind the Manhattan cocktail bar Death & Co., was brought on to create The Ryder's food and beverage offerings. Little Palm serves cocktails, snacks and dishes like local oysters and house-made pasta. Seating is available indoors at tables or in booths or outdoors on lounge-style seating that wraps around a pool.